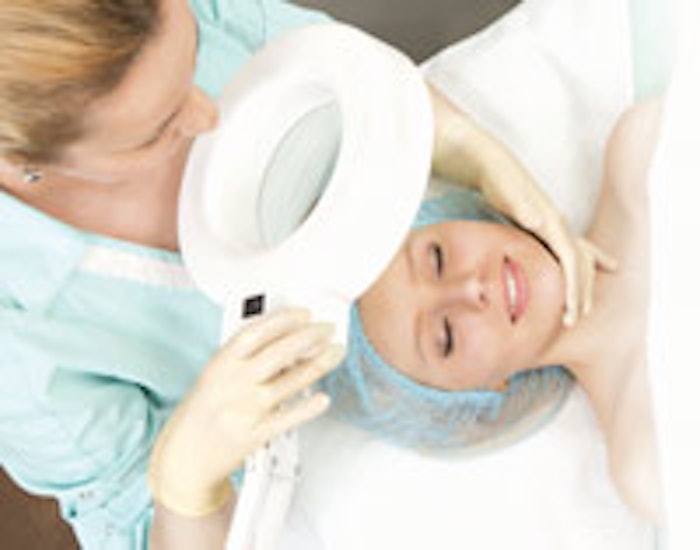 Within the professional skin care industry, people talk frequently about energy and spirit. As estheticians, you are working hard to make sure that your clients are comfortable, relaxed and healthy. But what about you? How is providing services to your clients impacting your body? As service providers, it is essential that you carefully monitor how the services you provide are affecting you personally. There are measures and precautions that can be taken in order to make sure you and your team members are using the most beneficial equipment for both yourself and your clients.
Adjustable equipment
A typical day for most estheticians likely involves being hunched over a client in a dark room for hours on end. This kind of work environment can take a toll on the body—especially if the equipment in your facility is not customized to your and your team members' fit and build. So how can business owners ensure that all of their employees and clients are comfortable? Adjustable equipment is ideal for the esthetician, spa owner and client.
Adjustable equipment allows estheticians and clients to be comfortable and safe, and the spa owner doesn't have to worry about replacing equipment to match the needs of each individual esthetician. Every esthetician can do a treatment in any room in the spa interchangeably while still being comfortable. Utilizing treatment beds and stools with a manual incline/decline option can help to ensure that estheticians are working in a comfortable position. They can move the client up or down, depending on their height without compromising the comfort of the client. In fact, an adjustable bed is ideal for more mature or even child clients who may need the bed lowered for them to initially get in it. Once they are comfortable, the esthetician simply needs to adjust the height with a remote if their adjustable bed is electric, in order to not strain themselves or jerk around the client. Also, consider using a treatment bed with a heating pad for extra client comfort, especially if your facility is located in a cold climate. It is a thoughtful extra touch for your clients.
Equipment with wheels
It is also important that your treatment beds be on wheels. If your spa offers couples treatments that may involve moving the treatment beds around the room to accommodate two clients at once, each esthetician needs to be able to move the bed without putting a strain on their back. Mobile beds make it easy for every esthetician to position their treatment rooms to suit their needs without the possibility of injuring themselves in the process.
Lighting
The lighting in treatment rooms is very important. Diopter facial magnifying lamps are an imperative element of facial analysis and performing extractions. Estheticians need to have quality magnifying lamps that will allow them to see crystal-clear and provide the correct lighting. Without these lamps or if the lamps have distorted magnification, estheticians have to strain their eyes to fully assess a client's skin. This constant strain can often cause headaches or vision issues, so making sure that your lights are working correctly often will be very helpful in adding to the comfort level of each esthetician.
Mechanical help
The hands are often the keystones of an esthetician's treatments and, after years of relying on your hands, you may now feel aches and pains. Some professionals might even experience arthritis in their hands later in life. A multifunction appliance for treatment rooms with desincrustation options can help ease the removal of comedones during extractions, and help decrease the pressure on estheticians' fingertips during this process. Of course, after extractions, be sure to use high-frequency current for its germicidal benefits to protect yourself and your clients. These machines can be expensive, although they are often worth the investment due to the results they can provide. It may not be in every spa owner's budget to have a machine in each treatment room. If that is the case, there are desincrustation masks available to apply before extractions to help ease the removal of comedones. These work great alone or in conjunction with galvanic current.
Express treatments
Another way that spa owners can ensure their estheticians' and clients' comfort is by providing express treatments in barber-style chairs in the front area of the spa. With this model, clients don't have to disrobe if they aren't comfortable doing so, and estheticians can take a break from their dark treatment rooms. Getting out onto the spa floor and doing some express treatments while standing will allow them to stretch their back and re-adjust their posture while getting the circulation flowing in their legs again. This is perfect during their downtime or, if you have a larger staff, you could put them on a rotation: A few hours in the treatment room, and then a few hours working in the front of the spa or in the retail area. Not only will your estheticians appreciate the time to walk around and stretch, but your business will also see the benefits, as well. With your estheticians on the floor, they will be able to communicate with clients and make retail sales. It's a win-win for everyone!
Take care of yourself
It is important that you are taking care of yourself outside of work, as well. Set aside 30 minutes each morning for walking outdoors. This simple act will help clear your mind and start your day off right. Regular exercise releases endorphins, the "feel-good" hormones. And why not treat yourself? Stop into the spa and enjoy a deep tissue massage to help detox and release stress from your muscles. The work you do can be rigorous and strenuous; if you're doing a body treatment on a client, it can often feel like a workout, so the perfect way to ease any body aches is a wonderfully relaxing massage. If your feet are what tend to bother you more than your body, a spa pedicure can help alleviate soreness and make you just as relaxed and calm as your clients. By allowing yourself to enjoy soothing treatments, you will be serene when you come in to work and excited to provide your clients with the most fantastic spa experience.

Lydia Sarfati, president and founder of Repêchage, is an internationally recognized skin care expert quoted in Vogue, InStyle, Glamour and The New York Times, and she has been featured on CNN, CBS and Fox. Sarfati has more than 30 years of experience as an esthetician, spa owner, manufacturer and consultant.