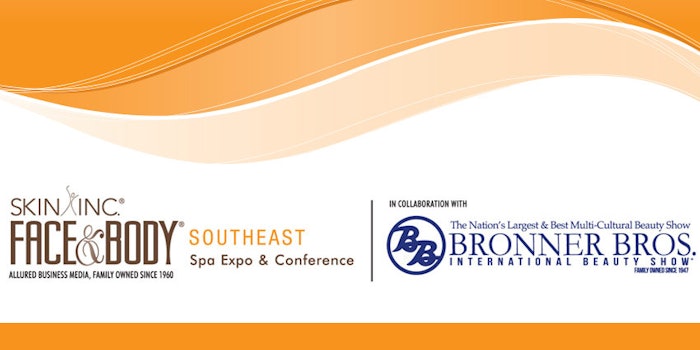 Skin Inc.'s Face & Body is joining forces with Bronner Bros. to create the ultimate one-stop-shop for professionals in salon and spa. We are partnering together to co-host our Atlanta-based events, Bronner Bros. International Beauty Show and Face & Body Southeast, in 2020. 
At the 2020 event, we will go beyond delivering all things beauty and wellness to include serving the diverse needs of multicultural and multi-textural clients as well. The event will also keep beauty professionals up-to-date on the latest trends, technologies, tools and products in hair styling, hair color, makeup, skin care, hair removal and wellness. Attendees will receive access to both shows for the duration of the event. 
With education being a must for Skin Inc.'s Face & Body and Bronner Bros., both shows will continue these professional classes at the 2020 event, and attendees will be able to sit in their choice of classes from spa menu development to the latest trends in hair design. While many of the classes will be free for attendees, there will also be the opportunity for licensed professionals to attend master classes for CEU credits.

Whether you specialize in hair color and cuts, naturals and weaves, or waxing and makeup, Face & Body and Bronner Bros. will have the latest in beauty for you in 2020. Get ready for an event sure to bring attendees the latest in education, networking, trends, demonstrations, shopping and of course, fun.
About Bronner Bros., Inc.: Headquartered in Atlanta, Bronner Bros., Inc. (BB) is a privately held, family- owned company founded in 1947 by Dr. Nathaniel H. Bronner, Sr. and his brother Arthur E. Bronner, Sr. Today, the BB Enterprise consists of multicultural beauty products, UPSCALE Magazine and professional trade shows, which attract more than 60,000 attendees and generates more than $60 million in revenue for the city and local businesses annually. For more information, visit www.bronnerbros.com.
About Skin Inc.'s Face & Body: Face & Body is a spa industry event held in three locations: Face & Body Southeast (Atlanta, GA), Face & Body Midwest (Rosemont, IL) and Face & Body Northern California (San Jose, CA). Face & Body is an event produced by Skin Inc., a brand dedicated to helping spa industry professionals do their job better to boost their bottom line. Both Skin Inc. and Face & Body are owned by Allured Business Media, a publisher with other brands in perfumery (Perfumer & Flavorist, World Perfumery Congress), flavor (Flavorcon), beauty business (Global Cosmetic Industry) and beauty science (Cosmetics & Toiletries). www.skininc.com, www.faceandbody.com