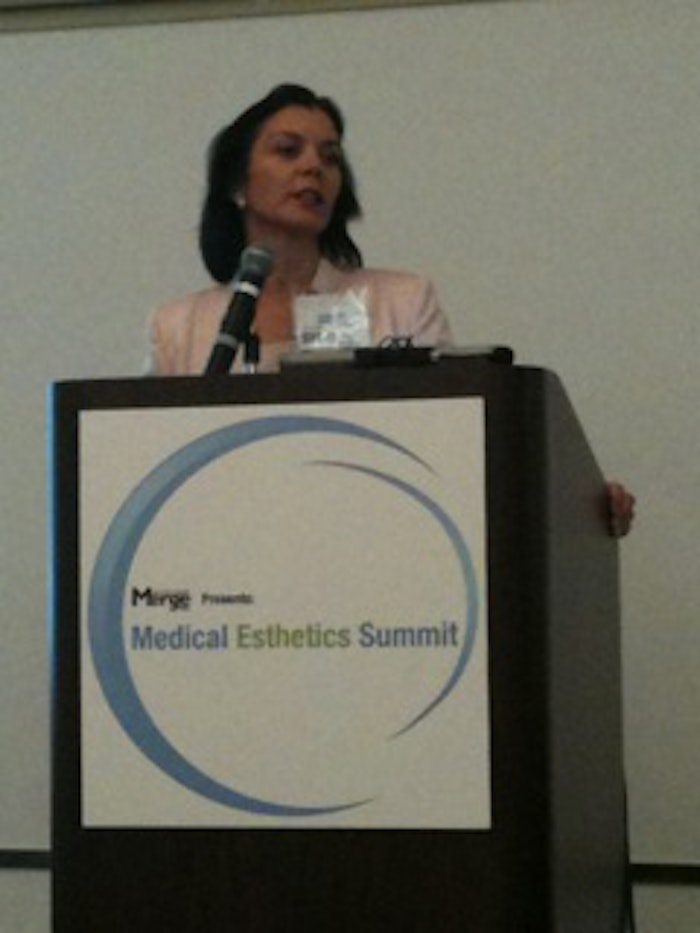 The last day of Face & Body Northern California 2010 brings a large crowd to explore the expo floor, benefit from the supplier classes and learn about how the medical industry and the spa industry can collaborate in this brave new world.
New this year produced by Merge® magazine and co-sponsored by True University Esthetics and Jan Marini Skin Research, the Medical Esthetics Summit was designed to help estheticians and practitioners working in a medical setting or those looking to expand into this specialized area. Attendees learned everything from emerging medical esthetic trends to how to build medical esthetic businesses and client retention from speakers such as Jennifer Linder, MD, Terri Wojak and Susanne S. Warfield.
Terri Wojak of True University Esthetics presented an overview of the medical esthetic inudstry, and discussed how the esthetician can best assist the physician. She covered "5 Tips to Being Successful in Medical Esthetics," including:
Abide by state regulations
Follow medical guidelines
Always act as a professional
Listen to the physician
The client's well-being is most important
Wojak then moderated a panel discussion led by industry experts including Jennifer Linder, MD, of PCA Skin; Manon Pilon, Physiodermie (Methode); and Colleen Shimamato, DermaQuest Skin Therapy. Each panelist highlighted upcoming trends. According to Linder, an upcoming trend is understanding science and having ingredients that work. "Talk about what you are doing and using on a client during a treatment," she stressed. "This will help build compliance."
Pilon stressed that the esthetician must be educated. "Estheticians can help doctors increase their cash income," she said, stressing that a well-educated, certified esthetician can help design a treatment protocol. "Estheticians certainly can enhance what physicians are doing, but they must be educated."
Shimamato discussed combining esthetic treatments with other medical resurfacing treatments. "This is how you come up with the best results," she stressed.
The panel went on to discuss that estheticians can enhance what the doctor is doing--that they are there to enhance, not replace. It was emphasized that the esthetician can increase revenue for the doctor by assisting with client retention.
Tracy Drumm, vice president of IF Marketing, discussed The Oprah Experience, a 5-step guide to thriving in a medical office. She stressed thinking from your clients' perspective--take a look from their point of view. Drumm's presentation was based on her experience and observations after attending a taping of The Oprah Winfrey Show, and draws parallels back to the esthetic industry. "Set personal guidelines for yourself," she emphasized. "Always give off a consistent message."
Susanne S. Warfield of Paramedical Consultants, Inc., led a discussion on "Combining Medical and Esthetic Treatments to Help Build Client Retention." Her presentation included defining an esthetician; useage of titles; scope of practice; defining esthetic treatments; defining medical treatments; defining practice philosophy; and patient education among many other timely topics. She said that customer service is the provision of a service to clients before, during and after a treatment or procedure.
And finally, Jan Marini, president and CEO of Jan Marini Skin Research, gave a compelling keynote presentation during the Networking Luncheon about "12 Reasons to Stay out of the Sun. They included:
Malignant melanoma is on the rise;
Rosacea;
Cataracts;
Basal cell cancers/squamous cell cancer;
Actinic keratoses;
Solar lentigines/brown pigmented areas;
Stimulates greater oil production;
Flat macule pigmentation/post-inflammatory hyperpigmentation;
Dulls hair, removes color;
Indoor tanning beds;
90-95% of what we perceive as aging is sun damage; and
Women with common, usually nonfatal forms of skin cancer have double the risk of developing unrelated cancers.;
"Sun protection is not just a cosmetic issue, it's a health issue," said Marini.
And as the doors close on another phenomenal year of Face & Body Northern California, next year's show is already being planned to be even better than 2010! Don't miss Face & Body Midwest, March 12-14, 2011, at McCormick Place West in Chicago and Face & Body Northern California , August 27-29, 2011, at San Jose McEnery Convention Center in San Jose, California. See you next year!