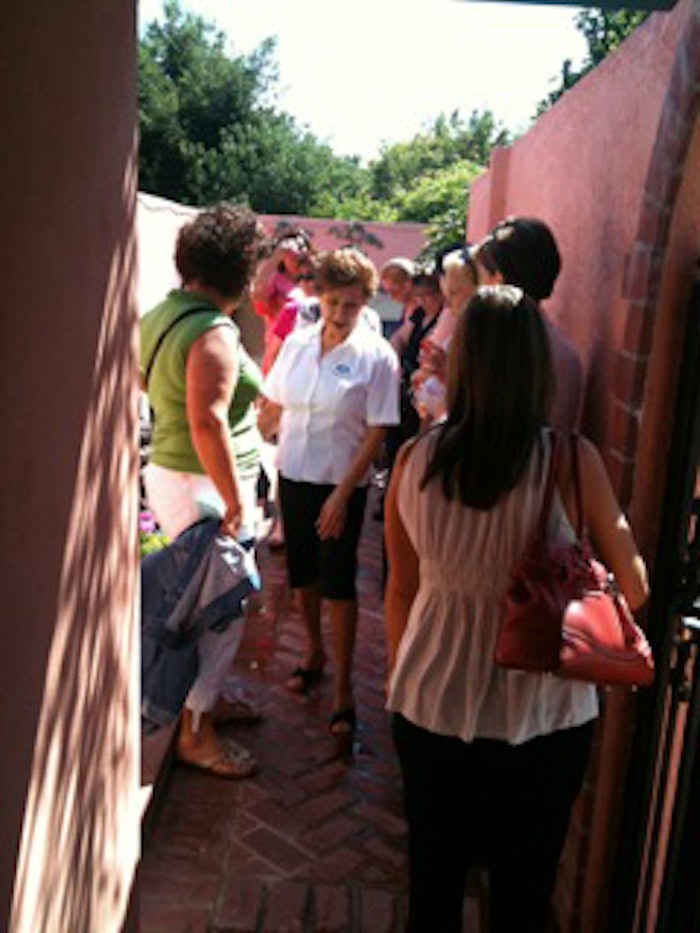 Off to an incredible start, this year's Face & Body Spa Conference & Expo in San Jose, California, kicked off today, July 17 and will continue on through July 19, 2010.
This morning, 30 spa professionals toured three local spas, including InSpa Santana Row, La Concha Spa and Skin Logic.
InSpa creates a new simplicity in spa services for men and women. Choices are easy, scheduling is convenient, and the atmosphere is comfortable. Its unique "No Tipping" policy was created to enhance the relaxation experience. Colleen Stone founded InSpa in 1999 with the vision of providing affordable, high-quality spa products and services in a friendly, welcoming environment. The attendees learned that the spa also has plans to go waterless with pedicures in order to be more eco-friendly.
La Concha Spa allows clients to relax and forget the pressures of the world around you. It has proudly been serving San Jose since 1994, offering an array of face and body treatments for both women and men. As the spa professionals toured this location, they learned how it is going back to the basics for clients, and learning how to master social media in order to keep up with the changing times.
Finally, the tour attendees visited Skin Logic, an advanced skin care and acne treatment center in San Jose. Owner and skin care guru Dawn Amador takes pride in offering high-quality and results-driven treatments. At Skin Logic no question will go unanswered and no concern will go unfulfilled. Here, tour attendees learned how Skin Logic makes 60-65% in retail, and uses unconventional methods to market and promote. A successful promotion through Groupon resulted in more than 700 appointments that Amador is working on turning into regular clientele.
After the Spa Tour wrapped up, spa professionals continued to enjoy Face & Body Northern California by checking out the annual Networking Luncheon in the Courtyard Atrium at Il Fornaio Restaurant located within the Sainte Claire hotel. The luncheon was the perfect opportunity to network with peers and share new ideas, strategies and industry trends. Christine Heathman, CEO and president of GlyMed Plus Skin Care, this year's Networking Luncheon sponsor, presented a keynote presentation on "Winning at the Game of Skin Care in 2010." Some of the golden nuggets of advice she shared included:
Failure is the first stepping stone to success.
Climb the steps to success one step at a time.
Conclusion is the dark place where you got tired of thinking.
Empower other spa professionals and seek a mentor.
Go out and do what you've learned about.
Fifty percent of business is attributed to your relationship with clients.
In addition, Pat Lam, president of Skin Care Consultants, presented the Hubert Lam Memorial Scholarship to this year's recipient, Rachel Bradshaw of Haiku, Hawaii.
Adding to this incredible day was an entire afternoon of continuing education at the Advanced Education Conference Program. Attendees had the chance to learn from some of the masters of the spa industry about timely topics crucial to today's spa professional. Tracks included Business-building, Esthetic Science, Trends and Wellness/Sustainability.
Rebecca James Gadberry discussed Cutting-edge Cosmetic Science 2011 and Christine Heathman clarified skin cell science, just to name a few incredible learning opportunities. Other speakers included Manon Pilon of Physiodermie/Europelab Inc., Mindy Terry, Creative Spa Concepts, Carol Phillips, BeauteeSmarts and Carl Thornfeldt, MD of Episciences, Inc.
Finally, wrapping up the day was an evening in wine country where spa professionals traveled to the Heart O' The Mountain Vineyard and Winery in the Santa Cruz mountains for a wine tasting and hors d'oeuvre pairing sponsored by Éminence Organic Skin Care. This premium grape-growing property, once owned by the famous director Alfred Hitchcock and now owned by the Robert Brassfield family, produces a limited amount of handcrafted Pinot Noir.
After an incredibly successful first day of the show, we can't wait to see what will happen during Day 2! Stay tuned for tomorrow's daily report from Face & Body Northern California!