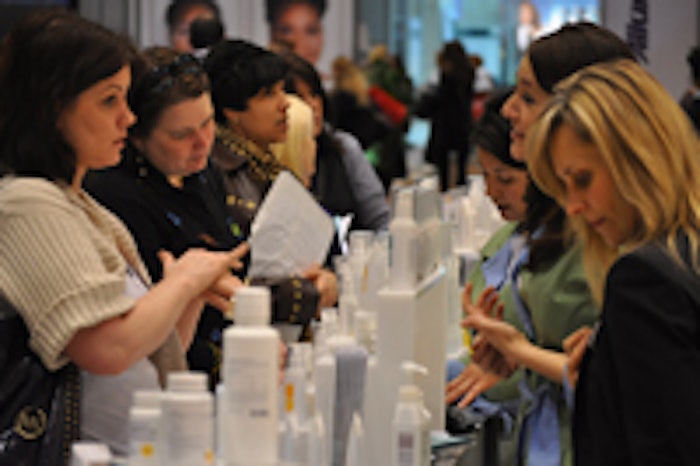 As I was driving home from a very successful Face & Body Midwest Spa & Healthy Aging Conference and Expo at McCormick Place West in Chicago, I had the chance to reflect on how much change this industry has seen and been through during this past year.
Most of you have had to figure out—quickly—a new way to do business. I was impressed with, but not surprised by, the turnout we had at this year's show, which tells me that despite the economic downturn, you still are keeping on top of your businesses by continuing your education, checking out what is new to the market and networking with your peers. This business strategy trio was also a recurring theme of this year's show.
The education
The three-day conference and expo kicked off on Saturday, March 27, with the product-neutral Advanced Education Conference Program. Industry experts discussed the topics that affect today's spa owners and managers, ranging from "Spa Branding Through Online Media" to "The Oprah Experience: A Guide to Thriving in a Medical Office to Living and Breathing Your Brand."
"I had some 'ah-ha moments' during the education about how I can build my business by working on packages with my doctor," says Joanne Jager, a licensed skin care specialist at Rios & Lapinski Plastic Surgery and Dermatologic Institute in Joliet and Frankfort, Illinois.
The networking continued on into the evening when a sold-out Face & Body Evening Out group headed to Macy's on Michigan Avenue to marvel and network during Macy's Window Magic Tour. The tour exposed how the department store's special team of visual stylists works to create hundreds of eye-catching window displays each year. The group got a behind-the-scenes look at this amazing process, and was inspired with creative ways to construct eye-catching displays in the spa, as well.
On Sunday, a group of spa professionals participated in the Networking Luncheon that featured a keynote presentation by Carol Phillips of BeauteeSmarts, a company that supplies spa and salon sales tools and strategies. Phillips gave the group suggestions about how they can grow their businesses and succeed in any economy.
Gabriella George, spa manager at The Spa at Bear Creek at the Bear Creek Mountain Resort & Conference Center in Macungie, Pennsylvania, came to the show and expo for the business education and networking opportunities. "I just took over this position, and I thought it would be a great way for me to get in here and take advantage of some classes," she explains. "I spent the day in the Business-building track, and it was wonderful; every speaker was very informative. I learned so much that I can bring back to my business, especially regarding interviewing and what I need to look for as a manager. I attended the Networking Luncheon because I thought it would be a great way to get to know people in similar positions from different areas and different settings. We're a resort spa, and we're always looking to grow our esthetic services."
The expo floor
In addition, the expo floor was hopping. Thousands of attendees took advantage of the face-to-face sales and networking experience, eager to move their businesses forward and upward. Attendees also had the unique experience of being able to walk the floors of the cosmetology-focused America's Beauty Show, which was co-located with Face & Body Midwest.
New this year to the show floor were live demonstrations that took place every 30 minutes. Each of the four demo areas featured a different type of treatment from a variety of industry suppliers. Companies also presented their specific products and techniques, and conducted hands-on demonstrations and lectures in more than 30 separate Supplier Classes. Attendees were able to learn from the experts themselves and gain valuable face-to-face time with their favorite suppliers in an informative and interactive setting.
"When I saw what the show was offering this year, I was really excited about the classes. I use Éminence products and wanted to hear Boldijarre Koronczay. I have my standard things I do when I come to the show and see what is new. I want to network with people and see what is going on in the industry. I was really pleased with the education on Saturday, as well," states Tina M. Silhavy, owner of Tina's Day Spa in Crown Point, Indiana. "I'm a one-person operation and appreciate this show being in the Midwest."
Natalya Devaux, manager of Spa Blu at the Blue Chip Casino in Michigan City, Indiana, summarized the overall atmosphere of Face & Body Midwest. "This show was informative, it's a great pool of people who provide great ideas, plus it's well-organized and well-planned. The transition between speakers during the Advanced Education Conference Program was seamless. I'm definitely coming back next year!"