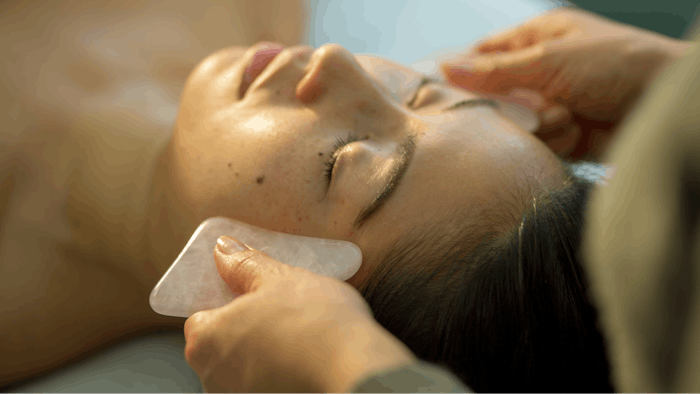 Wellness was everywhere at our Face & Body Northern California spa conference on Aug. 20-21, 2023. The first advanced education course kicked off on Sunday, Aug. 20 with What Facial Massage Can Bring to Facials, presented by Katherine Stribakos, esthetician and owner of Scrub Me Skin Care. 
The wellness pro and solo esthetician specializes in pressure point massage, facial lymph drainage massage, gua sha massage and herbal poultice facial massage. Stribakos discussed three top facial massage treatments that can be utilized in the treatment room to enhance physical and mental wellness. 
1. Gua Sha Massage
This popular facial massage incorporates the use of stone tools to manipulate lymph fluid to create drainage in the face. Stribakos shared her favorite tools and their specific uses and benefits in facial treatments, along with the many benefits of gua sha. 
These benefits include releasing tight facial muscles, reducing and diminishing wrinkles and can be performed on all skin types. Gua sha is a great option for your clients  searching for holistic approaches to treating signs of aging. Although, this service is not recommended for client with inflamed acne. 
2. Manual Lymph Draining Massage
This massage technique follows lymph flow lines to reduce inflammation and detoxify skin by stimulating lymph flow and drainage. The defining factor of this massage treatment is the utilization of gently touch and that there are no tools needed. This specific technique is great for clients dealing with inflamed acne or redness. 
Related: [Demo Included] Top Tips & Techniques for Facial Massage Therapy
3. Classic Circulation Boosting Massage
This massage techniques boosts oxygen blood flow to the skin, creating a radiant glow. This therapy utilizes hands only, and it lifts skin tissues, while ironing out fine-lines. This facial treatment is great for clients with concerns of aging or dull skin, along with relieving any muscle tension. 
 Facial Massage Benefits
Facial Massage has boosted many benefits in and out of the treatment room. Stribakos educated attendees on specific benefits her clients experience including: de-puffing by draining access fluid, reducing redness, sculpting the face, has the power to diminish wrinkles/fine-lines, makes extractions easier for estheticians, and gives skin a healthy glow without using too much product. 
 How to Utilize Facial Massage in the Treatment Room
Before providing a live demonstration of a facial massage for the class, Stribakos discussed how to utilize these techniques in the treatment room. She suggested learning what type of massage is most helpful for your client's specific goals, and the best ways to give your clients relaxation and results. These techniques offer a wider range of offerings for your clients, and it can also upgrade your own self-care and massage techniques.