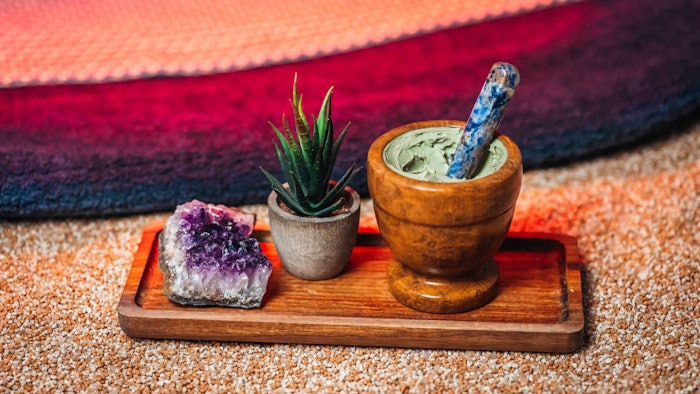 Photo courtesy of the Sunstone Spa
'Tis the season for holiday wellness treatments. While this time of year can be exciting and filled with activities and loved ones, it can also be stress-inducing. Now's the perfect time to add renewing and fulfilling services that will help clients focus on rest, rejuvenation and gratitude. 
We're here to share some major treatment menu inspiration with these luxury wellness spa's latest holiday service offerings that include a vanilla spice brown sugar body scrub, Silent Night meditation practice and more. 
1. Dazzling Gems
Agua Caliente Resort Casino Spa Rancho Mirage's Sunstone Spa offers a Couples Package created for the holidays that includes the 90-minute Polished Gem and Massage for two and a keepsake Sunstone Spa Robe for an added treat. The treatment's full body, custom scrub is made of desert sea salts and gemstone-infused oils. The massage uses heated gemstones and rose quartz infused with oils that work together to create an experience that relieves holiday tension and softens the skin. 
2. Sentimental Keepsake
Sunstone Spa also offers the Double Relaxation Package, which includes an aromatherapy blending bar experience. The blending bar allows guests to create a keepsake Gemstone Aromatherapy Rollerball or Massage and Bath Oil. The specialist on staff will guide guests though the process of creating a mix of gemstones and oils to carry through the rest of the holidays. 
3. Seasonal Meditation
Terranea Resort's The Spa at Terranea is offering multiple meditation packages that allow guests to take a few hours out of their day to practice breath work and gratitude. The Silent Night meditation allows guests to quiet the mind and pause for reflection during the busy holiday season. The Gratitude Practice session invites guests to join together for a group meditation in the oceanfront Movement Studio. 
4. Sense Refresh
The Spa at Terranea also added the Sense of the Season experience to its treatment menu. The service includes a 90-minute vanilla spice brown sugar scrub and full body massage. This combination soothes holiday stress and winter dry skin for a refreshed mind and complexion.