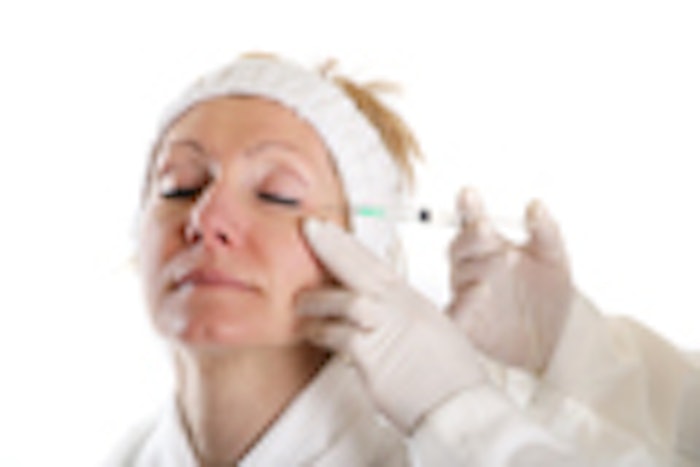 Allergan Inc. said on Thursday, September 11, that its popular Botox facial wrinkle-smoother worked as a treatment for adults suffering from chronic migraines, according to late-stage clinical data.
Shares of Allergan, which had been under pressure amid concerns the trial would fail, rallied as much as 13%, even as the broad market stumbled.
Botox, or botulinum toxin type A, is the first therapy being investigated for chronic migraine, which affects an estimated 1.2 million to 3.6 million people in the United States, according to the company.
Irvine, California-based Allergan, which also makes breast implants and eye care products, said data from its Phase III clinical trials showed a significantly greater decrease in headache days among patients receiving Botox, compared with those receiving a placebo. Injections at fixed sites in varying locations, including the forehead, temples and potentially extending into the neck muscles, were well tolerated, it said.
"This is positive, there's no question about it," said Jefferies & Co analyst Peter Bye. "The question is, how positive? The devil is in the details here."
The first Phase III trial missed its primary goal of a reduction in the number of headache episodes compared with placebo, but did demonstrate a statistically significant benefit on the secondary goal of a reduction in headache days versus placebo. According to Allergan, the U.S. Food and Drug Administration (FDA) considered the number of headache days as a preferred measure of effectiveness.
Based on the data from the first Phase III trial, Allergan changed the primary goal of the second Phase III study to number of headache days from number of headache episodes. In the second Phase III study, the primary goal and secondary goal showed a statistically significant benefit for Botox over placebo.
"At this point, it is unclear to us if Allergan will be successful in obtaining a headache indication as we cannot think of a drug that received an indication after missing the primary endpoint in one study and switching the primary endpoint in the second study," Wachovia analyst Larry Biegelsen wrote in a research note. He said he expects the FDA to conduct an Advisory Committee meeting, which could be to Allergan's advantage as Botox appears to be effective in treating migraine. "Without seeing the actual clinical data, it is unclear to us if the results were clinically relevant," Biegelsen said. Without an indication, the company could not promote the data as the U.S. Department of Justice is already investigating the off-label promotion of Botox for migraine, he noted.
In March, Allergan said it received a subpoena from the Justice Department investigating the promotion of Botox. The company said it believes the subpoena is related to alleged off-label promotion of Botox to treat headaches, for which it is not approved. Allergan said it was fully cooperating with the investigation. Still, the favorable data will likely make more physicians more likely to try it on their patients who suffer from migraines, said Bye, who has a "hold" rating on the stock.
The company said that Botox costs $525 a vial, and 1.5 vials were used to treat a headache in the studies. Allergan said it hopes to file a supplemental biologics license application with the FDA for the use of Botox in chronic migraine by mid-2009. The company expects full data results to be published or presented by mid-2009. "If the data were really good and clean, I doubt (Allergan) would be waiting until mid-2009 to file (its FDA application)," Bye said.
A spokeswoman for the company said it wants to take the time to fully evaluate the data. She said the company will file an application in Canada and Europe shortly after filing with FDA. A mid-2009 FDA filing, she said, could mean U.S. approval by the first half of 2010. "There's certainly quite a bit of off-label use in headache now," said Dr. David Simpson, neurology professor at the Mount Sinai School of Medicine. "I suspect to the extent that this information is public, it would increase both the knowledge and clinical willingness to use it. But at this point, it's just a press release. None of us have seen the data yet." He noted that in May 2008, the American Academy of Neurology concluded that botulinum toxin type A was not an effective treatment for chronic headache.
Biegelsen said current off-label use of Botox for migraine accounts for about $50 million, or about 5%, of total Botox sales. If Allergan gets the migraine indication, migraine sales could increase to about $400 million by 2012. The company declined to estimate the size of the market for migraine treatments.
By Debra Sherman, Reuters, September 11, 2008