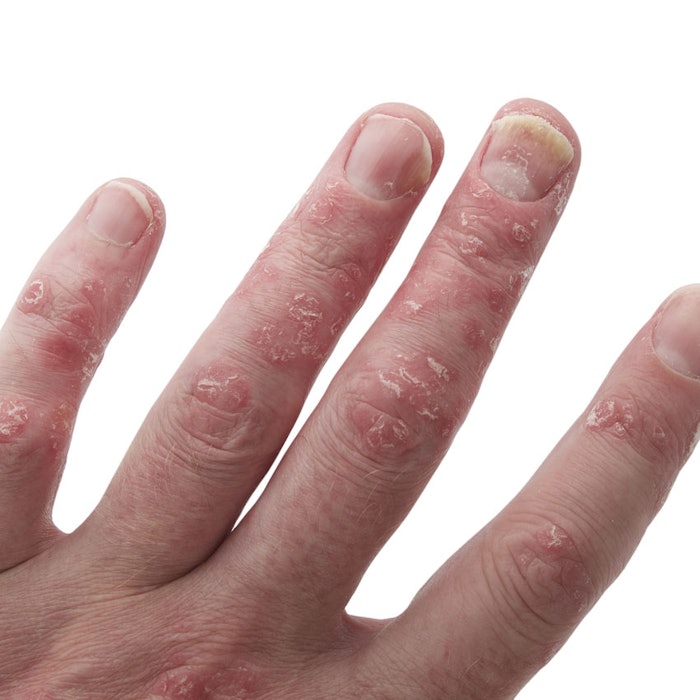 May is Arthritis Awareness Month and the perfect opportunity to spread awareness about psoriatic arthritis, which is a chronic, progressive disease that affects up to 30% of people with psoriasis.
Psoriatic arthritis can be difficult to diagnosis. Early recognition, diagnosis and treatment of psoriatic arthritis is crucial to prevent joint damage and disability.
The National Psoriasis Foundation shares the signs and symptoms of psoriatic arthritis.
Common Symptoms of Psoriatic Arthritis
Nail changes;
Pain in the lower back;
Reduced range of motion;
Fatigue; and
Pain, swelling, stiffness, redness in and around the joints and tendons.
A unique symptom of psoriatic arthritis is sausage-like swelling of the fingers and toes.
4 Facts About Psoriatic Arthritis
People with mild psoriasis are just as likely to develop psoriatic arthritis as those with moderate to severe psoriasis.
 
In 85% of individuals, psoriasis precedes joint disease.
 
While there is no definitive test for psoriatic arthritis, a patient's medical history (particularly with psoriasis), physical examinations, blood tests, MRIs and X-rays of affected joints can be useful.
 
National Psoriasis Foundation research from 2011 reveals that nearly one in four people with psoriasis may have undiagnosed psoriatic arthritis.
Learn more from www.psoriasis.org/about-psoriatic-arthritis.