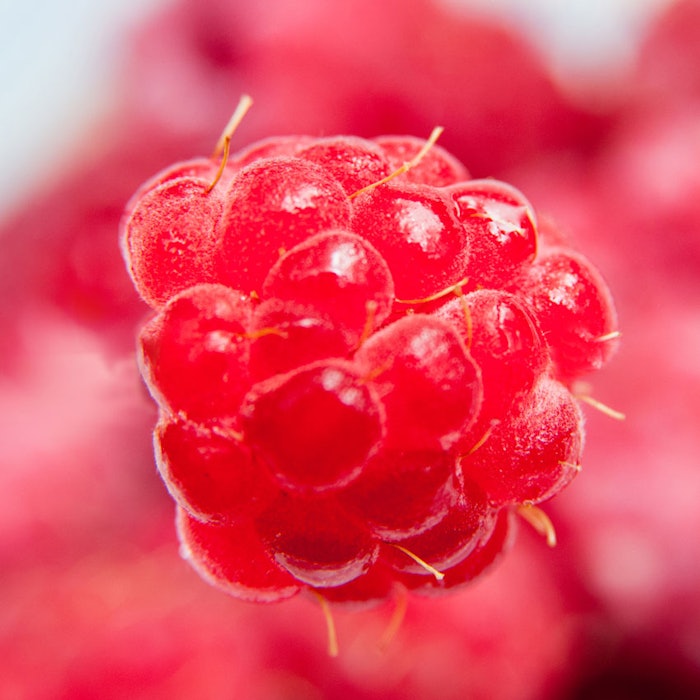 New work published online in advance of the January 2017 International Journal of Pharmacy and Pharmaceutical Sciences suggests raspberries are good for more than just pie. Here, a raspberry fruit extract formulated in an emulsion-gel was shown to improve erythema and melanin levels in skin.
The raspberry extract was incorporated in the inner oil phase of the o/w emulsion-gel. This and a control base, without extract, were used in a formula applied to the cheeks of 13 healthy female human volunteers for 12 weeks. The formula containing 4% concentrated raspberry extract significantly (p > 0.05) decreased erythema and skin melanin, whereas the base did not. 
This corroborates work presented a few years ago in Cosmetics & Toiletries by a different group of researchers. In that study, a hydrosoluble stem cell culture extract from Rubus idaeus (American red raspberry) was found to exhibit anti-inflammatory activity, mainly due to the presence of high levels of flavonoids and anthocyanins.
In addition, it provided antioxidant power due to the presence of natural phenolic components, and induced genes responsible for DNA protection and repair—more so than resveratrol.
While it's not a new ingredient, interest in raspberry is. Could become the next superfruit for natural skin care? It's in the perfect position to ride the anti-pollution trend to the top.