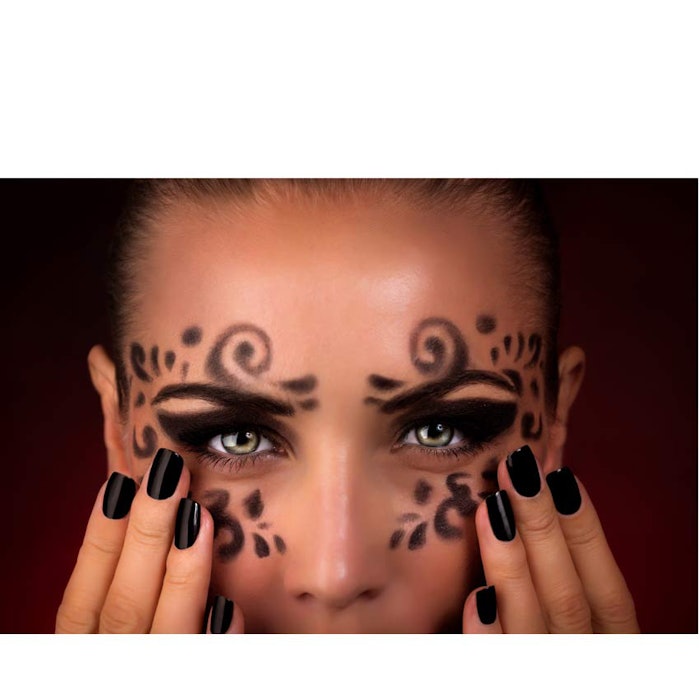 As Halloween approaches, your clients and their families (yourself included) might be looking for a ghoulish glow using spooky makeup available at novelty shops this time of year. But how can you help prevent treating a tricky rash or other skin reactions?
Skin Inc. has some tips from the U.S. Food and Drug Administration, Centers for Disease Control and Prevention (CDC), as well as cosmetics and skin care experts on how to check for safe Halloween makeup ingredients and more that you can share with your clients.
Check the ingredients
Heather Capps, a physician assistant with DermOne Dermatology Centers in Mesquite, Texas, says to check to make sure the Halloween makeup kit says it is non-toxic.
"Products that contain emollient laxatives, talc or hydrocarbons can be toxic," said Capps. 
Also, coal-tar hair dyes, which in the past were used in hair coloring but have since been reformulated by major cosmetics companies, are not intended to be used for staining the skin, according to the FDA. In the 1980s, some coal-tar hair dyes were found to cause cancer in animals. The FDA published a regulation requiring a special warning statement for all hair dye products containing these two ingredients:
4-methoxy-m-phenylenediamine 2,4-diaminoanisole
2, 4-methoxy-m-phenylenediamine sulfate 2,4-diaminoanisole sulfate
In addition, many people might be unaware of the lead poisoning risk, in adults and children, from an easily avoidable source: the traditional eye cosmetic known as kohl, kajal, al-kahl or surma, the FDA said. The FDA has an import alert in effect for cosmetics containing kohl, not only because it is an unsafe color additive, but also because of labeling violations.
For example, the FDA said some samples have been labeled with the false statement, "FDA Approved." Also noteworthy is that some manufacturers might label eye cosmetics with the term "kohl" simply to indicate the shade, not because the product actually contains kohl, the FDA noted. If the product is properly labeled, consumers can check the ingredient declaration to determine whether it contains only color additives that are approved for cosmetic use in the area of the eye.
Make sure the colors are approved for use in face paint
Capps has a warning for those who might use food coloring or other 'DIY' skin-coloring products, such as natural and organic foods on their faces: Don't do it.
"Some fruits and vegetables, such as blueberries, can stain your face for days," Capps stated. "Citrus fruits can also have a chemical reaction in the sun, potentially causing burns and blistering. Just because it's organic and good for your body doesn't mean it needs to be on your face." 
The law says that color additives have to be approved by FDA for use in cosmetics, such as color additives in face paints and other cosmetics, including theatrical makeup. Find the names of the colors on the ingredients package and check the Summary of Color Additives on the FDA's web site. There's a section listing approved colors for makeup, such as D&C Black No. 22004 (for use in eyeliner, brush-on-brow, eye shadow, mascara, lipstick, blushers and rouge, makeup and foundation, and nail enamel), D&C Black No. 3 (for use in eyeliner, eye shadow, mascara, and face powder), FD&C Blue No. 11982 (for use in cosmetics generally, allows MnO2 in manufacture and eye area use includes lake) and more. 
If there's a color in the makeup that isn't on this list, the company that made it is not obeying the law, according to the FDA. Even if it's on the list, check to see if it has FDA's OK for use near the eyes and "if it doesn't, keep it away from your eyes," the FDA warned. 
Glowin' in the dark
According to the FDA, there are eight fluorescent colors approved for cosmetics, and like other colors, there are limits on how they might be used. None of them are allowed for use near the eyes (check the Summary of Color Additives again). These colors are: 
D&C Orange No. 5, No. 10 and No. 11
D&C Red No. 21, No. 22, No. 27 and No. 28; and 
As far as luminescent colors that glow in the dark are concerned, the FDA approved luminescent zinc sulfide in August 2000 for limited cosmetic use. It's the only luminescent color approved for cosmetic use, and it's not for every day and not for near your eyes, according to the FDA.
Check for allergic reactions
The experts agree to always do a patch test if you are using a new product by placing a small amount on your arm for a couple of days to check for an allergic reaction before you put it on your face. According to the FDA and CDC, always test makeup in a small area first for allergies. 
Follow all directions carefully
According to the FDA, follow all directions carefully and don't decorate your face with substances that aren't intended for your skin. If the face paint has a very bad smell, this could be a sign that it is contaminated, the FDA said, so throw it away and use another one.
Check the package's directions for intended use. Some face paint or other makeup might say on the label that it is not for use near the eyes. Believe this, even if the label has a picture of people wearing it near their eyes, the FDA stated, and keep makeup from getting into your eyes. Even products intended for use near your eyes can sometimes irritate your skin if you use too much, the FDA warned.
Protect your skin and use gentle alternatives
Southern California-based Contour Dermatology, led by Dr. Timothy Jochen, recommended putting a primer on your skin prior to Halloween makeup application, because it will create both a smooth finish and a small defense against clogged pores. The dermatology practice also recommended using a good quality makeup to help prevent clogged pores. Capps also noted: "Stay away from grease-based makeup, which can cause breakouts." 
A good option that makeup artist Mayela Vazquez suggested for Halloween is to use everyday makeup in intense dark and light colors to create spooky looks through highlighting and shadow techniques. She recommended using a foundation much lighter than one's own skin color for a ghostly complexion, a light shimmer to highlight, a cream eyeliner in black or burgundy all topped off with fun, false eyelashes.
But whatever you do, don't use glue, Contour Dermatology said. Use Spirit gum to apply any latex or foam accessories on your skin. When removing these accessories from your skin, slowly peel off the accessories to prevent damage to the upper layer of the skin, the doctors recommended.
Capps said to use an eyelash glue as an alternative. "These adhesives will often come with their own skin-safe remover. Don't battle the dark forces of superglue on your face and expect to win this one," she added.
Another classic way to help prevent blemishes and rashes: Don't share costumes, makeup or makeup applicators. "When was the last time they were washed, anyway? They can easily carry viruses, fungi and bacteria, especially the common pink eye," Capps warned.
Also, be aware that directly touching dry ice, frozen carbon dioxide used to create atmospheric fog in Halloween decorations like cauldrons, can be dangerous to skin. "Burns from dry ice should be handled in the same way as burns from heat: If blisters start to appear, contact your doctor or go to your nearest ER," Capps added. 
Don't forget to wash it off 
Finally, all of the skin care experts said that not washing off Halloween makeup after a long night will cause pore clogging, and possible skin and eye irritation, so be sure to use a makeup remover followed with a moisturizer to prevent another scary look the next day.