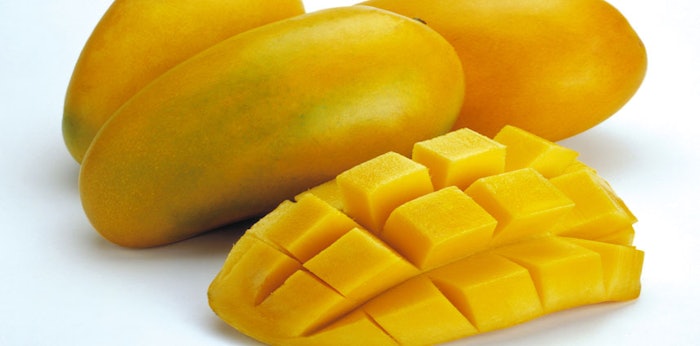 Eating 85 g (approximately 1/2 cup) of mangoes daily can decrease facial wrinkles and fine lines, while ingesting larger amounts 250 g/day has the opposite effect, according to the results of a randomized, two-group, parallel-arm study, published in Nutrients (November 4, 2020).
Researchers at UC Davis and California State University, Sacramento, recruited 36 healthy postmenopausal women (50 to 70 years old; Fitzpatrick skin type I, II, or III; body mass index (BMI) between 18.5 and 35 kg/m2). The women were split into two groups. One group consumed 85 g of mangoes daily for 16 weeks; the other ingested 250 g (1.5 cups) daily for 16 weeks.
The researchers took facial photographs at weeks zero, eight and 16 to quantify wrinkles at the lateral canthi and erythema at the cheeks. Deep wrinkle severity decreased significantly in the 85 g group after eight and 16 weeks compared to baseline measures. In contrast, those in the 250 g group showed an increase in average wrinkle severity at 16 weeks as well as an increase in average wrinkle length, fine wrinkle severity and emerging wrinkle severity.
The researchers posit that, while β-carotene-rich mangoes can help improve skin health, the increased sugar intake in the 250 g group may have caused glycation, resulting in increased wrinkle severity.
Read the full study here.