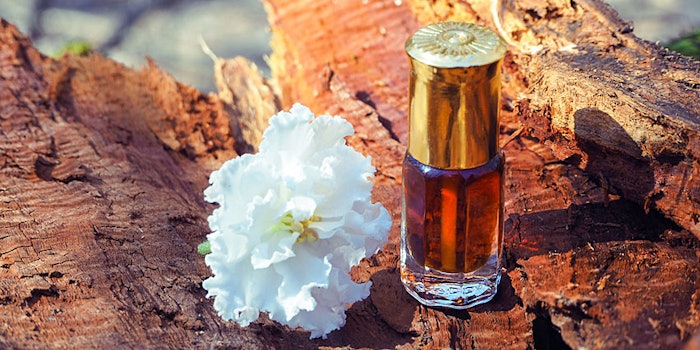 According to a study published in Cosmetics Journal, commissioned by Quintis Sandalwood, researchers found that Indian sandalwood oil may be a more potent antioxidant than lipophilic antioxidant vitamin E (alpha tocopherol).
Archived: How Hair 'Smells' Sandalwood to Reverse Baldness
Indian sandalwood oil is the essential oil obtained by steam distillation of the aromatic heartwood of Santalum album. The oil is known for its soft, warm and woody odor.
The cellular study found that with exposure to environmental stressors, Indian sandalwood oil recorded a reactive oxygen species reduction 30-40% higher than the recorded reduction from vitamin E.
In addition, the oil is capable of significantly decreasing the damage to the collagen in skin tissues caused by stressors, such as blue light from solar and digital sources and pollution from cigarette smoke.
These findings indicate that Indian sandalwood oil could serve as a protective and anti-aging active ingredient in cosmetics and skin care through a range of applications.
"In the study, when isolated skin tissue was exposed to simulated environmental pollution including cigarette and ozone, the enzyme MMP1, which digests the collagen tissue was increased," explained Dhanushka Hettiarachchi, Ph.D., product manager for Quintis Sandalwood. "However, when the skin isolates were treated with sandalwood oil, the enzyme MMP1 was decreased, suggesting the collagen protective effect of Indian sandalwood reduces the appearance of wrinkles."
"Skin cells were also exposed to a source of solar blue light and digital blue light, and those cells produced reactive oxygen species, which begins a cascade of reactions detrimental to healthy skin," continued Hettiarachchi. "However, when the cell cultures were treated with sandalwood oil, production of reactive oxygen species reduced by up to 76%. While sandalwood oil has demonstrated other beneficial effects including anti-inflammatory, anti-tyrosinase and antimicrobial activities, we are excited by these new research findings, as they prove the power of Indian sandalwood oil in protecting the skin against environmental damage and the multipurpose nature of this ingredient in cosmetics."