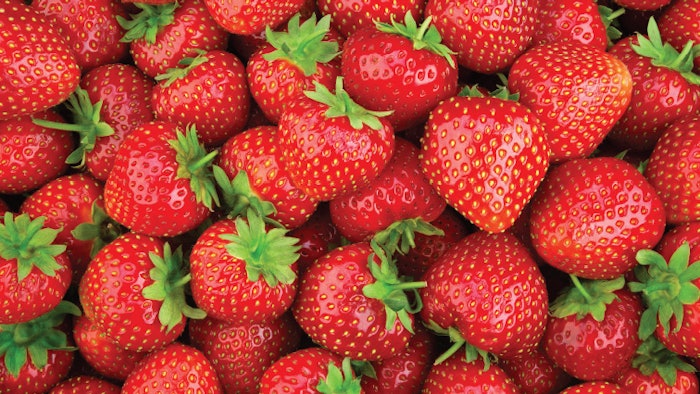 In Native America, a Cherokee legend tells of the first wild strawberries being sent to land to mend a marriage. After an argument, the wife took off, angry at her husband. The husband felt sorry and missed her, wanting her back. The Sun placed different fruits along her path to slow her down so the husband could catch up to apologize. It was not until she came to the unknown strawberries that she stopped, paused to pick them and looked back, starting to miss him. She eventually started back to share the berries and he met her along her path. Strawberries are therefore a reminder to be kind to one another.1
Strawberry appears in ancient Roman texts as well, but for medicinal purposes, which spread to Greece. In the 14th century, the French brought strawberries from the forests into their gardens for harvest. In fact, the French King Charles V (1364-1380) was said to have 1,200 strawberry plants in his royal garden.2 Strawberries are also native to North America and the first colonists are said to have sent large strawberry plants back to Europe as early as 1600.3
With some discrepancy in dates, several sources report the garden strawberry was first bred in Brittany, France, in the 1750s as a cross between Fragaria virginiana from Eastern North America and Fragaria chiloensis. The latter originally was cultivated by the Mapuche and Huilliche Indians of Chile and brought to Europe by the Spanish conqueror, Amédée-François Frézier in 1714.2
Related: 2 Strawberry Summer Treatments
Traditional and Modern Uses
According to the American Botanical Council, strawberries were historically believed to cure gout and help with digestive problems. Thomas Culpeper, the medieval herbalist, noted strawberries were "good for the healing of many ills." The leaves were used as a mild diuretic and astringent due to their high tannin content and have been used as a laxative. The leaves, fruit, crowns and roots were reportedly applied in ointments, medicinal teas and syrups. The pulp and juice of the berry also were incorporated in cosmetic preparations, including treatments for teeth whitening, skin whitening and healing sunburns.4 Interestingly, from a botanical point of view, the strawberry is not technically a berry, but an aggregate accessory fruit, meaning the fleshy part is derived not from the plant's ovaries, but from the receptacle that holds the ovaries.2
Strawberry is rarely used as a medicine today, although a tea prepared from the leaves is sometimes ingested to treat diarrhea and dysentery. Strawberries are widely appreciated for their characteristic aroma, bright red color, juicy texture and sweetness, and are primarily consumed as food; e.g., in baked goods, desserts, gelatin and jellies, soft drinks, syrups, wines and liquors.4 Artificial strawberry flavorings and aromas are also used in products such as candy, soap, lip gloss, perfume, etc.
Continue reading about the skin benefits of strawberry in the May Digital Magazine...
Rachel Grabenhofer is the managing scientific editor of Cosmetics & Toiletries, Skin Inc.'s sister brand for cosmetic chemists. She's a member of the Skin Microbiome Council and Society of Cosmetic Chemists, and for several years, led judging panels to honor the best ingredients in cosmetics.