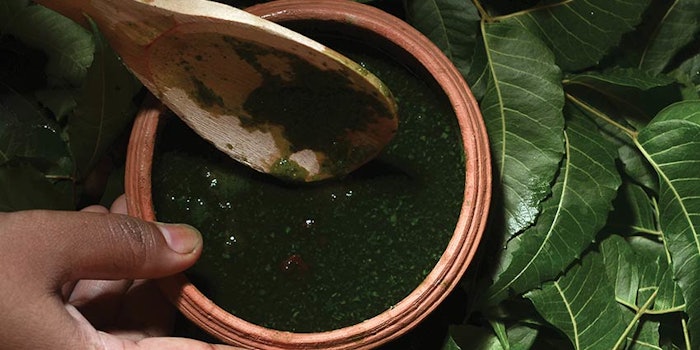 Neem, also called Azadirachta indica or Margosa, is a fast-growing tree that is found in tropical regions of South Asia. It can reach a height of 49-98 feet. Its leaves are oblong in shape, and the tree has thick, crumpled, brown bark.
Neem can be beneficial in treating skin conditions, and in addition, can reduce blood sugar levels, treat ulcers in the GI tract, kill bacteria, prevent tooth plaque, treat head lice and repel insects.1
Neem's antibacterial, antifungal and antioxidant properties make it an excellent source for treating medical and skin conditions. In this article, I'm going to highlight this unique plant's skin benefits.
Related: Glow Boosters: 12 Natural Skin Brightening Ingredients
Anti-aging
Neem has carotenoid and beta-carotene, which help protect the skin from oxidative stress, ultraviolet rays and aging (See Neem Anti-aging Face Mask). In addition, neem is also an astringent that helps cleanse the skin, minimize pores and dry out oil, while reducing skin sagging and wrinkles. The vitamin C found in neem oil also helps with collagen production to prevent skin sagging.2,3,4,5
Acne
Neem extract helps reduce sebum production, and the astringent properties help destroy the Staphylococci bacteria. The antibacterial properties also prevent future breakouts, and the antioxidant properties minimize scarring, keeping the skin fresh and clean (See Neem Anti-acne Face Mask).2,3,4,5
Continue reading about Neem's unique skin benefits in our Digital Magazine...
Shahma Ataullah is a Master Aesthetician and Educator at Aesthetic Northwest Institute Bellevue WA. She has more than ten years' experience in the aesthetic industry.