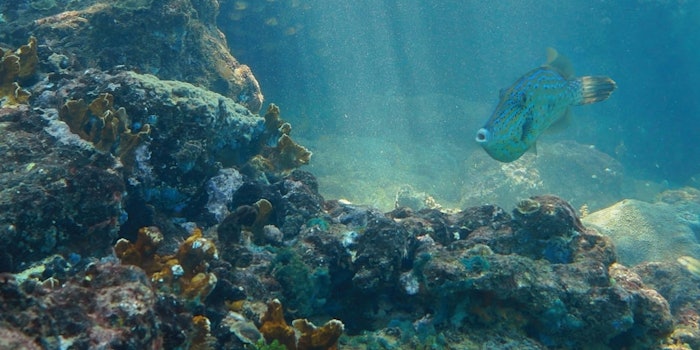 By now, gone are the hot, SPF-coated summer days spent on the beach, kicking off your shoes and wading in to the sea or lake to dig your toes into the mushy, wet diatomaceous earth beneath. Diato-what? Diatomaceous earth.
This refers to soft, crumbly and porous sediment from the fossil remains of diatoms. Diatoms are classes of unicellular plankton or colonial algae whose skeletons silicify and settle to form this rich deposit. It's then mined from dried or underwater lake and sea beds. It's not the best-smelling stuff on earth, at least in its "muck" state, but it contains many trace minerals including silica, magnesium, calcium, sodium and iron.
Different grades of diatomaceous earth, also known as silicon dioxide, are used for different purposes. Some go into pool filters. Others are used in personal care as abrasives, absorbents, anti-caking and bulking agents, non-surfactant dispersants and opacifying agents.1 They also can be applied topically as a facial mask or scrub.
Still others can be ingested for skin health, although only the food grade is designated by the U.S. Food and Drug Administration (FDA) as "generally recognized as safe (GRAS)."2 Diatomaceous earth is biologically inert and therefore rarely interacts with the human body. And even if it does, it's beneficial;3 small amounts of silicon from its amorphous silicates, i.e., silicic acid salts, are believed to enhance the body's defenses and nourish the skin.3 In addition, diatomaceous earth is neither an allergen nor a hypersensitizing agent.
Diatomaceous earth is also used as an active in commercial pharmaceutical compositions for strengthening the skeletal system, preventing osteoporosis, enhancing nail and hair formation and lowering cholesterol. It's even used as an excipient in pharmaceutical formulas to help stabilize actives.4
Furthermore, for those of the "all natural" camp, what could be more natural than earth itself? It's naturally occurring and (obviously) persistent in the environment, posing no hazard.
Interestingly, its surface properties do not favor the proliferation of microorganisms. In fact, due to its high water-adsorbing affinity, it can inhibit microbial growth; so it's unsuitable as a nutritive medium.3
The group Diatomaceous.org lists several reasons to use diatomaceous earth for not just health, but skin care. For example, the silica in it is said to work with other antioxidants to prevent wrinkling and premature aging. In addition, antioxidants such as organic silica are believed to safeguard against damage caused by UV radiation.5
Finally, one doctor of natural medicine adds that diatomaceous earth imparts detoxifying properties.6 Specifically, the silica content in it works like the antioxidants found in foods. It remains stable as it passes through the body, and its electrical charge attracts free radicals and other harmful toxins. They attach to it, which neutralizes them and removes them as the diatomaceous earth is excreted. This, in turn, slows oxidative damage and therefore imparts anti-aging benefits. The American Journal of Clinical Nutrition also found7 that silica helps to eliminate heavy metals such as aluminum from the body.
Diatomaceous Earth in the Spa
In the spa industry, diatomaceous earth is primarily used in scrubs and masks, where it exfoliates and assists in nutrient replenishment, respectively. Also, in light of U.S. legislation banning plastic microbeads from cosmetics as of July 2017, diatomaceous earth exfoliants, in microbead form, offer an eco-friendly alternative. The ingredient also provides unique benefits to color cosmetic formulations. On the ingredient listing, you will see it listed as Solum Diatomeae or diatomaceous earth.
Scrubs. Bioelements uses the ingredient as an exfoliant in its Refining Skin Polish, a brightening skin exfoliator designed to cleanse, smooth and renew. The scrub uses spherical diatomaceous earth to exfoliate skin and help clear pores, lift impurities, balance uneven tone and stimulate cell renewal. It also serves an exfoliant function in the company's Pre-Shave Cleanser.
"We formulate with the natural ingredient diatomaceous earth due to its versatility as a fossilized plant-based microalgae," said Teresa Stenzel, director of education for the brand. "In the Pre-Shave Cleanser, it serves as a mild exfoliating agent to help with the removal of dead skin. It also assists other formula ingredients with absorption, and helps the base stay smooth during application to the skin. [In addition], men's skin has particular needs due to the fact that with daily shaving, there is a tendency for ingrown hairs and irritation to occur. An ingredient like diatomaceous earth in this formula helps keep dead skin build-up at bay, which prevents clogged pores and follicles, therefore reducing the likelihood of ingrown hairs."
Diatomaceous earth microbeads also are used by SkinCeuticals in its Micro-Exfoliating Scrub to provide intense and even exfoliation.
Masks. Elemis leverages the benefits of diatomaceous earth in six different products: one scrub and five masks. Regarding its use, Annet King, vice president of global education for the brand, noted "Diatomaceous earth has a myriad of different uses and both health and skin benefits. The tiny siliceous fragments of fossilized aquatic algae are sometimes known as marine phytoplankton...some go as far as calling it a superfood due to its abundance of trace minerals. We like to use it for deep cleansing, absorbent and exfoliation properties thanks to its micro-porous but fine structure."
B. Kamins features the ingredient in its Diatomacous Earth Mask, which calms and cools while providing the skin with magnesium, iron, calcium and sodium.
SpaRitual also uses diatomaceous earth in a product featuring both its exfoliant and mineral replenishment functions. The Scrub Masque promotes diatomaceous earth (or "micro algae," in its marketing) to smooth rough areas and slough off dead skin.
Sothys also employs diatomaceous earth in its W Brightening Mask to remove oil and dead skin cells.
Color. Since diatomaceous earth is largely comprised of silica, Thalgo uses it to create an elegant texture in the company's Anti-aging Foundation. The product refers to the ingredient as redensifying marine silicium, highlighting its contribution to the product's feel and smooth application. The company also uses diatomaceous earth as exfoliants in two of its scrubs.
Mariet Van Der Starre, director of national training for Thalgo added, "For years, Thalgo has incorporated diatomaceous earth micro algae into products such as the Refreshing Exfoliator and the Melt Away Scrub with Marine Crystals. It accumulates a high concentration of mineral salts, especially silicium, which moisturizes the skin and helps prevent fine lines and wrinkles. It's also a very effective way to restore the skin's density."
Another color application can be found in Colorescience's Sunforgettable Loose Mineral Sunscreen Brush SPF 50. Regarding its use, Patricia Boland, vice president of research and development for the brand, noted, "Diatomaceous earth is part of an ingredient complex [we use] to guard against environmental stressors and fight photo-aging."
Conclusion
So it seems whether you scrub with it, soak in it or eat it, diatomaceous earth can benefit you in all sorts of ways, inside and out. Remember this if anyone ever tells you to "eat dirt."
REFERENCES