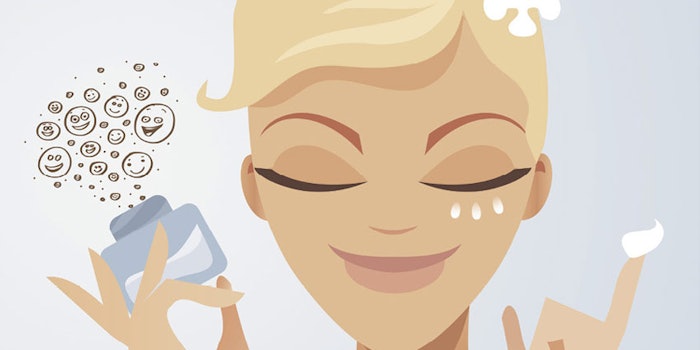 Sensory ingredients are essential for cosmetic markets, which attach a great deal of importance to the texture and comfort of a formulation. Such ingredients create a feel-good effect for all skin types, particularly for sensitive skin. In fact, some women are even more focused on how a formula feels than its effects.1
This instant gratification provided by pleasant textures also helps to combat stressful daily life, adding an emotional dimension to products. Such a positive experience can encourage consumer compliance, too. This article reviews some of the latest ingredients in skin care that add emotion to the textural sensory experience.
Find Your Happy Place in Phospholipid Emulsifiers
Phospholipid emulsifiers such as lecithin, phosphatidylcholine and lysolecithin, and other versions of them, are associated with skin care benefits including moisturization, decreased inflammation and reduced pigmentation.2 Recently, these ingredients have been found to impact the well-being of the user by imparting feelings of happiness.
In particular, phospholipid emulsifiers from the ingredient manufacturer Lucas Meyer were launched in a "Happiness in a Jar" concept.3 The company used techniques developed by specialists in psychology and neuroscience to scientifically measure the effects these lecithin compounds induced upon application.
The studies analyzed consumers' behavioral reactions to the product, including facial micro-expressions and variations in vocal intonation, as well as physiological reactions, such as the dilation of pupils or perspiration. In all cases, volunteers preferred the formula containing phospholipid emulsifiers to the placebo. Significant increases in their behavioral and physiological reaction parameters confirmed the positive emotion triggered by the product.2
'Hugs' from the Forest: Embelia concinna Flavonoids
The number of consumers whose sensitive skin needs soothing is rising; especially considering everything to which their skin is exposed. Environmental aggressors include sun exposure, harsh weather conditions, air conditioning, dramatic temperature changes, facial cleansers, soaps and exfoliators; not to mention internal stress, health issues, hormonal changes and lifestyle. These factors induce hot, tingling skin sensations ranging from discomfort to even pain and pruritus.
In hyper-reactive skin, nerve endings have abnormally high sensitivity; their stimulation leads to the release of neuropeptides such as substance P or calcitonin gene-related peptide (CGRP). External aggressions also induce the release of pro-inflammatory mediators in the skin, creating a damaging and inflammatory bi-directional cross-talk between the nervous and immune systems.
In response, active ingredients have been shown to calm and soothe these sensory neurons; for example, flavonoids derived from Embelia concinna, a plant endemic to Madagascar.4 This plant is an evergreen shrub with bright red, round fruit that grows widely between altitudes of 1,200-2,000 m. The common name for this plant is Tanterakala, translated as "the hug of the forest," which refers to the way the plant grows on nearby trees by wrapping itself around them.
In terms of clinical efficacy, E. concinna has traditionally been used topically to stop bleeding and provide tonic properties. The sap has been used to treat burns and ulcers. Several families of molecules have been identified as effective in the leaves of E. concinna, but flavonoids are the main compounds responsible for activities that calm and sooth reactive, neuro-sensitive skin.
In a 28-day study of volunteers having dry, reactive and sensitive skin, the extract showed promising results. To test its activity, the nasolabial fold areas of volunteers were treated with capsaicin, which is derived from chili peppers, to induce a "stinging" sensation. The volunteers then applied a minimally moisturizing product either with or without (as the control) 2% of the E. concinna extract. Both groups applied the products to their face twice a day. During and after the completion of the study, the volunteers rated the sensations they felt, stating the precise the nature of the sensation such as discomfort, stinging, burning, itching, tightness, etc., as well as its intensity.
The sensation intensity scores for the E. concinna-containing formula were significantly lower than in the control group; specifically, a 42% decrease in intensity vs. a 21% decrease was observed, respectively. The E. concinna ingredient also provided medium- to long-term calming and soothing effects against discomfort in dry, reactive and sensitive skin. Having a positive impact on both the nervous and immune systems, the ingredient is recommended for application in neurocosmetics.4
Tactful Tactile Experiences
Taking a step back from novel sensory experiences, it's important that formulas are adjusted according to basic consumer preferences, skin types and concerns. This can be accomplished with the choice of carrier in a moisturizing cream. In relation, raw material companies have developed systemsa to make it easier for formulators to navigate the landscape of sensory descriptors and combine ingredients that create products for a given feel.
For example, a blendb of sorbitan stearate and sorbityl laurate might be suggested for creams and lotions that are light, biodegradable and based on oil in water. This blend is also vegetable-derived and, for organic skin care consumers, EcoCert-certified.
Another option might be a mix of cetearyl alcohol, dicetyl phosphate ceteth-10 phosphatec, which creates nourishing and rich creams, can enhance sunscreen performance and water-resistance, and enable the improved delivery of active ingredients.
For more diversified textures, a product based on behentrimonium methosulfate, cetyl alcohol and butylene glycold could be used for soft, powdery and elegant formulations. Or, a hybrid blend of carbomer, sorbitan oleate, Paraffinum liquidum (mineral oil), polysorbate 80, caprylic/capric triglyceride and trideceth-6e has a cooling effect on rub-in and works for lotions that desensitize sensory feel.
Lastly, non-tacky, light-feeling formulas for oily skin types can be achieved with a mix of sodium polyacrylate, ethylhexyl cocoate, PPG-3 benzyl ether myristate and polysorbate 20f, which is effortless to spread and quickly creates a dry skin surface. By understanding what drives emulsion aesthetics for different skin types, a complete sensory spectrum can support tactile experience and alter the overall product positioning.
Building Knowledge and Credibility
Although these ingredients often belong to the world of raw materials, not marketed to end-users through product information, they are important to the skin feel of products on both the hands and face. Futhermore, although clients select their skin care by applying it initially to the hand, on the face it can feel different. Therefore, being able to recommend a new product direction, in terms of ingredient, texture and/or emotion, is a plus for all estheticians. Enhancing your knowledge of these ingredients builds credibility, especially in clients having sensitive skin, and can even alleviate long-term symptoms that impact your clients' well-being.
REFERENCES
(All websites accessed July 11, 2016.)
Footnotes:
a Sensification and
b Arlacel LC are products of Croda Inc.
c Crodafos CES,
d Incroquat Behenyl TMS-50 and
e Polasperse CSI are products of Croda Inc.
f ViscOptima LV is a product of Croda Inc.