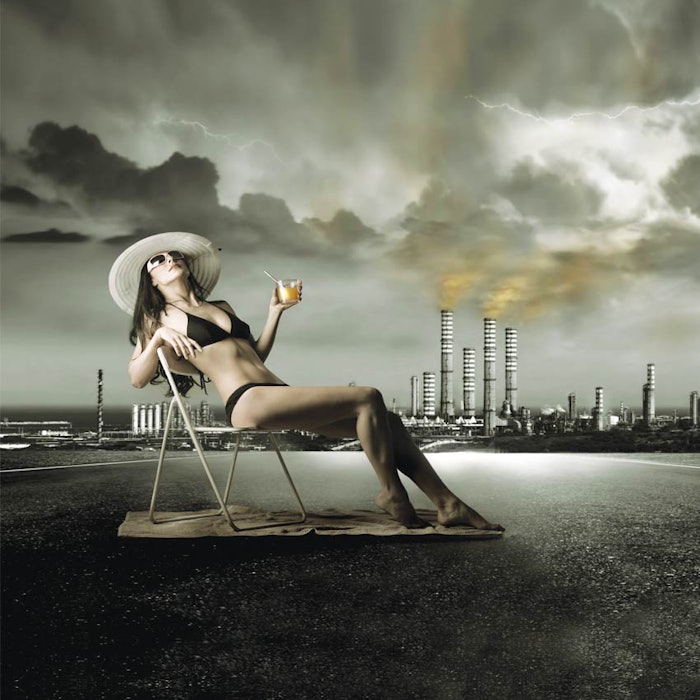 Most clients now know they must protect themselves against UV radiation to prevent premature aging and skin cancer, but a new environmental threat has gained a foothold in skin care—pollution. New skin care launches reflect different environmental conditions and consumer demands across the world. Asia, especially China, is leading the pollution-protection trend, although a stronger and more loyal following is already on the rise in urban areas of India. Here, monitoring through real-time websites and apps measures pollution to warn people of potential hazards. This has become the new weather forecast.
Air pollution awareness has grown even in Western Europe and North America, where the threat is less severe. In the United States, pollution is considered worse on the West Coast, invariably due to warmer weather.
It has been predicted that pollution protection will impact skin care as much as UV awareness has. However, it took about 30 years for most consumers to gain awareness of the potential damage caused by UV rays.
Pollution Research
Anti-pollution or pollution damage repair will be one of the key drivers in the 2016 skin care market as consumers focus on their health. Facial skin exposed to pollution—suffocated by exhaust fumes, industrial smoke, tobacco, air conditioning and ozone—looks dull, weakened, dehydrated and prematurely aged or sensitized. Exposure to pollutants triggers the generation of oxidative stress and thus protein and DNA damage, and lipid peroxidation. Anti-pollution ingredients will target both the external negative effects of pollutants on the skin as well as re-energizing and boosting the skin from the inside.
The industry is seeking a deeper understanding of pollution and its effects on skin. New studies released at the World Congress of Dermatology (WCD) showed how pollution can accelerate the visible signs of aging, especially for individuals with sensitive skin. La Roche-Posay, known for its research relating to sensitive skin, shared compelling information regarding pollution and skin health. The company highlighted two studies, in Germany and China, showing an increase in cheek pigment spots due to particulate matter from soot and traffic exhausts.
Over a five-year period, ozone was strongly linked to wrinkle formation due to antioxidant and collagen depletion. In relation, the company found that 12% of 1,600 reporting cities in 91 countries met the World Health Organization's air pollution guidelines, meaning that the remaining 88% have air quality issues. In response, the company developed cleansers, which were found to remove 95% of pollution particles from the skin.1
Global brands have always incorporated antioxidants and actives with protective properties in their skin care ranges. In Europe, however, these products have not been marketed with anti-pollution claims, although such claims definitely make a selling point in Asia. Barrier-building, antioxidant and anti-inflammatory actives that fight the signs of aging while protecting and helping to repair pollution damage are sought.
Anti-pollution Plants
New research has been inspired by plants and their ability to adapt to environmental conditions.
Artichoke. Procter & Gamble teamed up with the British Royal Botanic Gardens in Kew, London, to pinpoint natural ingredient solutions for anti-pollution. Extracts from artichoke and snow fungus, commonly used in Traditional Chinese Medicine, were chosen for hydrating and anti-pollution properties. In particular, artichoke (Cynara scolymnus, L variety) is known to inhibit the inflammation and premature aging caused by pollution.
Succory Dock-Cress. This annual plant flowers from June to September in France. It has long been used to heal scabs and soothe irritation caused by breast-feeding, hence its common name of Nipplewort. This ingredient has shown anti-free radical and anti-inflammatory benefits. It strengthens the skin's defenses against the harmful effects of environmental aggression.
White Tea. This rare and expensive plant is grown in China's Fujian mountains. Unlike other teas, white tea does not undergo fermentation; it is just withered and dried. It is rich in antioxidant flavonoids and neutralizes up to 80% of free radicals, protecting cell membranes and helping the skin to defend itself from pollution and other environmental aggressions.
Moringa. This tree is known in India as the "tree of miracles" and in Africa as the "never-die tree." The peptide extract from moringa seeds is used to encourage the elimination of pollution particles.
Anti-Pollution Complexes
Ingredient manufacturers also are responding to the new anti-pollution demand with new active complexes.
Lipids and ceramides. Evonik launched its "Elements of Care" concept in 2016 to offer solutions for external stressors based on the above-mentioned principles. The company's prototype cleanser was found to remove pollution particles down to 2.5 µm that are believed to accelerate skin aging. The company used SK-Influx Va, its skin-identical lipid concentrate, to strengthen the protective barrier function of the skin. It also incorporated Skinmimicsb, a mixture of skin-identical long chain ceramides and short-chain ceramides, to replenish the skin's own protective barrier and prevent moisture loss caused by humidity variations.
Polymer with chelation. Another anti-pollution complex combines a polymer, a chelating agent and an antioxidant. Pollushieldc offers two complementary effects: the binding of toxic metals by a polymer with chelating properties to prevent their interaction with skin; and strong anti-oxidative action by a potent free radical scavenger to prevent oxidative damage to the skin. Therefore, it both prevents the accumulation of pollution particles in the epidermis and replenishes the skin with antioxidants, increasing its capacity to resist harm caused by heavy metals, particulate matter, etc.
The effectiveness of this ingredient was tested and proven in vitro and in vivo. In keratinocytes in vitro, cells treated with the ingredient had higher viability in the presence of urban dust, indicating its protective effect. In vivo, the ingredient improved the skin's anti-oxidative capacity against damage and decreased the presence of lipid peroxides.
The Future
The demand for anti-pollution products continues to grow, with new anti-pollution ingredients being launched frequently. Many of these ingredients have found a home in new product launches but some have yet to be incorporated. As the number of people living in urbanized areas increases, so too does the desire to protect against the harmful skin effects of pollution.
REFERENCES
www.prnewswire.com/news-releases/la-roche-posay-unveils-new-pollution-study-at-the-world-congress-of-dermatology-300179640.html
(Accessed Apr 12, 2016)
a SK-Influx V (INCI: Ceramide NP (and) Ceramide AP (and) Ceramide EOP (and) Phytosphingosine (and) Cholesterol (and) Sodium Lauroyl Lactylate (and) Carbomer (and) Xanthan Gum) is a anti-pollution ingredient made by Evonik.
b Skinmimics (INCI: Ceteareth-25 (and) Glycerin (and) Cetyl Alcohol (and) Behenic Acid (and) Cholesterol (and) Ceramide EOP (and) Ceramide EOS (and) Ceramide NP (and) Ceramide NS (and) Ceramide AP (and) Caprooyl Phytospingosine (and) Caprooyl Sphingosine) is an anti-pollution ingredient made by Evonik.
c Pollushield (INCI: Water (aqua) (and) Propanediol (and) Diisopropyl Adipate (and) Lecithin (and) Acrylic Acid/Acrylamidomethyl Propane Sulfonic Acid Copolymer (and) Dimethylmethoxy Chromanol (and) Glyceryl Caprylate (and) Xanthan Gum) is an anti-pollution active made by Lipotec.