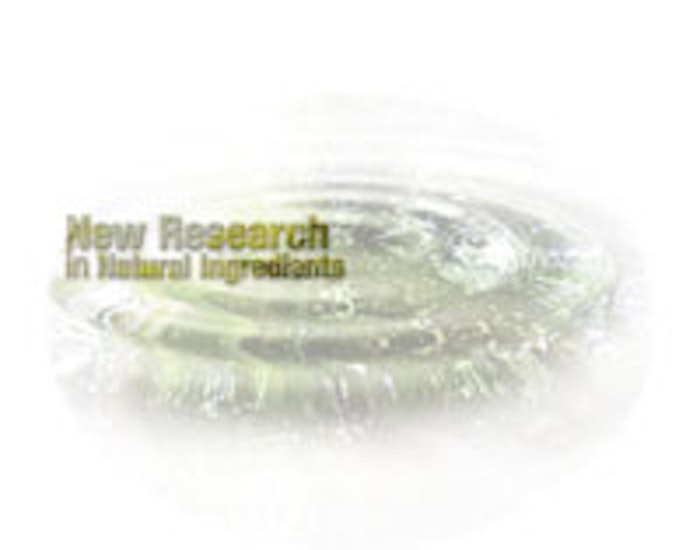 Have you ever enjoyed or benefited from a man-made lake? If you have, you will appreciate the new research in natural ingredients. Why? Consider this: A man-made lake is none other than natural ingredients moved or manipulated for the purpose of providing beneficial resources, such as energy, drinking water and food.
So it is with natural ingredients. Recent research has shown that if you combine or manipulate certain natural ingredients, they can enhance each other's performance in a synergistic way, providing beneficial and effective results.
Some words of caution: Because the cosmetic industry is self-regulated, cosmetic companies can make organic and natural claims without certification. Also, it is interesting to note that when it comes to organic cosmeceuticals, the U.S. Food and Drug Administration (FDA) does not consider the term "cosmeceutical" to be a valid product class. It is a term coined by the cosmetic industry applied to products that are said to bridge the gap between cosmetics and drugs. The term cosmeceutical often is used in cosmetic advertising and may be misleading.
The natural revolution
The natural revolution is quietly gaining momentum in the skin care industry. Check out the following trends.
Organic cosmetic sales growth in the United States is increasing every year.
People are increasingly interested in natural beauty products.
According to Lee Kynaston, editor of Men's Health magazine in the United Kingdom, men are inquiring and requesting all-natural products for their unique skin care issues. They are concerned that looking old or simply showing the natural indicators of aging, such as wrinkles, may affect their perceived value in the workplace.
Baby boomers are looking for healthier alternatives, from natural or organic food and clothing to pet food and makeup.
Young people are increasingly choosing organic clothing, food and skin care.
With these kinds of statistics, it is easy to understand why enthusiastic chemists and formulators are ramping up their research and rushing to satisfy this consumer demand. However, ask any natural skin care chemist how these trends have affected their daily routine, and they will say it's a tough job. It's difficult to maintain natural or organic standards—as upheld by organizations such as the U.S. Department of Agriculture (USDA) or Ecocert—and also make sure a formula is silky smooth, neutral or pleasantly scented, neutral or pleasantly colored, pleasantly textured, easy to absorb, nonoily/nongreasy, noncomedogenic, nonallergenic, hydrating, fair trade, eco-friendly, with a reasonable shelf life and, last but not least, just as effective as a conventional product, or better.
It is a challenge to say the least. What's more, if you want to start a fight in the skin care industry, all you have to do is put a couple of chemists in the same room and then ask them what makes a formula natural. OK, OK ... maybe there won't be a fight, but you are sure to enjoy an exciting debate on the subject.
Cara Welch, PhD, vice president of scientific and regulatory affairs for the Natural Products Association (NPA), comments, "It's all about efficacy. If you place two products next to each other, one conventional and one all-natural, and they are both truly effective and share the same price points, it's a no-brainer that an informed consumer would choose the product with ingredients that have been proven effective, natural and safe for hundreds or even thousands of years."
The key words here are "informed consumer," and that is exactly what consumers are nowadays—informed. Remember, a growing number of informed consumers are interested in purchasing a natural alternative that can often outperform a synthetic counterpart. The question is: Since this is the new buzz, are you, as a skin care professional, ramping up your research and rushing to satisfy your clients' interests and demands? If you are, you will no doubt bring new revenue to your business.
Up-and-coming natural ingredients
To get started in your search for the best all-natural ingredients, listen up, because they may be different from what you imagine. Dihydrogen monoxide may sound dangerous to those with a limited knowledge of chemistry or who hold to an ideal of a chemical-free life. There even was an attempt to ban this chemical—it's a good thing it didn't pass. If it had, everyone would be without ... water. Yes, dihydrogen monoxide is the scientific name for water. This just goes to show how the lack of scientific literacy and an exaggerated analysis can lead to misplaced fears.
Many natural and organic ingredients and organic blends have names that might raise a skeptical eyebrow. Have you ever picked up a jar of natural personal care product and read polyglyceryl-2 dipolyhydroxystearate? This very long word sounds like some horrible chemical containing unwanted toxins and metals, but it is actually a friendly ingredient. The simple organic terms that were once familiar are now being synergistically married with some very powerfully anti-aging and active compounds that are equally natural, but have the funkiest, tongue-twisting names.
So, with an open mind and being careful not to fall into the trap of two extreme mindsets—either believing that natural products aren't powerful enough to measure up to conventional ones, or adhering strictly to ingredient names that are only familiar to your own botanical vocabulary—you should continue reading. Following is a sneak peek at the up-and-coming ingredients that are not only all-natural, but highly effective.
Anti-aging. Following are natural ingredients that can help provide anti-aging results when included in skin care and cosmetic formulations.
Myoxinol*—These botanical hibiscus oligopeptides can help inhibit muscle-cell contraction, complemented with activity against biological agents of cellular aging.
Macelignan—This active ingredient from nutmeg can cause cells from adipose tissue to increase in volume, thereby allowing wrinkles to become less visible.
Zirhafirm**—This four-part synergistic combination, that includes zizyphus jujuba seed extract, recovers and maintains skin's firmness and elasticity by helping activate gene expression and strengthening intracellular unions.
EcoBidens***—This three-part blend promotes a decrease of inflammatory mediators involved in premature skin aging, and protects DNA resistance and senescence. It helps improve fibroblast proliferation and re-establishes antioxidant enzymes after sun stress.
Elestan LS 9913*—This offers unique four-in-one protection and repair activity on the skin's elastic fiber network, and helps to enhance skin firmness, resilience and elasticity.
Anti-aging for eyes. This natural ingredient can help provide anti-aging results for the eyes when included in skin care and cosmetic formulations.
Bioskinup Contour 3R***—This is an eight-part synergistic blend of Brazilian and European plants providing triple action: anti-inflammatory, anti-edematous and venous protection. This is a complete and scientifically based dermocosmetic active developed for delicate problem areas around the eyes.
Hydration. Following are natural ingredients that can help provide hydration when included in skin care and cosmetic formulations.
1,3-Propanediol—A corn-based humectant that may be superior to other synthetic humectants such as butylene glycol.
Adansonia digitata—This oil harvested from the dry valley of the Limpopo Region in South Africa helps repair damaged skin, and offers instant and sustained relief from dry, damaged skin.
Aquasense 3R***—This moisturizer helps prevent skin aging while increasing fibronectins, aquaporins and envelope proteins, increasing moisturization from inside out. Clinically tested for moisturizing and skin aging effects.

Skin lightening. This natural ingredient can help provide lightening results when included in skin care and cosmetic formulations.

Artocarpus incises—This heartwood extract of Thai breadfruit is a new skin-lightening active that may be better than kojic acid, a great substitute for hydroquinone.
Natural preservation
Of equal importance is not only what is put into natural skin care, but also what is kept out—welcome to natural preservation challenges. Not getting into the paraben debate, preservative blends have been created using a wide range of aroma-inspired ingredients and have the added benefit of providing a little aroma to the formulation. (Editor's note: For more information on the paraben debate, please see the article "The Truth About Parabens" by Carol and Robert Trow from the July 2010 issue of Skin Inc. magazine.)
For example, phenethyl alcohol, or 2-phenylethanol, may sound like a synthetic chemical, but it's actually an organic compound found in a variety of essential oils, including rose, carnation, hyacinth, aleppo pine, orange blossom, ylang-ylang and geranium. It is used as a preservative because of its antimicrobial properties. There are also preservatives that add benefits, such as being antioxidants as well. These include trehalose, or glyceryl caprylate, which is a preservative that acts as a humectant and improves the overall moisturizing capacity of the whole formula.
Steer your ship
Indeed, the natural skin care and cosmetic industry has come a long way. There are more independent studies, more science and more ways to make a difference. Like anything else, the research just keeps getting better.
The winds of change are re-directing the skin care ship. Nothing is secret anymore. Informed consumers know what they want. Being informed will also help skin care professionals know when to turn the ship, when to let go of old ideas, and when to embrace and offer cutting-edge, all-natural products that have been made from new ingredient research.
Sherrie Berry's 20-year career in business includes successful corporate executive positions such as vice president for a big-box retail chain and CEO for a distribution company. She is currently the CEO and product developer at SkinAgain, where she leads a multidisciplinary team of skin care technicians, chemists and market researchers. As a specialist in skin care development, Berry's avid belief in the benefits of all-natural product development has been the catalyst of regular consultation for her expertise in all-natural marketing regulations, standards and certification processes.
* Myoxinol and Elestan LS 9913 are trade names of Cognis Corporation, Germany.
 ** Zirhafirm is a trade name of Centerchem, Inc., Norwalk, CT.
 *** EcoBidens, Bioskinup Contour 3R and Aquasense 3R are trade names of Chemyunion, São Paulo, Brazil.