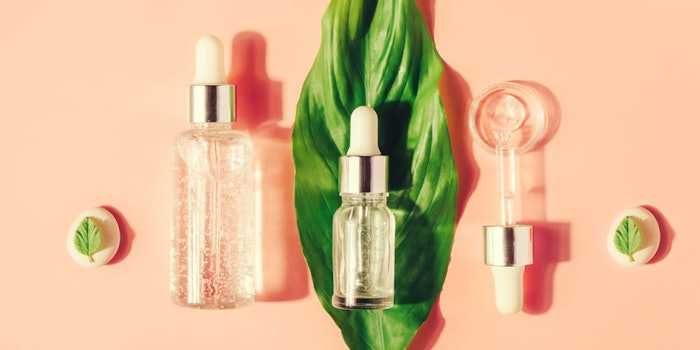 When it comes to recommending products to your clients for a home-care regimen, a face serum is essential. Face serums are one of the best ways to keep the skin moisturized and resolve any issues your clients may be facing.
Breaking Down Serums 
So, what exactly are serums? They have a water or gel-like consistency, and they are specifically formulated to penetrate deep into the skin. Due to their small molecular size, serums can target the deepest layers of the skin, rather than laying on its surface. This allows them to correct skin issues and deliver long-lasting results, which is why they are ideal to use between treatments. 
Face serums are mainly composed of active ingredients, or potent ingredients, that "actively" work to correct the skin issue they are formulated for. For example, the active ingredient in an anti-aging product is one that specifically targets aging. This may be an ingredient such as glycolic acid. Glycolic acid acts to loosen and remove dead skin cells from the skin's surface. This results in brighter, fresher skin, works to treat uneven skin tone, uneven skin texture and helps to reduce signs of aging. Active ingredients are the ideal way to give the skin the nutrients it needs while also working to heal or prevent skin problems on a cellular level. 
Serums Vs. Moisturizers
For an effective skin care regimen that delivers results, you need to use a serum and a moisturizer. Many clients are surprised to learn this, as they assume that a moisturizer alone will be enough to have healthy skin. Unfortunately, this is not the case, so it is incredibly important that you are able to educate them on why they need a serum in their home-care regimen. 
Unlike serums, moisturizers have a thicker consistency and are designed to keep moisture within the skin while preventing moisture from leaving it. Due to the molecular size of the ingredients within a moisturizer, it lays on the skin's surface. This makes potent nutrients difficult to enter the skin and resolve skin concerns.
Although there are moisturizers on the market that claim to correct or target certain issues (examples: aging, acne, dark spots, etc.), they don't have the power to correct the problem they advertise. When a face serum and a face moisturizer are incorporated together into a skin care regimen, however, current skin issues can be addressed effectively. This combination of a serum and a moisturizer provides the skin with necessary nutrients and optimal hydration.
Creating a Skin Care Regimen
In order for your clients to see the best results, they should cleanse, apply toner, apply a face serum that you recommend to target their skin concerns, apply an eye cream and finish with a moisturizer.