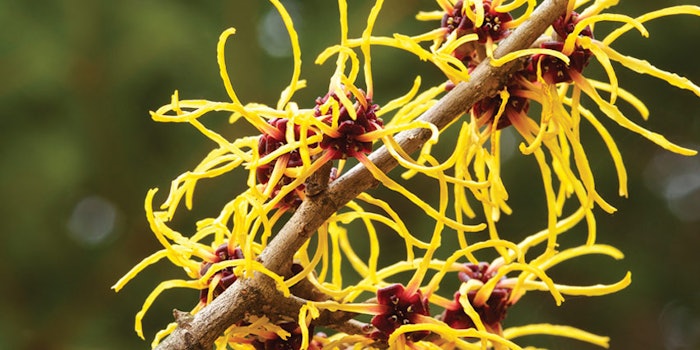 Winter is coming, and skin will soon be needing reinforcement to repair and defend against surreal cold, harsh and damaging conditions. It's no wonder why this month's theme is witch hazel: it's a historic, almost magical all-around skin healer.
According to Wikipedia,1 Native Americans used witch hazel extensively by boiling the stems of the shrub and producing a decoction to treat swelling, inflammation and even tumors. The missionary Charles Hawes, M.D., is said to have heard about the preparation's therapeutic properties and determined that through distillation, the plant's twigs were the most efficacious—this is the origin story behind "Hawes Extract,"2 which was first produced and sold in Essex, Connecticut, in 1846 by the druggist and chemist Alvan Whittemore.
Witch hazel generally refers to a genus of flowering plants in the family Hamamelidaceae,1 with four species native to North America: H. mexicana, H. ovalis, H. virginiana and H. vernalis; one to Japan, H. japonica; and one to China, H. mollis. Of these, Hamamelis virginiana is most common type used in folk medicine in the U.S.3
According to WebMD, the leaves, bark and twigs of H. virginiana are used to make medicine to treat everything from diarrhea, mucus colitis, vomiting/coughing up blood, tuberculosis, colds and fevers, to tumors and even cancer. Users also apply witch hazel directly to the skin for itching, pain and swelling (inflammation), eye inflammation, skin injury, mucous membrane inflammation, varicose veins, hemorrhoids, bruises, insect bites, minor burns, acne, sensitive scalp and other skin irritations.4
Active Constituents
According to the book Phytopharmacy,5 the main chemical compounds in witch hazel bark and leaves are tannins; these include a mixture of gallic acid, hydrolyzable hamamelitannin and condensed proanthocyanidins; notably, the steam distillate reportedly does not contain tannins. Additional entities include low levels of volatile oils; e.g., hexenol, α- and β-ionones, eugenol, safrol and sesquiterpenes. The leaves also contain flavanols such as kaempferol and quercetin and their glycosides—astragalin, quercetin, afzelin and myricitrin.5
Topical benefits attributed to the tannins in witch hazel include reducing swelling, repairing broken skin and fighting bacteria.4 Furthermore, applying witch hazel cream is believed to relieve mild skin irritation but not as well as hydrocortisone; in relation, one specific witch hazel ointment (Hametum) appeared to improve symptoms of skin injury or irritation as effectively as a dexpanthenol ointment.4
Another study published in Phytochemistry6 connected skin benefits including the increased proliferation of human keratinocytes and regeneration of irritated skin to the procyanidins found in H. virginiana. The same study showed, via sodium lauryl sulfate-irritated skin, that proanthocyanidins reduced transepidermal water loss and erythema formation. Plus, clinical scoring indicated the procyanidins significantly influenced irritative processes.
Anti: Aging, Inflammation and Acne
More recent studies also indicate mechanisms of action for skin care repair. Research published in the Journal of Cosmetic Science7 showed H. virginiana leaf extract restored the balance between elastin and LOXL1, and decreased the synthesis of the elafin enzyme, in turn fighting and correcting photodamaged skin. Put another way, as the authors explained, the elastic fibers became functional and aggregates of non-functional fibers decreased, which translated in vivo as a decrease in wrinkles and improvements in skin firmness.7
In relation, a paper published in Clinical, Cosmetic and Investigational Dermatology explored the anti-aging effects of a cleanser and moisturizer system developed for sensitive skin. The moisturizer included H. virginiana water for its skin repair benefits, along with other several other ingredients: glycerin, disodium lauriminodipropionate tocopheryl phosphates, Paraffinum liquidum (mineral) oil, niacinamide, Avena sativa (oat) kernel extract, sodium pyrrolidone carboxylic acid (PCA), panthenol and menthol. Results indicated after 28 days of use, the system was suitable for sensitive skin and imparted positive effects to reduce the signs of aging, including: moisturization, elasticity and wrinkle size, without adverse effects.8
An article by Healthline9 also reviewed reports in the literature of the topical benefits of H. virginiana. Inflammation, for example, is alleviated by the gallic acid and tannins in witch hazel. Furthermore, the ingredient contains antioxidants, which can help prevent widespread inflammation and neutralize free radicals. As such, witch hazel could have benefits to address inflammatory-related conditions such as acne, eczema or psoriasis.
The same article9 described reports of witch hazel to soothe inflammation and irritation in sensitive and even broken skin; to suppress erythema by up to 27%; and to reduce inflammation and erythema, as shown in a study of 40 subjects using a lotion with just 10% witch hazel extract.
Thanks to these anti-inflammatory properties, research suggests9 witch hazel could be useful in the treatment of acne. It also has been shown to act as an astringent,9, 10 causing tissues to contract to help shrink pores; although more research is needed to determine its efficacy against acne.
Cosmetic Ingredients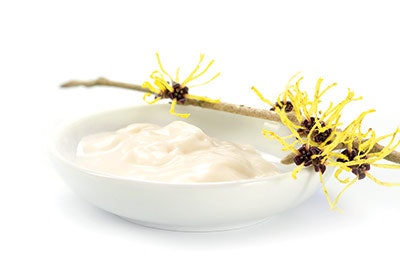 Several cosmetic ingredient suppliers are wise to the benefits of this traditional medicine and have developed witch hazel-based ingredients. One blenda combines the leaf and plant extract for a product with touted properties including: anti-irritant, antimicrobial, antioxidant, astringent, anti-dandruff, deodorant and stimulant benefits. Another extractb is highlighted for its anti-acne and astringent benefits. A third botanicalc showcases the ingredient's anti-inflammatory as well as soothing, tonic and astringent benefits.
In the Spa
Witch hazel is no stranger to the spa, commonly used in clarifying treatments for the face and body designed to serve sebum-reducing, anti-inflammation and astringent properties as a means of reducing acne.
At Bascia Spa in Temple City, California, the Acne Facial (90 min., $160) uses organic witch hazel in addition to tea tree, lavender, grape seed, deep sea mud, mung bean and more to thoroughly remove dirt and oils that can cause acne.
Witch hazel is also part of the Appaloosa Acne Facial (60 min., $85) at the Syeni Salon + Spa in Apex, North Carolina. In the facial, which is name after a breed of horses known for spotted coats, witch hazel helps tone and tighten pores. Cayenne is incorporated as an anti-inflammatory, while clove serves antiseptic benefits and willow barks functions as an astringent. Jojoba is included to moisturize without clogging pores, and lavender helps to treat and heal pimples. All the ingredients work together to clear skin without causing dryness.
The Organic Herbal Facial ($70) at Coyote Moon Herb Company in Pensacola, Florida uses witch hazel and lemongrass as toners, while rose, lavender and calendula nourish the skin.
Witch hazel helps treat skin on the back in the Body Melt Back Treatment (60/90 min. $95/125) at The Spa at Sacred Grounds in Ephraim, Wisconsin. This relaxing, full body massage combines a deep intensive massage of the back with arnica infused massage oil followed by the application of steaming hot towels steeped in therapeutic herbs such as arnica, rosemary, comfrey, witch hazel and wintergreen.
For skin care professionals looking to incorporate witch hazel into your treatments and retail, there a variety of products on the market. Skin Script uses witch hazel in its Cucumber Hydration Toner, which was formulated to rehydrate the skin while improving absorption of ingredients. It reduces discomfort and irritation, balances surface lipids and assists in boosting hydration levels.
Éminence includes witch hazel in its Rice Milk 3 in 1 Cleansing Toner, where it serves astringent and anti-inflammatory benefits, while rice milk moisturizes and brightens the skin.
Dermamed's Green Tea Toner combines hazelnut oil, hazelnut extract and witch hazel to refresh and hydrate, while green tea extract, grape seed oil and vitamin C provide antioxidant protection for a renewed and revived complexion.
For cleansing, look to the Natural Micellar Water from Bio France Labs, which contains witch hazel along with other natural ingredients to cleanse and refresh any skin type.
Repêchage also uses witch hazel in cleansing as part of its Hydra Medic Face Wash, where the ingredient helps gently exfoliate excess grime and buildup to prevent a greasy feel.
For cleansing on the go, emerginC formulates with witch hazel in its Facial Cleansing Wipes, which also contain aloe vera, radish root, honeysuckle and a fruit extract blend to remove dirt, debris and makeup from skin.
Professionals can find witch hazel in Rhonda Allison's Milk Mask, where it provides astringent, antioxidant and soothing properties to skin. The mask is designed to reduce inflammation, calm and hydrate traumatized sensitive skin after chemical peels, microdermabrasion or laser treatments.
Speaking of peels, prep skin for peels with witch hazel in Medicalia's Peel Prep Solution, which uses witch hazel to degrease the skin while Acto-Zyme helps thin the stratum corneum.
Finally, ZAQ formulates with witch hazel in its Organic Redefining Brightening Peel, which works to illuminate and energize dull, uneven and lackluster skin.
Conclusions
Witch hazel holds almost limitless powers in the realm of skin care benefits. It's a perfect secret weapon in the esthetician's arsenal against skin afflictions.
References
Wikipedia (2019). Witch-hazel. Available at https://en.wikipedia.org/wiki/Witch-hazel
Antique Medicines website (2019). Witch hazel, the golden treasure of patent medicines. Available at https://www.antiquemedicines.com/GoldenTreasure/WitchHazel.htm
Link, R. (2019). 8 benefits and uses of witch hazel. Available at https://www.healthline.com/nutrition/witch-hazel-benefits-uses#section10
WebMD (2019). Witch hazel. Available at https://www.webmd.com/vitamins/ai/ingredientmono-227/witch-hazel
Edwards, S.E., Edwards, E., da Costa Rocha, I., Williamson, E.M. and Heinrich, M. (2019). Phytopharmacy: An evidence-based guide to herbal medicinal plants. Oak Brook, IL USA. John Wiley & Sons, Ltd. Available at https://books.google.com/books?hl=en&lr=&id=KGu5BgAAQBAJ&oi=fnd&pg=PA396&dq=witch+hazel&ots=Z6DxCsPJOS&sig=nJep8hVTW_10ZyuG0QFMRYlf0sY#v=onepage&q=witch%20hazel&f=false
Deters, A., Dauer, A., Schnetz, E., Fartasch, M. and Hensel, A. (2019). High molecular compounds (polysaccharides and proanthocyanins) from Hamamelis virginiana bark: Influence on human skin keratinocyte proliferation and differentiation and influence on irritated skin. Phytochemistry 58(6). Available at https://www.sciencedirect.com/science/article/abs/pii/S0031942201003612
Pain, S., Berthélémy, N., Naudin, C., Degrave, V. and André-Frei, V. (2019). Understanding solar skin elastosis-cause and treatment. J Cos Sci 69(3). Available at https://europepmc.org/abstract/med/30052192
Spada, F., Lui, A.H. and Barnes, T.M. (2019). Use of formulations for sensitive skin improves the visible signs of aging, including wrinkle size and elasticity. Clin Cosmet Inves Derm 12. Available at https://www.ncbi.nlm.nih.gov/pmc/articles/PMC6559254/
Ibid Ref 3
Galan, N. (2019). What are the benefits of witch hazel? Medical News Today. Available at https://www.medicalnewstoday.com/articles/323628.php
a Actipone Witch Hazel GW (INCI: Hamamelis Virginiana (Witch Hazel) Leaf Extract (and) Alcohol (and) Hamamelis Virginiana (Witch Hazel) Extract (and) Water (aqua)) is a product of Symrise.
b COSMOS/Ecocert NATselect Witch Hazel (INCI: Hamamelis Virginiana (Witch Hazel) Extract) is a product of Naturex Inc.
c Witch Hazel Extract (INCI: Hamamelis Virginiana (Witch Hazel) Extract) is a product of Carrubba Inc.