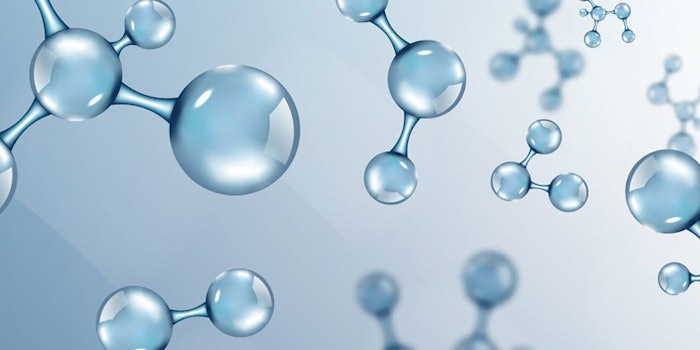 Squalane for skin care is almost a no-brainer; but first things first, squalene is not the same as squalane. This column will focus on squalane as a skin care ingredient, but to help differentiate the two, it first helps to understand their similarities. Both are lipids found in certain fish oils, especially shark liver oil, and some vegetable oils. Both also are produced naturally by sebaceous glands in human skin; squalene, in particular, provides topical lubrication and protection. The difference is squalane is a saturated derivative of squalene.
Chemically, squalene is a hydrocarbon containing six non-conjugated double bonds. This makes it one of the most unsaturated lipids, according to Attia-Vigneau et al.,1 and highly prone to oxidative damage. In fact, squalene is sensitive to the singlet oxygen free radicals generated in skin after exposure to UVB and UVA radiation. Atmospheric pollutants, ozone and cigarette smoke are also powerful oxidizing agents of squalene.1
When squalene is oxidized, peroxides are formed and these have biological consequences. For one, the peroxidized by-products produced are potent inflammatory mediators associated with acne, hyperpigmentation, skin roughness and wrinkle formation. Also, in response to squalene deterioration, sebaceous glands are activated to compensate for the poor-quality sebum they have produced, which results in excess sebum. This creates an imbalanced sebum composition that is abnormally rich in peroxidation-prone squalene and glycerides, perpetuating oily skin problems further.1
Squalane, on the other hand, is derived by the hydrogenation of squalene.2 Thanks to its completely saturated structure, it is not subject to oxidation. This fact, coupled with the reported lower costs associated with squalane, make it ideal for cosmetics manufacturing, where it typically is used as an emollient and moisturizer.3
Reported Uses
According to a report in Advances in Food and Nutrition Research,4 interest in squalene began after it was identified in shark liver oil, which has long been used as a traditional medicine. Studies thereafter demonstrated certain bioactivities for both squalene and squalane. For example, anti-cancer, antioxidant, drug-carrying, detoxifying, skin-hydrating and emollient activities have been reported.4 According to more recent studies, squalene and squalane also could be important for practical and clinical applications, and they present opportunities in the nutritional and pharmaceutical segments.4
Cosmetic Ingredients
Several cosmetic ingredient suppliers have launched squalane from renewable sources and report various skin care benefits. For example, Arista describes its squalane as "100% compatible with the natural oils of the human body." It is said to rejuvenate skin for a beautiful, luminous look, and moisturizes and softens skin to help reduce visible facial lines and sun damage.5
The company adds that squalane supplements the body's own oils to soothe irritated and dry skin. And, by restoring essential moisture, the ingredient makes skin feel more supple and firm. It is recommended especially for rough skin areas on the elbows, knees, heels and feet.5
Praan Naturals introduced two relevant ingredients within its sustainable portfolio: both olive-derived squalene and squalane, which serve as emollients to soothe skin. According to the company, they produce the squalene first, which as an unsaturated hydrocarbon has a natural affinity for the skin. This ingredient is then hydrogenated to produce squalane, which as previously described, has similar benefits but is more stable.6
Praan notes both ingredients are lightweight and nongreasy and improve formula spreadability. They also protect chapped and cracked skin; absorb rapidly into skin; restore suppleness; and create a moisture barrier. Suggested applications include skin, lip, hair and nail care, along with cosmetics.6
Anáil Mitra, chief executive officer of Praan Naturals, stated "While much of the squalene and squalane on the market is derived from shark liver, ... [these alternatives] are derived from olives—the richest plant-based source available." Mitra added that a cruelty-free option for these products is crucial since many deep-sea shark species are being hunted to near extinction.6
Another squalane ingredient produced by Aprinnova is derived from sugarcane.7 According to the company, this weightless emollient has optimal playtime and a good feel upon absorption. Since it is sourced from sugarcane, it reportedly provides a consistent and robust composition: a non-polar, fully saturated and stable hydrocarbon that is compatible with most cosmetic ingredients. It is described as an excellent moisturizer for both skin and hair.
Finally, Advonex International8 has engineered squalane in the lab from plant-based oils including soybean, palm and canola—notably, not olive oil, since its production reportedly has been hindered by bacteria that have destroyed Italian, Spanish and Greek olive trees. The ingredient is designed to be smooth, glossy and spreadable, imparting smooth softness onto skin.
Squalane is certainly a hero in spa facial and body treatments, but often an unsung hero. While it may not make the cut for marketing material and spa menus, it can be found in a multitude of products on the market, often for moisturization and anti-aging benefits.
Bio France formulates with squalene in its Injection Like Cream, which combines the ingredient with marine collagen and peptides to plump, fill and firm the epidermis.
Most of the products by Dermaviduals contain squalane, according to CEO Andrea Oismueller. This is through the company's DMS (derma membrane structure) system, which is designed to mimic the lipid barrier that contains natural squalene. DMS is said to repair the stratum corneum and bring homeostasis to the skin.
Pevonia also utilizes the ingredient for its lipid identical structure in its RS2 Care Cream and Firming Marine Elastin Cream. The company finds squalane to be an emollient rich in vitamins A and E to help increase the moisutre content of the skin, soften and smooth.
Moisture is the name of the game for squalane in ClearChoice's Intense Moisture, which contains 100% squalane derived from olive pits. In addition to moisturization, the squalane also serves antioxidant, anti-inflammatory and barrier repair activities.
Columbia Skincare also uses olive-derived squalane in its Restorative Hydrating Cream. In the cream, squalane helps replenish natural levels of squalene lost through the normal aging process.
Vegetable-derived squalane can also be found in Environ's Focus Care Youth+ Tri-Peptide Complex Avance Moisturizer, where it serves as an antioxidant-rich emollient to moisturize and reduce the appearance of fine lines and wrinkles.
Osmosis MD uses squalane in both its Illuminate Eye and Lip Treatment and its Quench Nourishing Moisturizer. "Squalane provides moisture and protection to the skin. It also offers antibacterial benefits, detoxifies and aids in regulating sebum production. It is beneficial for all skin types including sensitive to oily and acne prone. It assists in keeping the skin's barrier intact while remaining thin, non-greasy and easily absorbed," explaind Ben Johnson, M.D., Osmosis +Beauty founder.
BiON uses squalane to help repair sun damaged skin in its Bio-Replenish A.C.E. In the product, squalane is said to help repair UVA and UVB damage while protecting skin from free radicals. It also helps balance oil production and reduce inflammation.
Conclusions
Squalane is the perfect example of how things in life happen in cycles. And what better way is there to add moisture to skin than to return its original sebum constituent back to the source? It's as if skin's hydration never was lost.
References
T. Attia-Vigneau, J. et al. (2018). Safeguarding squalene: Lemon myrtle antioxidant for pollution protection and oleostasis. Available at www.cosmeticsandtoiletries.com/research/biology/Safeguarding-Squalene-Lemon-Myrtle-Antioxidant-for-Pollution-Protection-and-Oleostasis-481414431.html
Wikipedia (2019, Jul 25). Squalane. Available at https://en.wikipedia.org/wiki/squalane.
Rosenthal, M. L. (2002). Squalane: The natural moisturizer, in Schlossman, M. L., ed, Chemistry and Manufacture of Cosmetics 3 (book 2) 3rd edn 869–875
Kim, S.-K. and Karadeniz, F. (2012). Chapter 14: Biological importance and applications of squalene and squalane. Advances in Food and Nutrition Res. Available at www.sciencedirect.com/science/article/pii/B9780124160033000147.
Cosmetics & Toiletries Bench Reference (2019, Jul 25). Squalane. Arista industries. Available at http://dir.cosmeticsandtoiletries.com/detail/tradeName.html?id=13346.
Schleehauf, B. (2019, Jul 23). Praan Naturals introduces cruelty-free squalene, squalane options. Available at www.cosmeticsandtoiletries.com/formulating/category/natural/Praan-Naturals-Introduces-Cruelty-free-Squalene-Squalane-Options-513098341.html.
Ibid Ref 5. Available at http://dir.cosmeticsandtoiletries.com/detail/tradeName.html?id=24462.
Scleehauf, B. (2019, Jun 18). Plant-based squalane launch goes beyond olive oil. Available at www.cosmeticsandtoiletries.com/formulating/category/skincare/Plant-based-Squalene-Launch-Goes-Beyond-Olive-Oil-511426982.html.