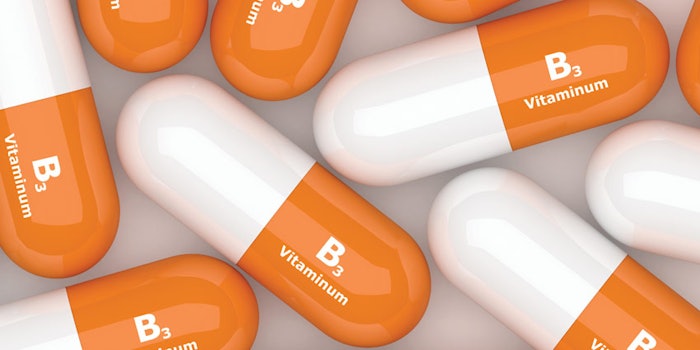 Vitamins and minerals are essential substances our bodies need to develop and function properly.1 The known vitamins include A, C, D, E and K; plus, the B vitamins: thiamin (B1), riboflavin (B2), niacin (B3), pantothenic acid (B5), pyridoxal (B6), cobalamin (B12), biotin and folate/folic acid.
Niacinamide and niacin are the amin two forms of vitamin B3.2 Niacinamide is found in foods such as yeast, meat, fish, milk, eggs, green vegetables, beans and cereal grains. It also can be created in the body from dietary niacin.
Vitamin B3 plays a key role in converting fats and sugars in food into usable energy so that cells can carry out vital life functions. Since it is water-soluble, the body does not store this vitamin.3 As such, it typically is orally ingested and may be supplemented to prevent vitamin B3 deficiency, which can lead to the pellagra.4 B3 supplementation also helps treat Alzheimer's, depression, acne, eczema, rosacea, arthritis, circulation issues, cataracts and more.
Mechanisms in Skin
Niacinamide is a component of important coenzymes involved in skin maintenance; specifically, nicotinamide adenine dinucleotide (NAD/NADH) and nicotinamide adenine dinucleotide phosphate (NADP/NADPH).5 Niacinamide readily penetrates the skin and has been shown to increase the levels of NAD/NADH found in cutaneous tissues.5, 6 Furthermore, NADPH is a cofactor for the synthesis of fatty acids and lipids such as ceramides, which explains why the topical application of nicotinamide enhances skin barrier lipids.6
Niacinamide also has been shown to increase protein levels, e.g., keratin, and speed the differentiation of keratinocytes.5 Recent work credits niacinamide for its beneficial effects on keratinocyte differentiation and proliferation, and in delaying skin aging via NAD.7 By stabilizing the epidermal barrier, niacinamide reduces transepidermal water loss to improve skin's moisture content.5
Aging, Inflammation and Pigmentation
In aging skin, topical niacinamide has been shown to smooth wrinkles by increasing collagen and glycosaminoglycan production, along with the described dermal matrix components.5, 6 It also inhibits photocarcinogenesis and imparts anti-inflammatory benefits in acne, rosacea and synthetically induced irritation. Indeed, niacinamide is suggested for many disorders relating to epidermal barrier functioning, aging skin, acne-prone skin and even to improve hyperpigmentation and melasma.5, 6
One recent study pointed to niacinamide's ability to inhibit melanosome transfer.8 Further research affirmed this assessment, finding9 that niacinamide could limit or decrease DNA methylation caused by solar radiation, which induces cellular changes that trigger hyperpigmentation.
Anti-yellowing Effects
Niacinamide also has been indicated for improving redness or sallowness.6 Researchers reported the topical application of niacinamide reduces yellowing and red blotchiness, as well as wrinkling and hyperpigmented spots in aging facial skin.10 This study compared the results of two creams, one with 5% niacinamide on 50 Caucasian female subjects aged 40-60 years. Niacinamide was well-tolerated by the skin and provided significant improvements in fine lines/wrinkles, hyperpigmentation spots, texture, red blotchiness and skin yellowing (sallowness), compared with the control.10
Niacinamide also has been shown to reduce pore size and sebum production;6 and in relation, several mechanisms involved in acne. For one, it acts as a potent anti-inflammatory agent. One report found that after eight weeks of use, 82% of subjects with inflammatory acne showed an improvement in papules/pustules (-60%) and acne severity (-52%).11 According to the lead researcher, many practitioners use niacinamide as a treatment, citing both a combination of efficacy and lack of bacterial resistance.11 Here, cultured biopsies were treated with niacinamide or trans-retinoic acid (tRA) for 4 days, incubated and their lipid components were isolated, fractionated and identified. Niacinamide was found to produce significant dose-dependent reductions in sebum.
In the Spa
With such powerful skin benefits, it should come as no surprise that niacinamide is a popular ingredient in spa treatments and products alike.
You can find niacinamide touted as part of the No-Filter Facial (60 min., $175) at celebrity hot-spot SkinLab in West Holywood, California. Along with glycolic acid, citric acid and retinol, niacinamide is formulated into the intense resurfacing mask, which is applied to stimulate and rejuvenate the face before a calming and soothing mask.
Meanwhile, the Spa at the Hotel Hershey in Hershey, Pennsylvania combines B3 with A, C, E B5 and D in its Vitamin Infusion Facial Treatment (50 min., M-Th $155/F-Su $165), which is said to reduce wrinkles, improve acne, lighten brown spots, improve skin tone and lessen rosacea.
At Maison Esthetique Christiane Bourque Spa in Danvers, Massachusettes, niacinamide brightens the skin in its 24 Karat Brightening Facial (80 min., $175) along with AHAs, bearberry, kojic acid, licorice, mulberry and vitamin C.
Dolce Vita Medical Spa, with three locations in Connecticut, mixes its own Acne Gel in-house for treatments with a combination of 2% niacinamide, 5% spironolactone and 0.025% tretinoin.
When it comes to professional skin care products, niacinamide is a star ingredient with benefits for acne, aging and dry skin.
To start, Rhonda Allison addresses acne with niacinamide in its B3 Booster, a powdered blend of vitamin B3, beta glucans and cornflower extract that helps heal problematic skin to reduce the risk of scarring. In addition to reducing inflammation and redness, the booster is said to improve the look of age and reduce the appearance of large pores.
Dull, congested skin is tackled by niacinamide with Bioelements' Kerafole, a purging facial mask for radiant skin. While it stimulates the skin and improves pores, congestion and texture, it also helps deliver the product's "tingle" experience.
Vivant formulates with niacinamide in a number of its products, including Derm-A-Renew. In the product, B3 has both a firming effect and anti-inflammatory properties.
Niacinamide is part of the healing formula in Institut DERMed's Bio-Derm Nutri Gel Serum. The formulation is designed to support skin resiliency after a peel, with niacinamide providing repairing, hydration, redness reducing and antioxidant benefits.
B3 is the hero product in Aesthetic Back Bar's Niacinamide Serum. A 5% niacinamide is used in the serum to increase exfoliation, hydration and barrier repair, especially after treatments.
Niacinamide is combined with azeleic acid, Swiss plant extracts and hexylresorcinol to lighten pigmentation and reduce wrinkles as part of its Facial in a Bottle. In the serum, B3 reduces inflammation and restores the skin's natural barrier to harmful pollutants, making skin look and feel refreshed and revived.
Pevonia also uses niacinamide to reduce inflammation in its De-Aging Body Balm Papaya- Pineapple. In the balm, niacinamide helps to heal, repair and boost circulation in addition to reducing inflammation. The product was formulated to address summer skin that had been damaged by the sun.
Reveal Advanced Brightening Cream by Eraclea utilizes niacinamide to brighten skin, which is the chief action of the product. The cream was designed to reduce hyperpigmentation and even skin tone. Niacinamide helps reduce inflammation, rebalance pigmentation and refine pores. Niacinamide is formulated with vitamin A in Skin Script's Retinaldehyde Serum to rejuvenate the skin and reduce the signs of aging. Along with retinaldehyde, niacinamide is said to condition the cell membrane for cellular respiration to help nutrition flow into the cell. The mitochondria (cell energy source) is treated for DNA repair, in essence treating for lipofuscin and solar lentigines.
Conclusions
Niacinamide is well-known for its anti-aging efficacy but this review sheds some light on additional benefits it can provide. No doubt, these will keep your clients' skin, and your business happy and healthy.
References