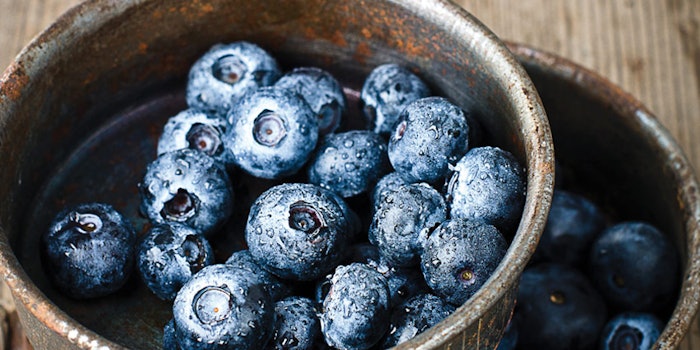 Blueberry picking is perhaps one of the most rewarding summer sports; and if conditions were right, harvest season is just around the corner. Trekking through tall fields under the radiant sun, you reach for clusters of juicy blue orbs and gently drop them into 5-pound metal buckets, then arm-curling your haul to the weigh station. And once home, you have a readily available, super-charged snack—not to mention the makings of future health-boosting pies, jams and muffins.
In the same vein as blueberry is bilberry, or Vaccinium myrtillus. This shorter, low-growing shrub is native to northern Europe although it is also found in parts of North America and Asia. The bilberry fruit is small (5-9 mm in diameter), bluish black in color and with many seeds. Also referred to as European blueberry, whortleberry, huckleberry and blaeberry, it is similar in appearance to the U.S. native blueberry. It typically grows in meadows and coniferous forests with moderately humid ground conditions.1
The name bilberry is derived from the Danish word bollebar, meaning dark berry. The use of bilberry fruits as an herbal medicine is believed to have emerged in the Middle Ages. It's named in a book by Saint Hildegard of Bingen (1098-1179), the first woman to write on the uses of herbs, and the 16th century German herbalist Hieronymus Bock.2
Medicinal Uses
Strong decoctions made by steeping the bilberry fruit plant material in boiling water were drunk traditionally to treat diarrhea. Bilberry preparations were also used historically to relieve scurvy—a disease caused by vitamin C deficiency, painful urination and to help stop the flow of breast milk.
Reportedly, the German Commission E approved the use of bilberry as a supplement to treat non-specific, acute diarrhea and topically, for mild inflammation of the mouth and throat mucous membranes.2 According to WebMD, bilberry also is well-known to be used for improving eyesight, including night vision. During World War II, British pilots in the Royal Air Force are said to have eaten bilberry jam to improve their night vision; although later research showed it likely did not help. In relation, bilberry is used for treating eye conditions such as cataracts and disorders of the retina, for which some evidence suggests it may help.3
In other areas of Europe, especially Italy, bilberry fruit is used for circulatory support.2 Related reports include its use to treat conditions of the heart and blood vessels, such as hardening of the arteries (atherosclerosis), varicose veins, decreased blood flow in the veins and chest pain. Bilberry even has been used for chronic fatigue syndrome, hemorrhoids, diabetes, osteoarthritis, gout, skin infections, gastrointestinal disorders, kidney disease and urinary tract infections (UTIs). There is some evidence that the chemicals found in bilberry leaves can help lower blood sugar and cholesterol levels.3
Chemical Constituents
Bilberry contains tannins, which reduce swelling and inflammation; this, in turn, improves diarrhea and calms irritation in the mouth and throat. Some researchers believe the flavonoids in bilberry leaf might also improve circulation in individuals afflicted by diabetes; in fact, circulation issues can harm the retina of the eye—which may explain the reported uses for eyesight improvement.3
Bilberry also is one of the richest natural sources of anthocyanins, which are what give bilberry its blue/black color and high antioxidant content. Anthocyanins are believed to be the key bioactives responsible for the many reported health benefits of bilberry, as well as other berries.1
Anthocyanins are potent antioxidants that scavenge radicals and chelate metals. While inflammation is a protective mechanism of the body, chronic inflammation increases oxidative stress and can cause many age-related diseases. Anthocyanins have anti-inflammatory effects via mechanisms including inhibiting proteasome activity, which controls the degradation of cellular proteins, and inhibiting nuclear factor κB activation, which controls the expression of genes in the inflammatory response.1
In one study referenced in Plant Science, analysis of tissues from bilberry fruits and callus cultures confirmed the presence of the flavonoids proanthocyanidin and anthocyanin; some extracts also contained chlorophylls, carotenoids, sterols and lipids. β-Sitosterol and the carotenoids lutein and zeaxanthin also were identified.4 Lutein and zeaxanthin are two carotenoids found in the retina and their use as supplements is well-known for the treatment of eye diseases.5
One patent6 describes the polyphenol content of a cultured bilberry extract as containing procyanidins including dimers, trimers, tetramers, etc; plus, doubly-linked A-type procyanidins, which are reportedly unique to bilberry. Flavonols also were reported in the form of quercetin and kaempferol glycosides; phenolic acids including coumaric, caffeic and sinapic were identified; as were catechin, epicatechin, epigallocatechin.
Topical Uses
As might be expected from its chemical constituents, bilberry can provide skin with all the antioxidative and anti-inflammatory benefits you might expect from a good anti-aging or skin-protecting ingredient.
Skin care formulations have employed the ingredient to reduce swelling, redness and irritation. As described, the ingredient also can inhibit damage caused by free radicals. Finally, bilberry has been applied in nutraceuticals, dietary supplements and functional foods for anti-inflammatory and antioxidant properties.6
Cosmetic Ingredients
Some cosmetic ingredient suppliers have optimized bilberry for topical benefits. A few years ago, Indenaa launched an oily extract obtained through the clean CO2 extraction of Vaccinium myrtillus L. (wild bilberry) seeds to soothe skin. The extract was positioned for sensitive skin and as a skin and hair restructurant.
According to the company, wild bilberry contains sebum-like essential fatty acids omegas-3 and -6 that form a protective barrier. Major components include linoleic and alpha linolenic acids. While linoleic acid is involved in cutaneous hydration, exerting a plastic-structural role for skin, alpha linolenic acid has a major anti-inflammatory effect. The extract is said to impart a light and silky touch to skin.
Another supplier, Symriseb, developed a bilberry extract touted for its high levels of antioxidants such as vitamin C, and also anthocyanosides. In addition, its tannin content was leveraged for astringent and anti-inflammatory properties. The ingredient was recommended for formulation into skin cleansers, toners and moisturizers.
Finally, Berkem also created a bilberry-based ingredientc; this time, from the plant's leaves. According to the company, the plant is rich in polyphenols in particular from the chlorogenic acid family. It prevents redness, improves microcirculation and tones capillaries.
In the Spa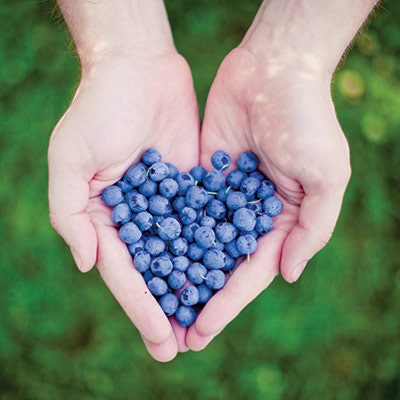 Although its antioxidant and anti-inflammatory benefits for the skin have certainly been shown, bilberry tends to take a second seat to its cousin the blueberry when it comes to spa treatments in the United States, likely because of native origin. However, that may be set to change, as spas are touting bilberry in their treatments, and professional product manufacturers are offering it as a star antioxidant.
In its Pure & Natural Organic Facial (60 min., $85), Anli Spa in Middletown, Rhode Island uses bilberry along with sugar cane and sugar maple to exfoliate dead skin cells and improve clarity and texture. The facial is said to be good for all skin types, and it also contains kombucha, seaweed and tea extracts to soothe and nourish the skin.
Spa at the Viceroy L'Ermitage in Beverly Hills uses bilberry to benefit the skin on the body in its Himalayan Superfruit Body Peel (60 min., $175). In the treatment, goji, acai and bilberry provide their natural enzymes to remove impurities while their antioxidant content helps rejuvenate the skin. A mandarin orange scrub is then applied to further refine and perfect the complexion. Clients are then wrapped in a warm cocoon to help these super fruits work, and following removal, a hydrating cream is applied.
If you are interested in adding bilberry as an add-on, look to Glow, A Mandara Spa, in Las Vegas, which offers its Bilberry & Vitamin C Seaweed Task Mask ($30) as an add-on to any of its facial services.
The market is optimal for adding a bilberry facial or body service to your menu. If you cater to sensitive clients, BelleCôte formulates with bilberry in its products for sensitive skin, including those for rosacea. The company's Day Light Moisturizer is loaded with bilberry extract. In the moisturizer, bilberry helps treat rosacea damaged skin with fragile capillaries and redness and also straightens walls of capillaries. In addition, its natural actives develop a calming, anti-inflammatory effect and protect over-sensitive skin from environmental influences and premature aging. It is also used in the company's Sensitive Treatment with Stem Cells and Bilberry, which treats highly sensitive skin including those with rosacea, redness and extra sensitivity. It diminishes the redness, reduces inflammation and swelling and repairs broken capillaries.
Bioline-Jatò utilizes bilberry in two of its products: Aqua Fruits, a mist that revitalizes and tones skin after cleansing; and Botanical O2 Cream, a moisturizer that balances oxygenation of the skin to reduce signs of fatigue.
Bilberry is used in a customized professional set formulated by DermAware. In the Face-Lift Mask professional set, bilberry is included to provide anti-inflammatory and antioxidant benefits to combat the signs of aging. The set includes a Part I powder and a customizable Part II activator in Hydrating, Soothing or Anti-aging.
If you are looking to add bilberry's power to the exfoliation process, look to Le Mieux, which uses bilberry in its Microderm Exfoliant. The scrub targets congested pores, eliminates surface impurities and reveals a smooth, glowing complexion, using bilberry to protect against signs of environmental and oxidative damage.
Finally, the anti-acne and antioxidant power of bilberry is tapped by BiON Research for its Blackhead/Whitehead Controller, where its natural antioxidant properties inhibit the development of new plugs on the skin, keeping the skin clear and free of blackheads and whiteheads.
Conclusions
The modest bilberry, and berries in general, are some of nature's most powerful athletes in the race against the elements. It just goes to show you that big things can come in small packages.
References
aOmegablue (INCI: Vaccinium Myrtillus Seed Oil)
bBilberry (Huckleberry) (INCI: Vaccinium Myrtillus (Bilberry) Fruit/Leaf Extract)
cMyrti'lla (INCI: Vaccinium Myrtillus (Bilberry) Extract)