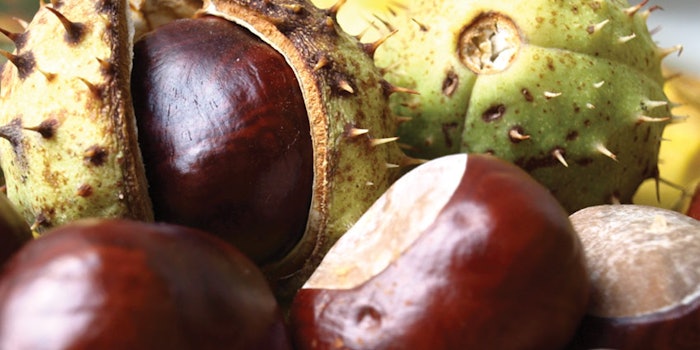 Horse chestnut, or Aesculus hippocastanum, can really get your blood pumping. Not only because it serves as an all-natural herbal remedy, for which demand has not slowed, but also because it exhibits numerous circulatory-based benefits for the body as well as skin.
How does it work? According to WebMD,1 horse chestnut plants contain significant levels of escin, a mixture of triterpene saponins that act as natural surfactants. While escin is present in two forms, α and β, and β-escin appears to be the active component.2 It thins the blood and reduces the leakage of fluid from veins and capillaries, while also weakly promoting fluid removal via urine, which eases water retention.1
Eaten raw, this powerful botanical can be lethal; however, taking a seed extract containing 16% to 20% escin can reduce varicose veins, pain, tiredness, itching and swelling in the legs.1
Topical Applications
Topical horse chestnut also can soothe varicose veins due to the escin content, which imparts anti-inflammatory and anti-edema activities on capillary permeability.
The branch bark of horse chestnut is sometimes used on skin to treat lupus, skin ulcers and eczema.1 And, since saponins act as natural surfactants, horse chestnut is utilized in natural cleansing products such as foam baths, bath/shower detergents, shower gels, liquid soaps, shampoos, hair conditioners, lotions, baby care products, mouth washes and toothpastes.3
In addition, anti-cellulite formulas have attempted to leverage the anti-water retention effects of horse chestnut.4 Also, foot care formulas using horse chestnut have been reported to soothe tired and overworked feet. According to Rigano, foot-refreshing and relieving results can be achieved via an emulsion including horse chestnut and/or witch hazel, which provide superficial capillary microcirculation in the skin of the feet, in addition to astringent effects.5
Antioxidant Action
Besides anti-inflammation, the seed extract demonstrates antioxidant activity at levels dependent on the seed part. One study6 examined the levels and distribution of antioxidants in the whole seeds versus seed shells and peeled seeds of Japanese horse chestnut.
Overall, the results suggested the peeled seeds are a good source of flavonol O-glycosides, for which the authors proposed their use as antioxidants in food and dietary supplements.
Anti-aging
Considering its antioxidant activity, it comes as no surprise that horse chestnut demonstrates anti-aging benefits. In fact, escin has been shown capable of inhibiting hyaluronidase and other enzymes such as collagenase, elastase and β-glucuronidase.1
Skin Healing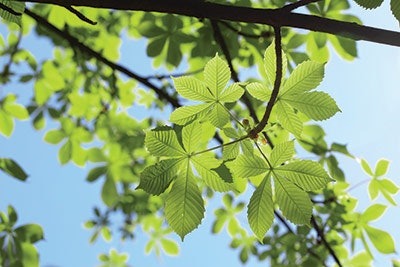 Finally, studies have shown that escin-based formulas can prevent breaks and ulcerations in diabetic skin. They do so by improving peripheral microcirculation and skin hydration.7 Escin also demonstrated three pharmacodynamic benefits: anti-edema, anti-inflammation and venotonic activity. The authors therefore concluded the cream containing escin could represent a valid approach to manage skin wounds and prevent skin ulcerations.7
Ingredient Options
Several cosmetic ingredient suppliers provide horse chestnut extracts. For example, one company developed a standardized extract from the seeds of horse chestnut treea containing a minimum of 20% escin (for oral administration) or 90% escin (for topical application). According to the company, the ingredient helps to maintain healthy blood circulation and strengthen the capillaries and veins, and has been clinically proven to benefit those afflicted by varicose veins, spider veins, hemorrhoids and related circulatory problems.
Another extractb has been indicated for not only blood circulation in the skin and scalp, i.e., to support hair regrowth, but also anti-aging benefits.
In The Spa
Horse chestnut is utilized in face and body treatments all over the world, most often to promote circulation and relief for tired legs and feet. For example, Woodstock Inn & Resort in Woodstock, Vermont utilizes horse chestnut in both its Peppermint Hand and Arm Tension Relief and Peppermint Foot Therapy (20 min., $65 M-F/$70 Sa). In both therapies, a cream containing peppermint and horse chestnut is rubbed into the skin to energize and improve circulation, respectively.
Similarly, at Venelle Salon & Spa in Brooklyn, NY, horse chestnut can be found in the Lychee and Chestnut Firming Leg Treatment (45 min, $85), a treatment designed to relieve tired, aching legs. In the treatment, horse chestnut and butcher's broom work together to improve circulation and stimulate the skin while effectively reducing the visible signs of varicose veins.
On a more global scale, horse chestnut can be found in slimming body treatments. At Thermenvelt Hotel Pulverer (Bach, Austria), the Beauty Wrap (60 min, €65,00) slims and combats cellulite using eucalyptus, rosemary, menthol, horse chestnut and lemon balm.
Meanwhile at Danubius Health Spa Irma (Piešany, Slovakia), horse chestnut is used to boost circulation in the Redefining body toning treatment (50 or 75 min.). Other actives such as geranium, butcher's broom and orange also help the body eliminate toxins.
To help global spas offer these circulation boosting treatments, there are a number of manufacturers offering body products containing horse chestnut.
In Circadia's Professional Firming and Shaping Gel, horse chestnut's escin content is noted by the company to have anti-obesity and anti-inflammatory effects. And speaking of escin, Bioline Jatò formulates with the horse chestnut-derived substance in a number of products in its Body Concept line, including: Lipoactive Thermo Cream, Reducell Active Cream, DRN Active Anti-Water Concentrate, Liposhape Cream and ThermoShape Volcanic Mud. In these products, escin inhibits the formation of new fat cells and the accumulation of fat in the adipose tissue to reduce the appearance of cellulite and slim the body contour.
Horse chestnut is incorporated into the Varicose Vein Lotion by Clinitian's Complex, where it encourages healthy circulation to reduce the appearance of varicose veins or spider veins on legs.
Circulation is also a benefit of horse chestnut in Kerstin Florian's Rejuvenating Moisture Balm, where it tones and strengthens fragile veins and capillaries. It also has antioxidant, vasoprotective, analgesic and anti-inflammatory benefits to the skin, according to the company.
To get the body ready for bikini season, Rhonda Allison formulates with horse chestnut in its Nude Therapies Peel Cream. While a combination of five acids help exfoliate the skin, horse chestnut is incorporated for anti-inflammatory purposes.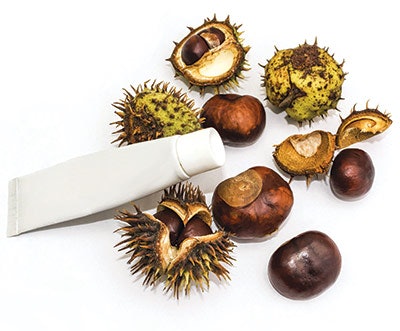 Due to these anti-inflammatory benefits associated with horse chestnut, it is a popular ingredient in spa skin care products for sensitive skin. You can find the ingredient in Pevonia's Sensitive Skin Cleanser, Problematic Skin Care Cream and Spot Treatment, where it soothes, diffuses redness and vasoconstricts. "For centuries, this plant extract has been known for its healing properties in irritated, inflamed and temperature profuse skin. Infused in your skin care regimen this sweet plant extract, gathered in autumn, can battle the toughest skin irritation while diffusing redness and even help strengthen broken capillaries," noted Ada Lamela, global corporate educator for Pevonia.
Strengthening capillaries its the purpose of horse chestnut in OM4 Organic Male's Sensitive Shave Mask and Soothing Sensitivity Relief Gel. Lady Burd formulates with horse chestnut in its Sensitive Skin Cleanser, where the ingredient has an anti-inflammatory effect.
Although the ingredient's circulatory and anti-inflammatory benefits are most popular in the industry, it is also used for anti-aging effects. Éminence uses horse chestnut to tone and tighten the appearance of skin in both its Calm Skin Arnica Booster-Serum and its Calm Skin Arnica Masque. "Horse Chestnut has toning and soothing properties when used in skin care. We use [it] in some of our Calm Skin products because it gives the skin a toned appearance, while still being gentle on sensitive skin," explained Natalie Pergar, senior product education specialist for the company.
The ingredient also is included in a biopolymer in Repêchage's Vita Cura Opti-Lift Serum to help diminish the appearance of crow's feet and other visible signs of premature aging.
Conclusions
Horse chestnut certainly stirs up excitement in skin care. It also gives us a stimulating topic of conversation for this month's ingredient focus
References
Footnotes:
a Venocin (INCI: Aesculus Hippocastanum (Horse Chestnut) Seed Extract) is a product of Sabinsa.
b Cosmephytami Horse Chestnut Tree (INCI: Glycerin (and) Aesculus Hippocastanum (Horse Chestnut) Seed Extract is a product of Alban Muller.