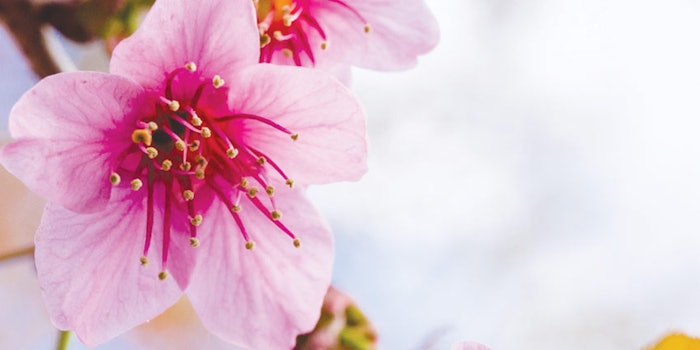 Cherry is among the most popular flavors for food and beverages. It is also one way to describe a pristine condition classic car and for good reason. This little fruit packs a perfect punch in terms of its overall health and skin benefits.
For example, the International Journal of Green Pharmacy published a review on sour cherry (Prunus cerasus Linn. Rosaceae), where it found the ingredient to help treat urinary system ailments, diabetes, cardiac issues and skin diseases.1,2 Further reported benefits include immunomodulatory, antioxidant, anti-inflammatory and antimicrobial activities; not to mention its melatonin content, for sleep enhancement.
Cherry Extracts and Skin
Specific to skin, 10 healthy volunteers were enrolled in a study to assess the antioxidant activity of P. cerasus stem, leaves and pomace extracts. The flavonoid-rich extracts were found to be high in flavonoids and phenolic acids, and provided antioxidant effects.1,2
In relation, a patent from Coty-Lancaster identified cherry extract (acerola and Spanish cherries) among several others showing free radical-scavenging capabilities.3
Anti-aging also was the focus of a patent from researchers at a college based in Mumbai. Here, the inventors noted plants and herbs such as Prunus puddum (Prunus cerasoides, Wild Himalayan cherry) have also been used in Ayurveda as well as Chinese and Oriental medicine to counteract aging. The heartwood of Prunus cerasoides is reportedly useful to treat burning sensations, wounds and skin discolorations. Reportedly, it has action similar to olive oil and is used in emollient preparations including nourishing skin creams. 4
Another patent from Access Business Group/Amway observed the skin whitening benefits of acerola cherry extract and fermentates of acerola cherry, among others.5
Cherry Blossom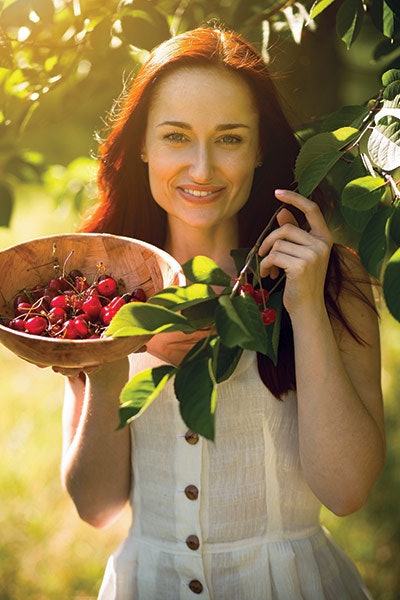 Researchers at Kyung Hee University in Korea examined 6 extracts derived from cherry blossoms, rather than fruit, for their potential in anti-aging skin care. Results showed the extracts increased type I procollagen via two pathways during UVB exposure. The extracts also demonstrated activity against reactive oxygen species-induced damage. Together, the findings suggested cherry blossom extract may be a promising ingredient for anti-aging skin care.6
Another patent from collagen drink manufacturer TCI Co. Ltd.7 describes cherry blossom extract as a known inhibitor of collagen glycation. While these inventors found that topical or oral Chenopodium formosanum extract inhibited advanced glycation end products (AGEs) more significantly, by 35%, the cherry blossom extract did decrease AGEs by 9%.7
Cosmetic Ingredients
The benefits of cherry haven't gone unnoticed by cosmetic ingredient suppliers. In fact, according to market research firm Mintel, new ingredient launches containing Cornelian cherry increased by 183% and acerola cherry by 36% between 2012 and 2016.8 This rise in popularity of cherry is demonstrated by some of the commercial ingredients launched in the past several years.
For example, recently Naturex expanded on its portfolio of ingredients inspired by fooda with two prototype formulas: a "face ice cream," incorporating Cornelian and acerola cherry extracts for their antioxidant properties, and a skin-energizing spray including acerola cherry, Chakah honey and guarana. According to the company, cherry is known to deliver soothing properties and enhance skin radiance. In vitro studies revealed Cornelian cherry extract stimulates the production of catalase, an enzyme that protects skin from oxidative damage. Additionally, the extract increased the production of glutathione reductase—an enzyme that helps to maintain the oxidative balance of the cells, and inhibited lipid peroxidation by 40%. In comparison, acerola cherry (Malpighia glabra L.) is known for its high vitamin C content and antioxidant power.8
Several years ago, Gattefossé added cherry and cranberry to its line of vegetal watersb.9 The cherry water in particular showed anti-aging benefits: tested in vitro on human cells, it boosted transforming growth factor β, which is directly involved in extracellular matrix remodeling, thus revitalizing skin and smoothing wrinkles.
In addition, ingredient supplier Earthoil Plc sourced sour cherries to create an oilc that provides hydrating and antioxidant benefits, as well as removes dead skin cells and promotes collagen synthesis. The oil's principal components are oleic acid, linoleic acid and alpha eleostearic acid It can be included in a variety of cosmetic and personal care products and is also recommended for acne-prone or inflamed skin, to aid in skin-healing processes.10
In the Spa
The spa industry is no stranger to cherry, particularly in the spring time, when the ingredient often appears in seasonal facial and body treatments.
For cherry blossom treatments, look no further than the location of the National Cherry Blossom Festival, Washington D.C. Area hotel and days spas all gear up for spring time by offering their version of a cherry blossom treatment. One such spot is the Four Seasons Hotel Washington D.C., which offers total body renewal with the Cherry Blossom Champagne Body Treatment. The treatment (80 min., 275+) starts with a dry brushing exfoliation before a relaxing soak. Then a champagne and salt scrub is applied and removed followed by a body wrap and an application of body butter.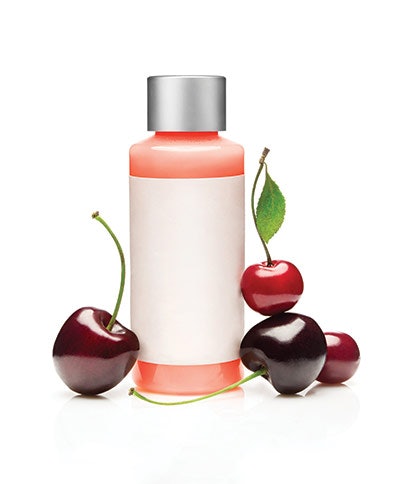 However, given all of its benefits, cherry certainly has the components to be part of spa treatments year-round.
The Lodge Facial (50 min., $140) at The Lodge At Woodloch (Hawley Pennsylvania) uses cherry for its enzymatic exfoliation. After an in-depth skin analysis, botanical enzyme peels of sweet cherry, pear fig or pumpkin are used to exfoliate followed by a serum application.
Meanwhile, the Cherry Wine Chocolate Facial (60 min., $120) at rA Organic Spa (Burbank, California) utilizes cherries for both its antioxidant and exfoliation benefits. The anti-aging facial uses a cherry exfoliant blend with a combination of antioxidants from wine, cherries, pomegranate, acai, date and wild cherry bark followed by a chocolate mask.
To accommodate the growing demand for cherry-driven skin care treatments, manufacturers have tapped into the powerful ingredient. For natural and gentle exfoliation, cherry is a great and plentiful option. Skin Script uses cherry to exfoliate skin in its Cherry Enzyme, which contains 5% lactic acid, 5% mandelic acid, 1% arbutin and 1% kojic. On its benefits, Skin Script's director of education Dave Waggoner noted, "Cherries have powerful anti-inflammatory properties. Cherries also offer vitamins, antioxidants and brightening capabilities to the skin."
Exfoliation is also the name of the game in Rhonda Allison's Cherry Jubilee, which taps both the gentle exfoliation and natural antioxidant power of cherry. Shannon Esau, the company's director of education, added, "Cherries have protective antioxidants to reduce inflammation and fight cellular aging when applied to the skin. They can also have enzymatic properties helping to digest the outer layer of skin while delivering antioxidants and vitamin C to the cells."
Cherry also exfoliates skin in A Natural Difference Skin Care's Cherry Berry Peel, which is available in 10% and 20% strengths. The flavonoids in cherries and blueberries also help eliminate free radicals in the skin.
The antioxidant power of cherry is tapped by ilike organic skin care in its line of anti-aging products featuring sour cherry. Sour Cherry Whipped Moisturizer, Cleansing Milk, Toner and Gel Mask utilize cherries to reduce and prevent free radicals in the skin, restoring a more youthful look. "Sour cherries are loaded with nourishing vitamins and are considered antioxidant superstars that protect skin from damaging free radicals and decrease inflammation. Furthermore, sour cherries are known for tightening pores and fight environment pollutant damage," explained Szilvia Hickman, owner of Szep Elet, exclusive distributor of ilike organic skin care.
Acerola cherry is used by Elemis in its Elemis Dynamic Resurfacing Gel Mask, where it energizes the skin and stimulates collagen production. Elemis' director of education Annet King noted, "This Amazonian super fruit is recognized for its particularly high level of vitamin C along with other key nutrients like vitamin A and bioflavonoids. Overall, it aids exfoliation, boosts collagen and elastin production and is packed with antioxidants, which neutralize free radicals to promote skin health and vitality.
Conclusions
Whether extracted from fruit, pit or blossoms, cherry ingredients offer the sweet rewards of antioxidant, anti-inflammatory, anti-aging benefits and more. They put the cherry on top of skin care.
REFERENCES
aEnergy Boost is a new collection in Naturex's Beautyfood range.
bOriginal Extracts including Original Extract Cherry Bio (INCI: Prunus Cerasus (Cherry) Fruit Water)
c Organic Cherry Seed Oil is manufactured by EarthOil Plc.