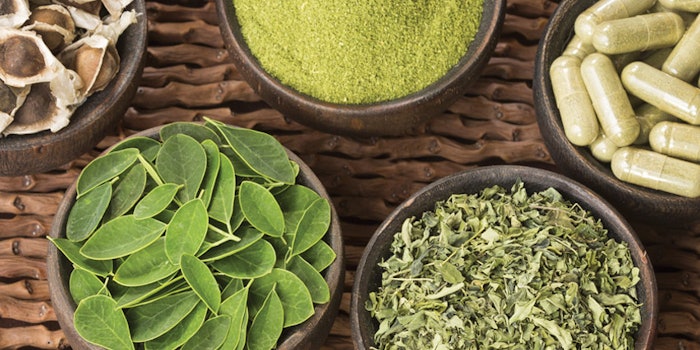 Moringa carries a mysterious weight due to its panoptic properties. To begin, it is a type of tree in the family Moringaceae that is native to the sub-Himalayan areas of India, Pakistan, Bangladesh and Afghanistan; it also is grown in tropical regions. Of the various species, Moringa oleifera Lam. (also known as Moringa pterygosperma Gaertn.) is the most widely known.1, 2
Parts of the plant including the leaves, roots, seeds, bark, fruit, flowers and immature pods have been used traditionally for medicinal properties ranging from cardiac and circulatory stimulants; and anti-inflammatory and diuretic agents; to antihypertensive, antioxidant, antidiabetic, antibacterial and antifungal activities, among others.1
According to WebMD, moringa also is used to treat arthritis and joint pain, asthma, headache, kidney stones, fluid retention and infections, among a host of other ailments.2 Furthermore, it has been reported to increase sex drive, boost the immune system and increase breast milk production.
What's the secret to moringa? It contains key proteins, vitamins and minerals, and its antioxidant activities appear to help protect cells from damage.2 In fact, it is an important food source in some regions to fight malnutrition because it can be grown cheaply, and when dried, the leaves retain those vitamins and minerals.
Topically, moringa has traditionally been applied to skin as an antibacterial or a drying agent (astringent) to treat infection, athlete's foot, dandruff, gingivitis, snake bites, warts and wounds. Oil from moringa seeds is also used in foods, fragrance and hair care products, for various benefits.2
Considering its deep roots in traditional medicine, moringa has been the subject of several recent studies seeking to elucidate its key mechanisms, and potentially uncover novel applications. Examples are provided here.
Anti-inflammation and Pain Management
Research published in SAGE Journals3 explored the topical use of the chemical 4-(α−L-rhamnopyranosyloxy)benzyl isothiocyanate (moringin), isolated and purified from M. oleifera seeds, for the treatment of neuropathic pain in multiple sclerosis patients. In a mouse model, topical treatment with 2% moringin cream twice daily improved the condition and alleviated neuropathic pain.
Wound Healing
New work presented in the Journal of Ethnopharmacology examines the benefits of M. oleifera in wound dressings. Here, an extract from M. oleifera leaf was screened and found to contain: vicenin-2, chlorogenic acid, gallic acid, quercetin, kaempferol, rosmarinic acid and rutin. This aqueous extract was then formulated into standardized films, which were shown to support human dermal fibroblast and human keratinocyte cell proliferation and migration properties. Among the films tested, a 3% w/v composite film dressing containing M. oleifera demonstrated optimal physicochemical properties as a wound dressing.4
Active Ingredient Delivery
In the International Journal of Biological Macromolecules, M. oleifera gum polysaccharides were used to form a network with poly(acrylic acid) to develop a hydrogel for slow drug delivery.5 The resulting hydrogels were found to be pH responsive, mucoadhesive, non-thrombogenic, non-haemolytic and antioxidant in nature.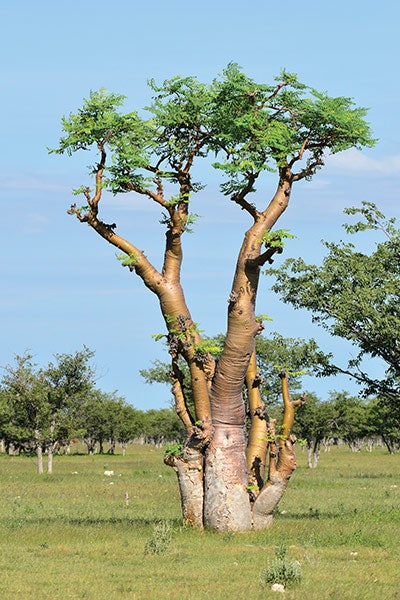 Collagen Synthesis Combo
According to an Estée Lauder patent, an extract from damaged plant parts of the Moringaceae genus, in combination with extracts from the Laminaria genus and whey protein, can stimulate collagen synthesis in skin cells.6
Moringa leaves contain high amounts of vitamins, polyphenols and sugar-modified aromatic glycosides. Moringaceae isothiocyanates (MIC), in particular, are said to have health benefits; therefore, higher concentrations of them are desirable. Increased levels of MIC can be achieved by injuring the moringa plant part prior to extraction, which increases the myrosinase enzyme content within the plant and, in turn, promotes the conversion of moringa glucosinolates into MICs.
According to this patent, increasing concentrations of M. oleifera extract added to the Laminaria/whey mixture provided a dose-response increase in collagen synthesis in fibroblasts.
Soothing Atopic Dermatitis
Finally, a paper published in Evidence-Based Complementary and Alternative Medicine examined whether the topical application of M. oleifera extracts and variations fermented by Rhizopus oligosporus could improve atopic dermatitis (AD). Here, both M. oleifera and fermented moringa extracts were found to reduce the clinical features of AD. While topical application may be useful for clinical improvements of AD, oral administration is proposed for future studies. Interestingly, the bioconversion by fermentation significantly enhanced the anti-inflammatory effect of M. oleifera.7
In the Spa
Although it is on the cusp on becoming popular in the United States, moringa can be found in spas all over the world in both face and body treatments.
At Mrembo Spa in Zanzibar, Tanzania, organic, native moringa is used in a number of treatments. The Mrembo massage (60 min./90 min.) combines moringa with coconut and baobab oil, whereas moringa oil is massaged into the skin in The Mrembo Pedicure after a citrus scrub and foot soak.
In Siem Reap, Cambodia, the ingredient has its own namesake spa. At the J7 Hotel, the Moringa Wellness Spa offers The Moringa Secret (150 Min.), a signature body treatment that combiness a body scrub with a moringa pouch massage and a relaxing flower bath. The massage is conducted with a moringa pouch dipped in warm moringa oil to increase blood circulation and release muscle tension.
At Thann Sanctuary Spa, the Nano Shiso Therapy (~$136, 130 min.) allows the clients to choose moringa seed, mushroom extract or inca omega seed to customize their facial to best suit their skin type. The treatment also includes a body massage and aromatherapy or Swedish massage.
Stateside, Metamorphosis Day Spa in New York offers a Moringa Extract Facial (55 min., $150) to reduce hyperpigmentation, wrinkles and acne while promoting cell growth and moisturization.
Although many U.S. spas have yet to capitalize on the popularity and wellness benefits of moringa, it is being formulated into facial and body care by a number of manufacturers.
The ingredient is used in PurErb's Vitality Deep Cleansing Oil, where its high content of oleic acid (72%) is used to deliver vital nutrients and moisture to the skin. Moringa is utilized by Skinprint in its Ecoceuticals Moringa Butter Moisturizing Lotion not only to hydrate the skin but also to supply skin with vitamins, protein and amino acids. Elemis formulates with moringa seed peptides in its Pro-Radiance Illuminating Flash Balm to reduce the appearance of age and lock in moisture.
Moringa is not just included in skin care, but can be found in a host of color cosmetics as well. Jane Iredale formulates with moringa butter in its PureGloss Lip Gloss, where the ingredient hydrates the lips. In Osmosis Colour's Pressed Base Mineral Foundation, moringa seed oil provides free radical protection to the skin with its antioxidant power. It also has antibacterial and antimicrobial properties that help it fight acne.
Conclusions
While the benefits of moringa are no secret to medicinal practices in the plant's native areas, the underlying mechanisms are still revealing themselves to scientists. No doubt moringa will wind its way into new clinical studies and, eventually, into more products and spa treatments.
References