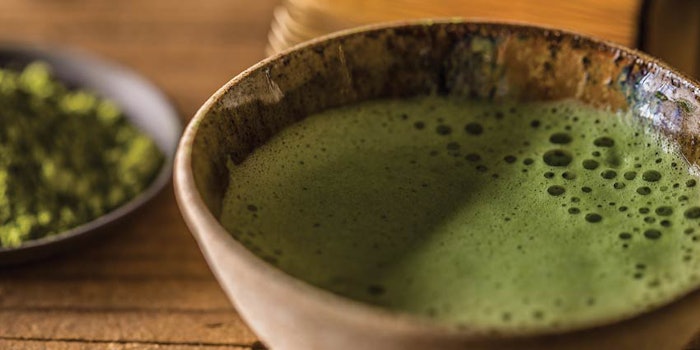 Matcha has not only been rising in the ranks of trendy tea drinkers, it also is becoming a popular beauty ingredient. However, this hot new antioxidant source is actually not new; it dates back to 12th century China. With a quick Internet search, you'll learn that matcha is a form of green tea (Camellia sinensis). So what makes it different? And how can this tea-derived powder benefit beauty?
History
Matcha has its roots in China, where it is said that Zen Buddhists were the first to drink powdered tea. During that time, matcha was called sencha, and the green tea plant was grown in the shade in its last few weeks to increase chlorophyll content—and therefore, its potency. They drank the tea before meditations for increased clarity and energy.
It wasn't long before the tea made its way into Japanese culture, where it was named matcha meaning powdered (matsu) tea (cha). Much like in China, matcha became popular in Japanese tea ceremonies, and was relegated to the nobility and wealthy during its early introduction.
Composition and Benefits
After the tea leaves are harvested, they are dried. It is important that the tea leaves are dried in the shade and not the sun, as oxidation reduces the tea's potency. Quality matcha is said to be bright green, whereas cheaper matcha is darkened and more brown. Veins and stems are removed, and the leaves are pulverized whole to be whisked into hot beverages or in our case, beauty creams.
Green tea is known for its antioxidant and anti-inflammatory properties. Matcha can boast these benefits and then some, considering it's a concentrated version of green tea. Camellia sinensis leaves have high levels of xanthine and the polyphenol epigallocatechin gallate (EGCG). These components help protect the skin from aging and serious damage from the sun's UVB rays. The xanthines present in matcha, such as caffeine and theobromine, also have natural anti-inflammatory, anti-cellulite and anti-irritancy effects.
EGCG alone is an antioxidant 20 times stronger than tocopherol, and more than 65 times stronger than the average fruit or vegetable. All of the above characteristics allow matcha to repair sun damage, acne and scarring; reduce inflammation and redness; and improve blood circulation and cellular metabolism.
Cosmetic ingredient suppliers are well aware of these benefits and have developed ingredient blendsa to infuse green tea into skin care. Additional research supports the use of green tea in anti-pollution, anti-aging, skin-soothing and anti-acne applications, described as follows.
Anti-pollution
A new study1 published in the Journal of Nutritional Biochemistry looked at the ability of green tea to protect against environmental pollutants such as pesticides, smoke and arsenic. In the body, these can form reactive radicals, lipid peroxidation, inflammation, genotoxicity, neurological alterations, apoptosis and carcinogenic events, to name a few.
As stated, green tea contains several polyphenols such as catechins (EGCG), and these can protect against toxins. They do so through antioxidant, anti-inflammatory, anti-mutagenic and other effects. Green tea also acts on signaling pathways to preserve mitochondrial membranes.1
Research from the Mayo Clinic suggests green tea could also serve as complementary and alternative medicine in dermatology. Among many other benefits, green tea protects against UV-induced events such as photo-immunosuppression and skin cancer growth.2
Anti-aging
In work from Korea,3 a "super" form of green tea extract was developed and tested for anti-aging properties. Researchers treated green tea with tannase, an enzyme previously found to enhance the scavenging ability of catechins in green tea.
The researchers found the treated green tea extracts maintained higher levels of polyphenols and flavonoids than untreated extracts. Furthermore, they were more effective for inhibiting elastase, to reduce skin sagging and wrinkling; and tyrosinase, to decrease the formation of melanin. The researchers concluded this treated form of green tea could be beneficial for anti-aging and skin whitening creams.3
Skin Soothing
Recent work published in Photochemical & Photobiological Sciences suggests topical green tea polyphenols (GTP) can enhance the body's own antioxidant defenses and slow the process of cell death, as well as protect against UV-induced damage. However, their high instability and poor bioavailability restrict their pharmacological use. As such, these authors explored whether using a carboxymethyl cellulose sodium (CMC-Na) system could stabilize them; with positive results.4 GTPs emulsified in CMC-Na had a strong photoprotective effect against UVB-induced photodamage in an animal model. Topical treatment inhibited: the production of UVB-induced inflammatory cells; an increase in skin thickness; and oxidative stress, such as depletion of antioxidant enzymes and lipid oxidation.
Anti-acne
Finally, green tea is believed to have benefits for the prevention and treatment of acne. In a study from Taiwan,5 published in Complementary Therapies in Medicine, green tea supplements were evaluated for their effects in women afflicted by post-adolescent acne. A group of 80 subjects, ages 25 to 45 with moderate to severe acne, randomly received either 1500 mg of decaffeinated green tea extract (GTE) or placebo (cellulose) daily for four weeks. Inflammatory lesion counts served as the standard for measurement.
Statistically significant differences were noted in inflammatory lesion counts on the nose, periorally and on the chin between the two groups. Within-group comparisons showed the GTE group had significant reductions in inflammatory lesions on the forehead and cheek areas, and significant reductions in total lesion counts.5
In the Spa
Matcha has been integrated into a number of spa treatments across the country, both for the body and the face, and with benefits including anti-aging, detoxification and brightening, among others.
Spa Theology in Asheville, North Carolina, is one such spa, with its Dobra Tea House (90 min, $180) treatment. The face is cleansed during a deep tissue massage, then a matcha face mask and foot treatment are applied. After, clients enjoy a cup of Dobra Tea.
The Spa Ritual in Calgary, Canada, also uses matcha for facial benefits. In its Matcha Tea Facial (90 min, $210), powdered tea is used to cleanse, purify and improve the function of skin by counteracting the effects of pollution and skin degeneration.
Kabuki Springs & Spa, in San Francisco, uses matcha in its Bliss Massage with Private Bath (80 min, $135 (M-F)/$148.50 S-S), where clients soak in a traditional deep Japanese ofuro (i.e. tub) with a matcha bath blend of pure green tea and salt. The private bath is followed by a Western or Eastern massage.
Matcha also is utilized for detoxifying purposes at The Spa at Ballantyne in Charlotte. During the Matcha Matcha Detox Massage (80 min, $180), clients experience a deep pressure massage with hot stones and a warming cocoon wrap to remove impurities. To amplify detoxification, replace minerals and provide antioxidant protection, clients are then offered a cup of the spa's matcha tea.
With spas everywhere adding matcha treatments to their menus, it's only natural for product manufacturers to incorporate it into skin care. Repêchage uses matcha in both its Matchafina Fusion Facial and at-home Fusion Matchafina Cleansing Mask. Speaking to its benefits, CEO and founder Lydia Sarfati noted, "Unlike most green teas, matcha is shade-grown and ground into a fine powder; [and] containing the entire leaf of Camellia sinensis, [this gives] it the highest concentration of antioxidants, including EGCG. Matcha is also rich in chlorophyll and amino acids to help soothe and calm skin."
Naturopathica incorporates matcha in its Matcha Brightening Décolleté & Hand Cream, where the tea helps lighten the skin and prevent dark spots. At the brand's Healing Arts Center in New York City, the product is utilized in its Matcha Brightening Décolleté Treatment (30 min, $70).
LaNatura Skincare utilizes the powdered tea to detoxify and repair skin in its Matcha Green Tea Anti-aging Massage Oil. The company notes that matcha not only draws out impurities, but provides antioxidant protection. The tea is also offered in a treatment body butter.
Matcha also can be found in MalibuC's Sensitiv Matcha Masque, where it is used to detoxify and impart antioxidant protection to the skin.
Conclusions
So in the end, whether you sip it or slather it on your skin, read green tea's leaves to learn the ancient secrets they hold for skin.
REFERENCES
(All websites accessed Mar 15, 2017)
aBiochemica Matcha Green Tea butter (INCI: Prunus amygdalus dulcis (Sweet Almond) Oil (and) Hydrogenated Vegetable Oil (and) Camellia sinensis Leaf Powder) is a product of Hallstar.