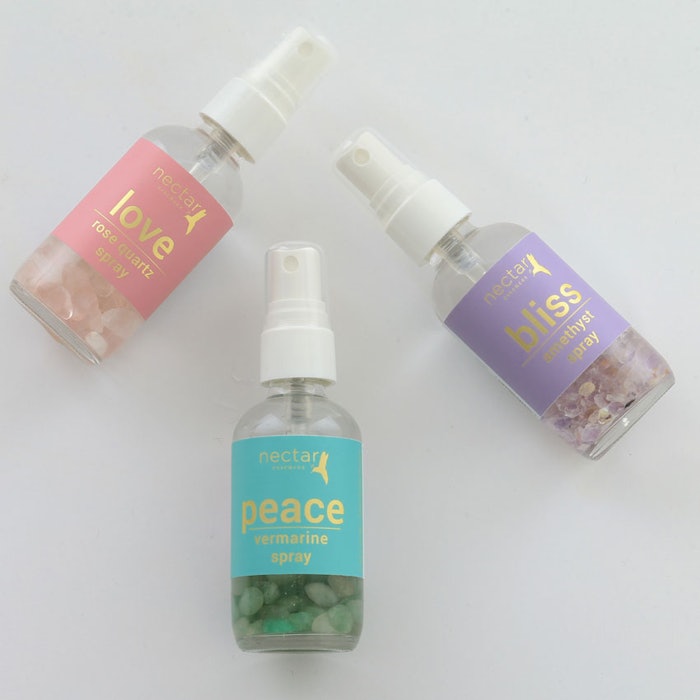 Vibrational Healing Sprays use gem elixirs, sacred flower essences and essential oils to create scents that can be used as a personal aura mist, room spray or spa treatment room spray. There are three scents, Peace, Love and Bliss, that can be used to help with balancing energies.
Peace Vermarine Spray: uses earthy vetiver, spicy thyme and sweet lavender to harmonize the mind. The spray is then infused with Vermarine gem elixir and Barrel cactus flower essence to amplify its harmonizing properties.
Love Rose Quartz Spray: combines sweet grassy palmarosa, amber like cistus and pink peppercorn to amplify unconditional love. Rose Quartz gem elixir and Ocotillo flower essence are also used to promote self-acceptance.
Bliss Amethyst Spray: has night blooming jasmine, palo santo and floral ylang ylang to deepen spiritual connection. Amethyst gem elixir and San Pedro flower essence are also added into this mist to expand the crown chakra which helps to tap into the oneness and divine.
Contact GEMFLEUR by Nectar Essences, http://gemfleur.nectaressences.com