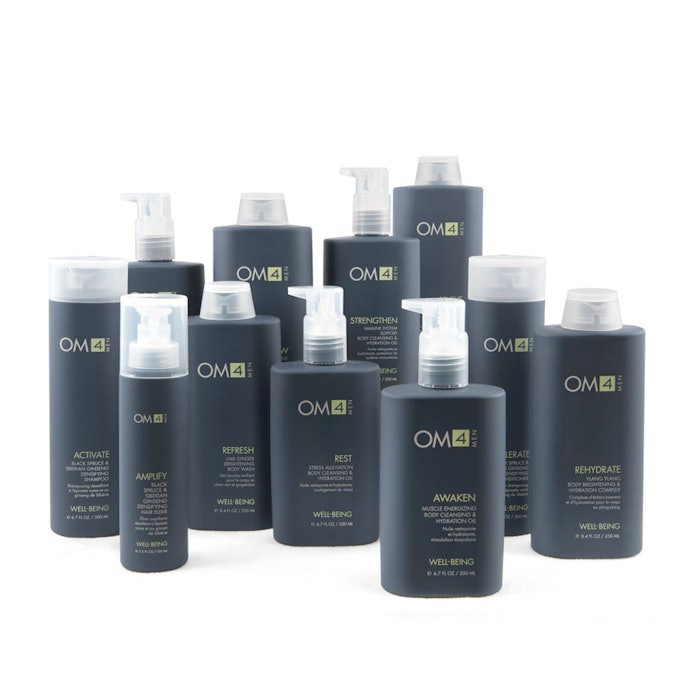 OM4 Men's Well-Being Line includes products to take care of men's hair and the skin. "The intersection of beauty, grooming and wellness is becoming more defined, and terms like anti-aging and giving way to a new age-embracing narrative as men begin to discover that grooming is far more than a superficial proposition," said Mike Bruggeman, OM4 Men's CEO and Chief Formulation Officer.
This line includes 11 products that connect organic technology with aromatherapy and wellness knowledge to bring wellness into men's daily routines. This line includes organic body cleansers and hydrating oils, age-delaying and skin brightening body products, and hair densification and loss prevention products to tackle different areas of concerns that men face in their grooming. The line includes the following.

Organic Body Cleansing and Hydration Oils. These products balance multifuction and mindfulness to help the body whether it is in need of energy, rest, a detox, or immune system strength, and they double as massage oils.
AWAKEN: Muscle energizing body cleansing and hydration oil
DETOX: Environmental protection body cleansing and hydration oil
STRENGTHEN: Immune system support body cleansing and hydration oil
REST: Stress alleviation body cleansing and hydration oil
Age-Defying, Skin-Brightening Body Products. These products use an advanced blend of peptides, bio ferments, plant stem cells and innovative brighteners that reinforce the skin's integrity from natural pollutants.
REFRESH: Lime ginger brightening body wash
RENEW: Lime ginger glycolic brightening body scrub
RELIEVE: Ylang ylang perfecting and hydrating body wash
REHYDRATE: Ylang ylang body brightening and hydration complex
Hair Densification and Loss Prevention. This trio of products tackle a common problem that many men face in their grooming routine by combining rare indigenous ingredients from Siberia and  organic technologies. 
ACTIVATE: Black spruce and Siberian ginseng hair densifying shampoo
ACCELERATE: Black spruce and Siberian ginseng hair densifying conditioner
AMPLIFY: Black spruce and Siberian ginseng hair densifying elixir
877-898-6253, http://o­m4men.​com