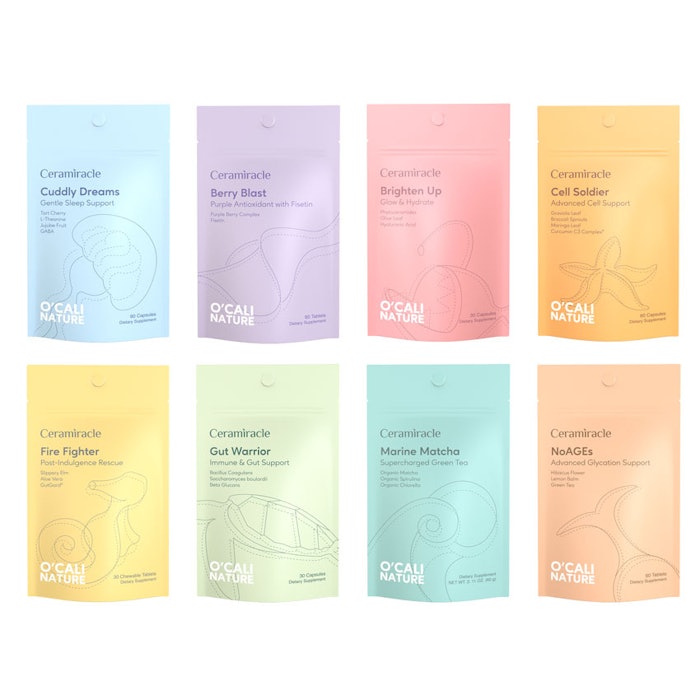 O'Cali Nature Collection was designed to epitomize the healthy, California lifestyle that many people know by incorporating whole food actives and using environmentally conscious packaging. This mission-driven line uses clean label formulas to bridge the gap between food, beauty and health. 
Included in this Collection
Brighten Up - Glow and Hydrate: Supports skin hydration, moisture retention and brightness, while reducing the appearance of fine lines and wrinkles.
Cuddly Dreams - Gentle Sleep Support: Supports calm, healthy sleep patterns for the ultimate in "beauty sleep."
Gut Warrior - Immune and Gut Support: Supports digestive and immune health through a shelf-stable blend of probiotics with Beta Glucans.
Marine Matcha Supercharged Green Tea: The blend of organic Matcha powder, Chlorella, and Spirulina powers up shakes and smoothies to support healthy body functions, skin and detoxification.
Berry Blast - Purple Antioxidant with Fisetin: The high Oxygen Radical Absorbance Capacity (ORAC) formula with antioxidant-rich berries and the polyphenol Fisetin fights free radicals to keep cells in the body happy and healthy.
NoAGEs - Advanced Glycation Support: Boosts skin vitality with a blend of Hibiscus Flower Extract, Lemon Balm Extract, and Green Tea polyphenols.
Cell Soldier - Advanced Cell Support: The superfood complex with whole food nutrients supports healthy cell function throughout the entire body. It boosts the body's cell function, supports healthy joints and provides antioxidant and anti-inflammatory effects.
Fire Fighter - Post-Indulgence Rescue: With soothing elements like Slippery Elm Root, Licorice Root and Aloe Vera, this supplement helps support healthy gut function, prevents bloating, cools and soothes the stomach after a heavy meal and provides a healthy source of soluble fiber.
800-783-2040, www.ceramiracle.com