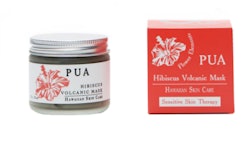 Hawaiian Body Products' Pua Hibiscus Volcanic Mask is formulated to balance and hydrate the skin, using the natural detoxifying properties of volcanic clay, infused with healing Hawaiian plants and soothing tropical oils.
Key Ingredients
Bentonite Clay is a mineral rich clay formed from Volcanic ash that has exceptional drawing properties to help eliminate sebum and other toxins and heal the skin. 
Passion Fruit Oil is rich in essential fatty acids and antioxidants, and is anti-inflammatory and soothing to skin.
Aloe Vera is high in antioxidants, enzymes and vitamins A and C. The ingredient is anti-inflammatory, hydrating and repairing.
Noni Fruit is anti-inflammatory, making it ideal for inflamed skin. The ingredient is also hydrating and skin repairing.
 808-959-2358, www.hawaiianbodyproducts.com