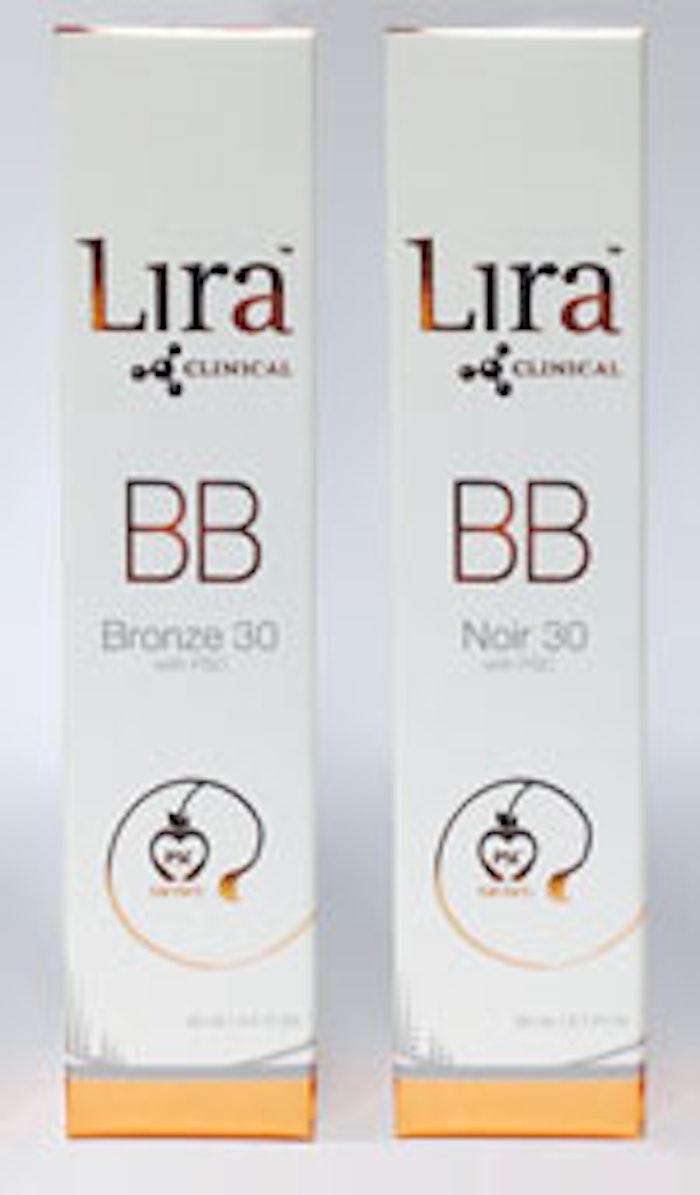 To purchase Lira Clinical BB Bronze 30 or BB Noir 30 or any Lira Clinical products, please visit www.liraclinical.com or call 877-440-5472.
Lira Clinical is excited to announce the reveal of two new BB Créme shades to their popular BB Line of products, BB Bronze 30 and BB Noir 30, available later this month.
These two new darker shades provide a spectrum of colors for global skin tones and complement Lira Clinical's original BB shades: BB Brite 30 and BB Tint 30. All Lira Clinical BB products can be blended to create custom shades, or used as highlighters or bronzers for contouring. These all-in-one product innovations contain SPF 30 protection, plant stem cell technology, cutting-edge anti-aging ingredients and flawless coverage. Each BB is hydrating and anti-inflammatory, making them perfect for daily use or after resurfacing procedures.
The unique BB Brite 30 doubles as a color-correcting crème containing arbutin. This ingredient, along with other brightening botanicals, helps brighten the complexion, correct dark spots and even skin tone. BB Brite 30 pairs well with all other Lira Clinical BBs as an eye makeup primer to help combat dark circles and puffiness.
Discover what estheticians, dermatologists and makeup artists are buzzing about at the Lira Clinical BB Bar at the International Esthetics, Cosmetics & Spa Conference in Las Vegas, June 21–23. Visit Lira Clinical at Booth #1449 to get color matched and to submit your BB makeover photo for a chance to win a huge Lira Clinical product prize basket.
Lira Clinical is a global skin care company dedicated to perfecting modern esthetics by utilizing the latest technology and natural ingredients to deliver superior products and results.
To order your Lira Clinical BB Bronze 30 or BB Noir 30 today, or any Lira Clinical products, or to learn more about the company, visit www.liraclinical.com, or call 877-440-5472.