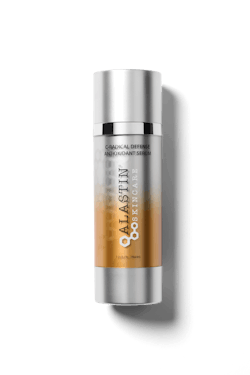 Alastin Skincare C-Radical Defense Antioxidant Serum is formulated with a clinically proven form of Vitamin C plus 14 vital antioxidants that help protect against environmental stressors while helping to conserve elastin.
Formulated with a proprietary encapsulated novel form of vitamin C (Sodium Ascorbate), which helps to defend against free radical damage while supporting the skin's ability to conserve elastin.
Main Benefits:
Reduce the effects of free radicals by up to 74%
Brighten skin and reduce the appearance of fine lines, wrinkles, photodamage and other signs of aging
Works to help refine skin texture and reduce the appearance of redness and brown spots
Antioxidants that help neutralize free radicals and protect against UV damage and other environmental stressors such as blue light and pollution
Stimulate collagen production
Ideal for most skin types
Key Ingredients:
Sodium Ascorbate: A novel form of vitamin C in an encapsulated delivery system: shown to have remarkable stability and absorbs 20x more effectively.1
Green Tea: Helps to scavenge reactive oxygen species (ROS) and helps to up-regulate antioxidant enzymes.
Physalis Angulata: An anti-inflammatory that supports the skin's ability to repair collagen and helps to enhance the combat against free radicals.