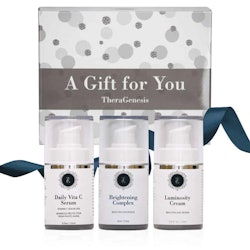 TheraGenesis Skincare's Merry & Bright includes the Daily Vita C Serum 15ml, Brighten Complex Serum 15ml and Luminosity Creme 15ml. 
Kit Includes
Daily Vita C Serum is a high potency multi-C cocktail that infuses skin with powerful antioxidants. This fast penetrating formula combats environmental damage while delivering intensive levels of skin revitalizing and collagen synthesizing nourishment.
Brighten Complex Serum is an age defining serum with stem cells and resveratrol that helps to lighten and brighten skin. The serum offers a synergistic blend of five proven natural source skin brighteners and powerful age reversing Swiss apple stem cells.
Luminosity Creme is specifically designed to work synergistically with the two serums in this package. Key ingredients such as vitamin C and stem cells are paired with skin brightening agents to provide melanin inhibiting properties. This rejuvenating moisture crème restores balance and clarity in environmentally stressed or pigmented skin.
800-461-3745, www.theragenesisskincare.com