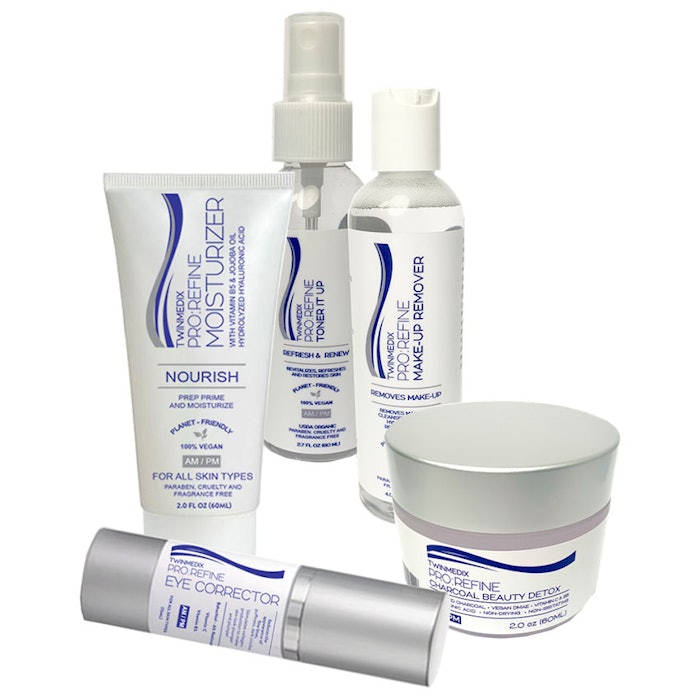 PRO Refine Collection is a genderless skin care collection that is formulated for all skin types and includes six different products. The collection has a lip scrub, charcoal mask, toner, makeup remover, eye corrector, and moisturizer that combine natural ingredients to benefit the skin. 
Included in this Collection
Pro: Refine Primer/Moisturizer: this priming moisturizer nourishes the skin while also prepping the skin for makeup application. This primer provides a glow to the skin while also being able to be used morning or night. 
Pro: Refine Eye Corrector: uses Bakuchiol in place of retinol to reduce the appearance of fine lines and wrinkles while smoothing texture and reducing hyperpigmentation. This eye serum moisturizes while boosting firmness and elasticity.
Pro: Refine Makeup Remover: has a soap-free formula that gently cleanses the skin and removes impurities. This makeup remover is a cleansing water that includes witch hazel to tighten pores, reduce inflammation and tone the skin. 
Pro: Refine Toner: blends together vitamins, antioxidants and protective nutrients and essential oils like lemongrass, lavender, orange blossom and cucumber to revitalize, refresh and restore the skin. 
Pro: Refine Charcoal Beauty Detox: is a charcoal mask that is also highly moisturizing to the skin while clarifying. This mask provides exfoliation benefits to the skin while also fighting against blackheads, reducing inflammation and assisting in collagen production.
Pro: Refine Lip Scrub: treats the lips through the use of vitamin E and raw honey. This lip scrub exfoliates the lips while refining the lip line. 
813-814-7711, www.twinmedix.com