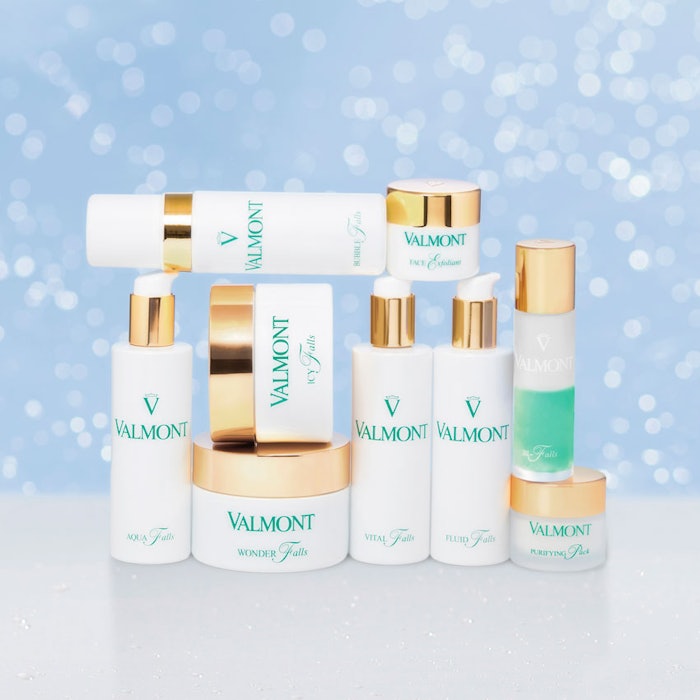 Purity Collection is a new line of cleansing treatments that targets the skin's ecosystem by promoting a healthy and balanced microbiota. This collection focuses on eliminating pollutants that dull the complexion and remove the makeup.
This collection has also inspired the new Purity of the Alps spa treatment. This is a 12-step treatment that works to clean the skin gently and comfortably, and it is designed to purify, balance and unify the complexion.
Purity Collection
Icy Falls: has a jelly texture that is massaged directly into the skin to remove makeup. The texture turns into a veil that cleanses the skins of impurity.
Wonder Falls: has a velvety, cream texture that transforms into a fine oil and can remove "full glam" makeup from the skin.
Bubble Falls: is designed to be like a bubble bath for the face. The foam texture becomes a silky cushion on the skin and cleanses the epidermis with removing its natural, protective film.
Bi-Falls: is a dual-phase makeup remover that helps to gently remove all traces of eye makeup with a non-oily formula.
Aqua Falls: is a makeup removal water that has a unique formula that cleanses and tones the skin, leaving it balanced. 
Fluid Falls: is the repackaged formula for Valmont's iconic White Falls makeup removal milk. 
Vital Falls: is a tonic that partners with daily cleansing to eliminate all impurities on the skin.
Face Exfoliant: this is a scrub for the skin to exfoliate dead skin cells away. This uses fine, non-irritating Quartz crystals with the smoothness of a massage cream.
Purifying Pack: is a purifying mask formulated with black silt, green clay, burdock and pink seaweed extract. This mask helps absorb impurities and refines the texture of the skin.
866-411-8256, www.valmontcosmetics.com