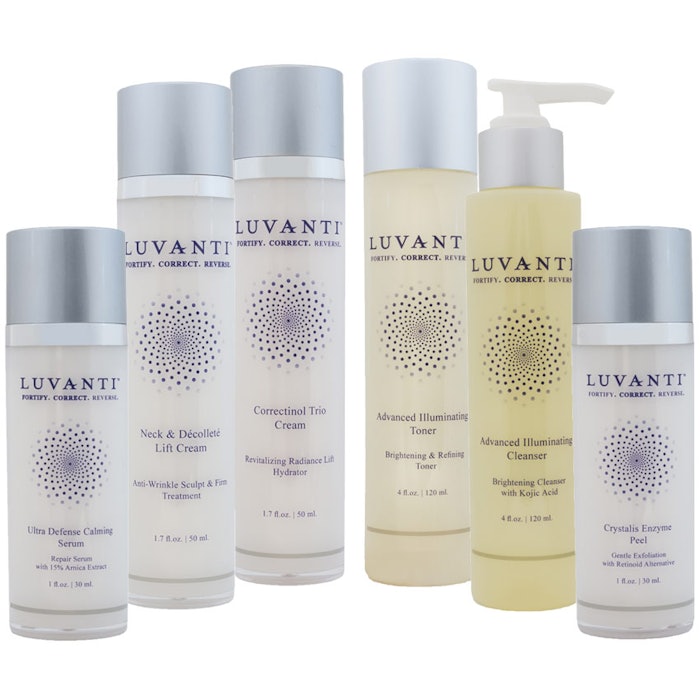 Luvanti is a collection of 22 different products that provide anti-aging solutions to the skin, and it is a versatile and customizable line of products. The Luvanti system follows a three-step, anti-aging system designed to fortify, correct and reverse the skin. 
Products in Line
Advanced Illuminating Cleanser: combats discoloration while brightening.
Ultra Defense Cleanser: calms and soothes irritation.
Nourishing Peptide Gel Cleanser: gently exfoliates and revitalizes the skin.
Advanced Illuminating Toner: elevates hydration and targets dark spots and uneven tone.
Ultra Defense Peptide Toner: alleviates irritation, sensitivity and inflammation.
Correctinol Trio Cream: hydrates, exfoliates, revitalizes and provides antioxidants.
Ultra Defense Peptide Cream: targets chronic itchy, red or problematic skin.
Neck & Décolleté Lift Cream: contours, supports firmness, protects elasticity and boosts collagen synthesis.
O

2 

Revitalizing Age-Defense Cream: DNA infused cream that tightens, soothes and speeds up cellular renewal.
Crystalis Radiance Mask: prevents unwanted pigmentation and evens skin tone.
Peptide C30 B E & Ferulic Cream: hydrates and protects from UV damage.
Hygroscopic Retinol Cream: stimulates cell regeneration and builds collagen.
Crystalis Enzyme Peel: provides enzymatic exfoliation to smooth and soften skin.
Advanced C30 B E & Ferulic Serum: protects from photo-aging and dermal instability.
HexaFirm Peptide Flash Lift Serum: instantly tightens and smooths skin.
E.G.F. FibroBlast Boost Serum: encourage cellular renewal while boosting collagen.
Collagen Liquid Lift Peptide Serum: restructures and firms mature skin.
Needle-Free Collagen & Elastin Serum: redefines facial volume, improves elasticity and reactivates collagen synthesis.
Niacinamide Purifying Serum with AHA and BHA: balances skin's pH, prevents collagen deterioration and exfoliates.
Ultra Defense Calming Serum: alleviates stressed, sensitive or irritable skin.
Perfect Eye Peptide Serum: targets puffy eye bags.
HydraInfuse Lip Smoothie: hydrates, smooths, conditions and protects the lips.
512-717-4991, https://luvanti.com