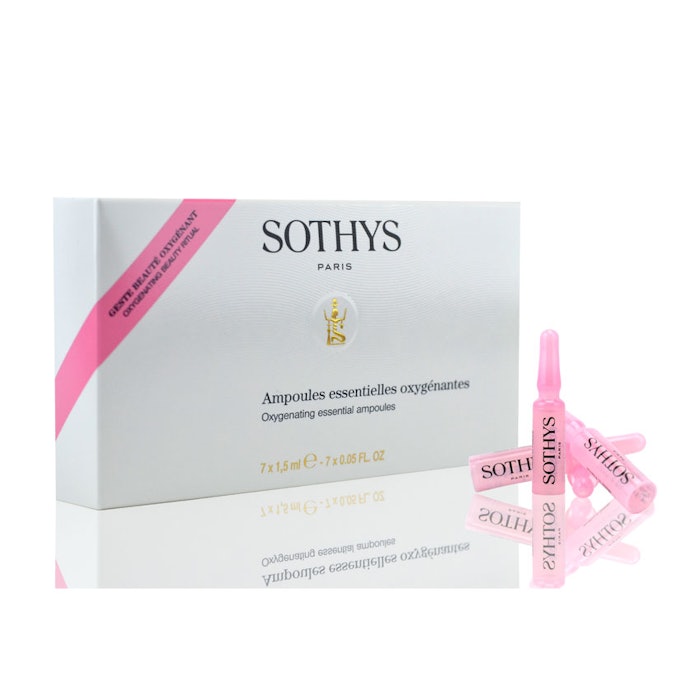 The Essential Ampoules consist of four different components, which aide with the daily beauty ritual. The Oxygenating, Brightening, Hydrating and Anti-Aging ampoules each have a beneficial job that aids with varying skin needs.
The Oxygenating Essential Ampoules maintain the rosy and fresh complexion by using biotechnology from soy extract and vitamin B8. The soy extract can stimulate cellular growth, while vitamin B8 aids with the activity of the metabolism and optimizes the skin's cell function. This product also uses hammelis extract, which has astringent and softening properties ideal for maintain a radiant glow.
The Brightening Essential Ampoules are ideal to procure a bright and even complexion. With the help of six botanicals, grafted glycolic acid and prickly pear extract, this product limits the activity of enzymes causing the appearance of dark spots and limiting the formation of new melanin. These ampoules also exfoliate throughout the day for good skin tolerance in order to restore a more even complexion.
The Hydrating Essential Ampoules are made to optimize skin hydration with the help of hyaluronic acid, PCA salt, aloe vera extract and vegetable glycerin. This product forms a hydrating and protective film on the skin's surface to moisten and protect the skin. Rich in vitamins A, B, C and E, the hygroscopic properties further hydrate the skin and keep it hydrated for the entire day.
The Anti-Aging Essential Ampoules limit the appearance of aging by using argan tree polyphenols, ellagic acid and hyaluronic acid. With the anti-free radical effect, this product stimulates and protects collagen production while also forming a hydrating film on the skin's surface. These ampoules fight against the signs of time on the skin. 305-594-4222, www.sothys-usa.com