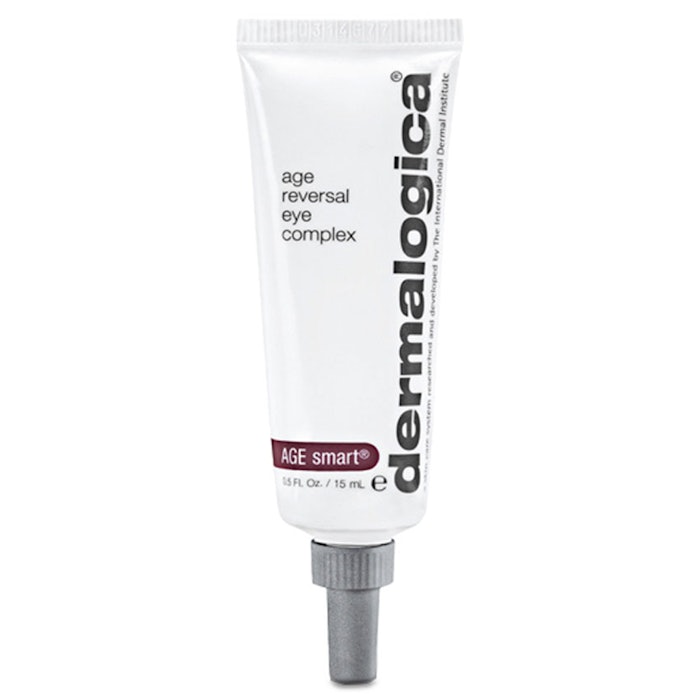 Available in June 2016, Age Reversal Eye Complex now features a new formula that draws on microencapsulation technology and a unique firming complex to address multiple eye area concerns, including fine lines and wrinkles, puffiness, dark under eye circles and dryness lines.
This product helps fortify supporting underlying tissues and refreshes the resiliency of surface skin, resulting in a smoother, more responsive skin condition in this fragile area. By speeding up the cell turnover process, stimulating collagen production and thickening the cell layers in this area, skin appears plumper, fuller and smoother, with fewer wrinkles and consistent pigmentation distribution.
Ingredients and benefits include the following.
Microencapsulated Retinol 0.1%. This 0.1% concentration of pure vitamin A has the power to trigger epidermal cell proliferation while new microencapsulation technology ensures maximum potency, stability and controlled-release delivery deep within the skin layers.
Microencapsulated Niacinamide. Antioxidant vitamin B3 controls inflammation, reduces the appearance of dark under-eye circles due to hyperpigmentation, inhibits glycation, and reduces trans-epidermal water loss. Microencapsulation ensures optimal potency and penetration.
AGE Reversal Firming Complex. This exclusive formula contains palmitoyl tripeptide-5, hyaluronic acid and dunaliella salina extract.
800-831-5150, www.dermalogica.com