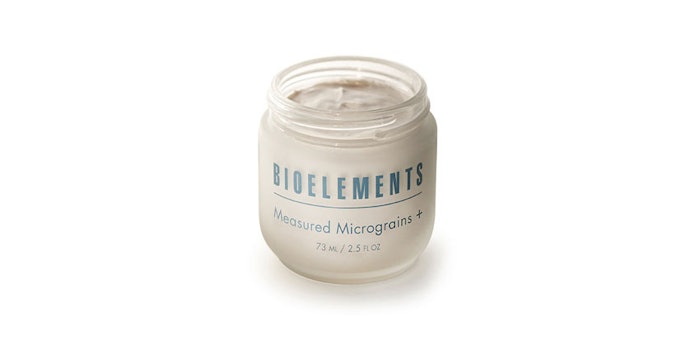 Today, more and more clients experience skin disorders, or skin that seems to change on a daily basis—due to age, environment and lifestyle. Bioelements' Measured Micrograins + multi-action facial scrub and mask has been developed to address these unpredictable concerns with ingredients to exfoliate, control oil, strengthen and then calm the skin.
Omni-benefit Exfoliation
Designed for all skin types, this nutritive, toxin-removing, clay-based creme delivers a complete skin workout from warm-up to cooldown with a next-generation formula containing environmentally responsible jojoba beads, iris root extract and zinc sulfate, colloidal oatmeal and an invigorating blend of plant extracts and essential oils to provide exceptional exfoliation, refine pores, calm and leave skin with a refreshingly cool sensation post treatment.
Results of this omni-benefit exfoliator include a more nourished and refreshed appearance without added redness or irritation.
The Benefits
✔Exfoliates and stimulates all skin types—even unpredictable, easily-sensitized skin
✔ Controls excess oil to refine pores and strengthens skin
✔ Refreshes and calms with a cooling physiological sensation
✔ Delivers a complete skin workout from warm-up to cooldown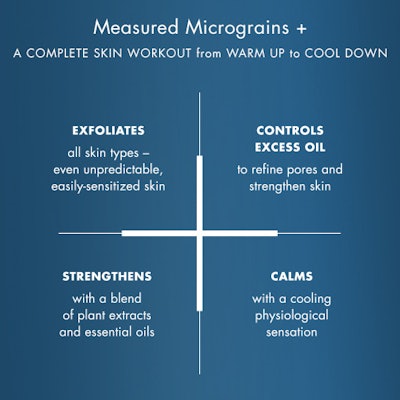 "Anytime you stimulate the skin, you must sedate it. As exfoliation revs up skin's microcirculation and removes top layers of dead cells, the skin— especially skin that's prone to sensitivities—can be left vulnerable to further aggravation if not sedated, or brought back down to a calm state," said Teresa Stenzel, Bioelements director of education. "That's why we created Measured Micrograins +."
How to Use It
Measured Micrograins + can be used as an exfoliating scrub during the cleanse step of any Bioelements facial (excluding the Bioelements Depigmenting & Brightening Facial and the Ultra-Detox Chemical Peel).
To use as an at-home scrub, apply to clean, moist skin and gently massage. Rinse off with water. Avoid getting into eyes. To use as a mask and scrub, apply to clean skin and let dry. Wet fingertips and massage gently to soften mask. Rinse off with water. Use up to three times a week.
About Bioelements
For over 20 years, Bioelements has been awarded by experts, trusted by professionals and loved by clients. We're leading a new generation of pros who demand results—inspiring and exceeding expectations with advanced formulas, flexible treatments and the world's first and only Custom Blending system. More than just an award-winning professional line, Bioelements has one goal in mind: your success. Get empowered with the line created by an esthetician, for the esthetician. www.bioelements.com/pros
To learn more about Measured Micrograins +, or other Bioelements Professional Skin care products, please fill out the form on the right side of the page.