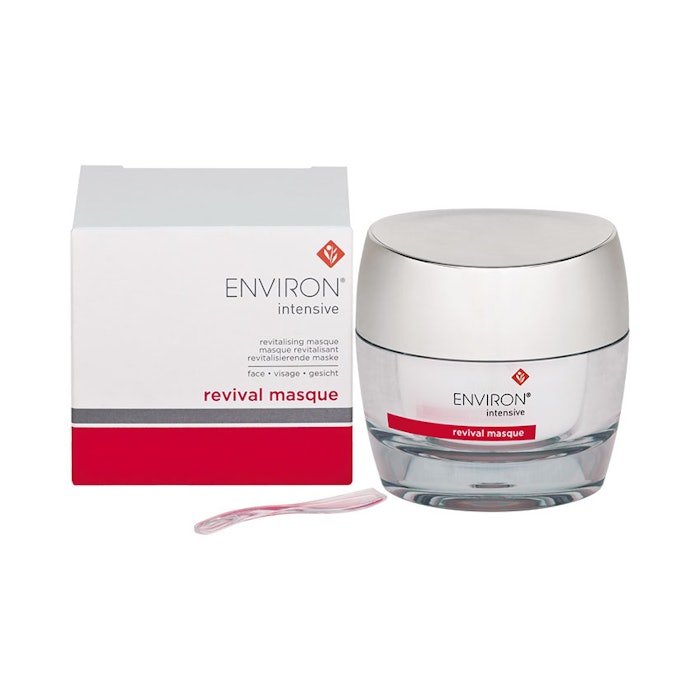 To purchase the Intensive Revival Masque or any Environ products, please visit www.dermaconcepts.com or call 800-598-4400 x161.
Environ Intensive Revival Masque is a luxurious, rich moisturizing masque specially formulated to target signs of aging, including the look of uneven, dry and photodamaged skin. Featuring a combination of unique ingredients, such as lactic acid, mandelic acid and asiatic acid, Revival Masque's high performance formula assists in improving the look of fine lines and wrinkles, tightening the appearance of lax skin and minimizing the look of scars. It will also provide skin with the hydration it needs to achieve a smoother, younger and more refined appearance.
To receive optimum results, apply Revival Masque to the skin after cleansing and toning. Smooth formula on to the face and décolleté, let dry for 20 minutes and gently remove with a damp face cloth or cosmetic sponge. Follow with your daily Environ regimen. Suitable for dry, damaged or uneven skin. The masque may also be layered over Environ Skin Care products and left on overnight while you sleep.
Founder of Environ, Dr. Des Fernandes' goal in developing the Revival Masque was to create an antiaging product to avoid a drastic surgery! "The story behind why we developed the Revival Masque is that this was my first step in the mission I have to make a skin care product that would be like a 'face lift in a bottle.' I know that this is a preposterous idea, but as a dreamer I decided to pursue it."