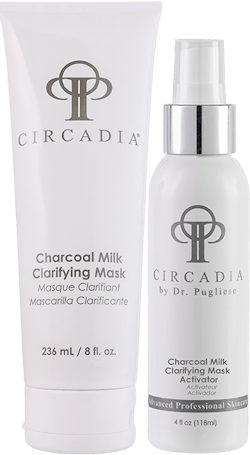 Circadia's Charcoal Milk Clarifying Mask & Activator Set is a detoxifying and exfoliating mask that uses a powerful blend of bamboo charcoal, lactobionic acid, lactic acid, and kaolin clay to relieve acne congestion and prevent future breakouts, while the olive squalane works to heal the skin.
Key Benefits
Detoxifying & reduces future breakouts
Gently exfoliates dead skin cells
Absorbs excess oil
Reduces moisture loss
Key Ingredients
Bamboo Charcoal assists in removing toxins from the skin while reducing bacteria resulting in a great acne-fighting ingredient.
Kaolin Clay absorbs excess sebum and prevents pore clogging, drawing out skin impurities without causing skin irritation.
Lactobionic acid is a type of polyhydroxy acid (PHA) that has a larger molecular structure than AHA's, resulting in a slower penetration, and allowing for a gentle exfoliation for compromised skin. Lactobionic acid can also hydrate and protect against free radical damage
Lactic acid is known for pulling triple duty- it can brighten, hydrate, and exfoliate the skin. Lactic acid can also be shuttled into the cell to be used as cellular energy.
Olive squalane decreases TEWL and enhances the natural barrier of the skin.