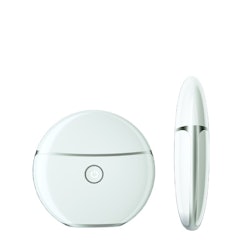 Heaven's Melody's Electric Facial Massager is a massaging device that combines Red, Purple and Blue LED lights, vibration, heat therapy and EMS in one. 
Key Functions
Heat Therapy opens pores and increases the absorption of skin care products. The therapy improves blood circulation and soothes muscle tissues.
Vibration reduces inflammation and puffiness, increases muscle stimulation, improves facial contour and smooths skin texture and complexion.
EMS (Electric Muscle Stimulation) boosts overall cellular metabolism, increases blood circulation, enhances muscle strength and endurance, and naturally lifts and sculpts the face.
818-800-8680, www.heavensmelody.com