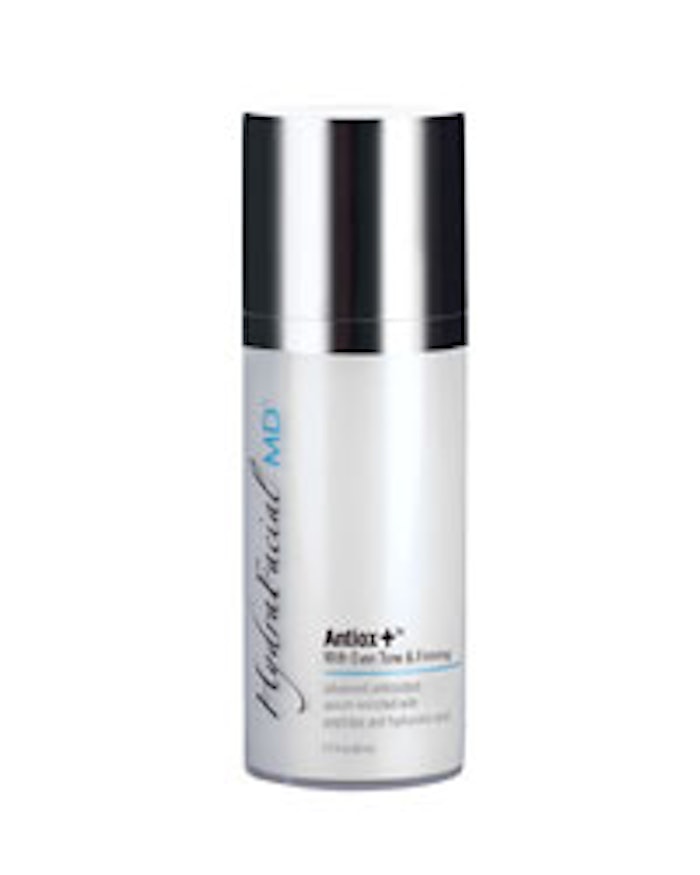 This video is sponsored by:
The HydraFacial Company
To purchase HydraFacial MD Antiox + or any Edge Systems products, please visit www.edgeforlife.com and www.hydrafacial.com, or call 800-603-4996.
Combining the most advanced device and product technology, the Wellness Research Division at Edge Systems brings you the latest breakthrough for the HydraFacial MD: The new Antiox + With Even Tone & Firming. This phytonutrient-rich formula features a powerhouse combination of antioxidants plus the exclusive TonePerfect Complex to go beyond detoxification and protection to actually restore beautiful, healthy skin.
Why HydraFacial MD?
The HydraFacial MD treatment uses patented Vortex-Fusion technology to deliver nutrients and skin-enhancing serums to the skin. In clinical studies, the HydraFacial MD treatment was shown to achieve 30% greater absorption of antioxidants, thereby accelerating results. Antiox + contains red algae, a tyrosinase-inhibitor, that helps naturally limit the production of melanin. Topical application simply isn't enough—the HydraFacial MD treatment provides you with an advanced application to the skin, driving the nutrients where they are most effective.
Antiox+ ingredient highlights
Watch the video below introducing HydraFacial MD Antiox + or view the video at www.hydrafacial.com/antiox.
We started by taking horse chestnut seed extract, the antioxidant you love, and amped it up with green tea and arnica flower extracts. Together they help neutralize free radicals and other environmental aggressors to minimize the signs of aging and aid in the prevention of future damage.
In addition to antioxidants, we added the exclusive TonePerfect Complex, a breakthrough in tone-evening technology. Antiox + goes beyond bleaching and actually stops spots at their source. This nonhydroquinone product naturally reduces the production of melanin, preventing the appearance of dark spots and discoloration while instantly firming and tightening for a more youthful appearance.
Antiox + also contains a restorative blend of earth mineral peptides that help boost collagen, improving the appearance of fine lines and wrinkles while our proprietary low molecular weight hyaluronic acid helps deeply nourish and hydrate skin.
It is critical to use a daily SPF while using this product to prevent future damage. Use Antiox + in conjunction with UV Smart Daily SPF 40 for the ultimate in detoxification and protection.
About Edge Systems, LLC
Edge Systems, LLC is a FDA registered manufacturer of advanced aesthetic technologies and products that deliver high return on investment (ROI) opportunities. Edge provides ongoing, comprehensive marketing support to help increase customer's profitability. Edge's premier system is the HydraFacial MD solution based hydradermabrasion system, ranked above IPL for skin rejuvenation.
To order your HydraFacial MD Antiox + today, or any Edge Systems products, or to learn more about the company, please email contact@edgeforlife.com, visit www.edgeforlife.com and www.hydrafacial.com, or call 800-603-4996.