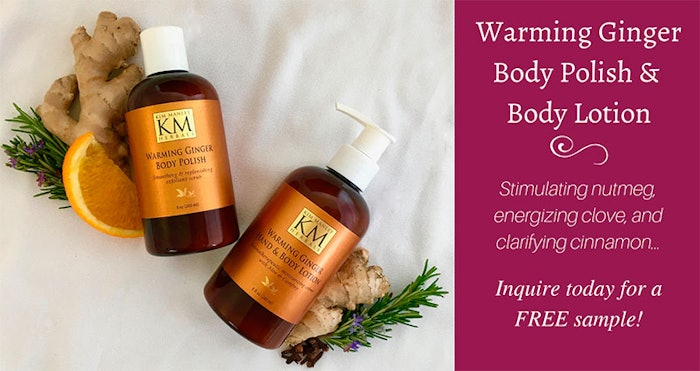 Where Cozy Meets Spicy! Treat winter skin to our NEW Warming Ginger Body Polish and Warming Ginger Body Lotion, formulated with our cozy and invigorating warming ginger aromatherapy blend. Experience soothing sweet orange and stimulating nutmeg, energizing clove and clarifying cinnamon.
Explore our complete selection of Warming Ginger products here, perfect for winter warming treatments and self-care! Enjoy a free sample of our body polish and lotion when you inquire with us plus save 10% off resale, professional, and backbar sizing of all warming ginger formulas.
Featuring Essential Botanicals of: ​
Seaweed (Fucus vesiculosus): high in vitamins and minerals; soothing to hot or inflamed conditions; moisturizing and improves skin texture
Marshmallow Root (Althea officinalis): soothes inflammation and irritation; protects and improves the look of damaged tissue; refreshing and hydrating
Avocado Oil (Persea americana): high in vitamins A, B1, B2, D and E; amino acids, heals and helps protect skin from sun damage; moisturizing, softening, protects elasticity, improves texture
Comfrey (Symphytum officinale): high in vitamins, minerals and Allantoin; moisturizes
Inquire today for a free sample!