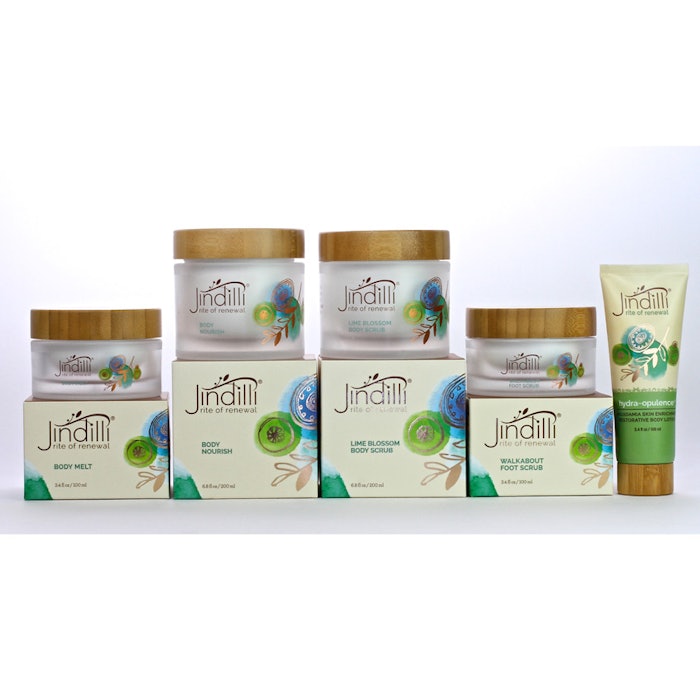 The Rite of Renewal Body Line consists of the Lime Blossom Body Scrub, Body Nourish, Body Melt and Walkabout Foot Scrub. All products contain an abundance of pure macadamia oil, which is anti-inflammatory, deeply hydrating and calming.
The Lime Blossom Body Scrub reveals glowing, healthy skin using sustainably harvested sugar to gently exfoliate and banish dry and flaky skin. Skin is left soft and hydrated due to the macadamia oil.
The Body Nourish is a luxurious soufflé of pure macadamia oil and ale vera to rapidly penetrate the skin for a deep hydration. Skin in left feeling silky and smooth and is gentle enough to use for the face. For skin sensitive to retinol, this product can work as a night cream.
The Body Melt is a body butter concentrated with macadamia wax to provide hydration and healing. The melt benefits pregnant bellies, dry skin, cuticles, heels, elbows and more. This product can also be used to soothe aching muscles and tender skin.
The Walkabout Foot Scrub uses eucalyptus and tea tree leaves to deeply cleanse, detox and renew feet. Macadamia oil aids in restoring healthy skin and the sustainably harvested sugar helps scrub away rough heels. 855-463-4554, www.jindilli.com