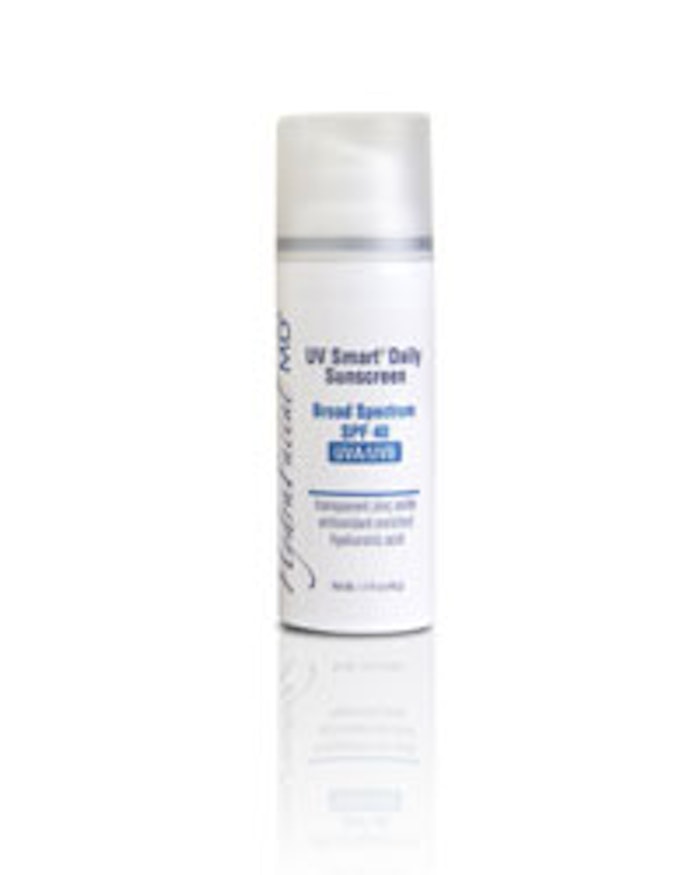 To purchase HydraFacial UV Smart Daily SPF 40 or any Edge Systems products, please visit www.edgeforlife.com and www.hydrafacial.com, or call 800-603-4996.
Edge Systems, LLC is excited to bring you UV Smart Daily SPF 40. This new sunscreen has broad spectrum protection, blocking UVA and UVB rays, critical to aging and skin cancer. It contains one of the safest and most effective ingredients for protecting skin against these damaging rays, zinc oxide, which filters out the UV rays, keeping them from penetrating skin and causing damage.
This paraben- and oil-free, transparent formula blends with all skin tones, and is idea for all skin types, even the most sensitive skin. Not only does it include the powerful ingredient, zinc oxide, but it is also enriched with antioxidants and hyaluronic acid, that provide essential nutrients to block free radicals and deeply moisturize skin.
UV Smart Daily SPF 40 is the perfect addition to the HydraFacial Daily Essentials line, especially when combined with the award-winning Antiox-6 Daily. Antiox-6 Daily contains the powerful antioxidant, horse chestnut seed extract, which is one of the most potent antioxidants. When horse chestnut seed extract is combined with and SPF 30 or greater it is considered to be an "anti-solar" agent, based on its ability to absorb light and protect skin from damaging UV rays. Together, Antiox-6 plus UV Smart provide the ultimate protection.
The HydraFacial Daily Essentials products are designed to maintain and extend results of the HydraFacial treatment, which is favorite among celebrities such as Paris Hilton, Kate Winslet, Amy Poehler, and more. The HydraFacial is designed to cleanse, exfoliate, extract, and hydrate your skin and is effective for all skin types. The HydraFacial targets skin concerns such as sun damage, hyperpigmentation, uneven skin tone and texture, fine lines and wrinkles, oil and congested skin, enlarged pores, dryness, and dehydration.
About Edge Systems, LLC
Edge Systems, LLC is a FDA registered manufacturer of advanced aesthetic technologies and products that deliver high return on investment (ROI) opportunities. Edge provides ongoing, comprehensive marketing support to help increase customer's profitability. Edge's premier system is the HydraFacial MD solution based hydradermabrasion system, ranked one level about IPL for skin rejuvenation.
To order your HydraFacial UV Smart Daily SPF 40 today, or any Edge Systems products, or to learn more about the company, please email contact@edgeforlife.com, visit www.edgeforlife.com and www.hydrafacial.com, or call 800-603-4996.