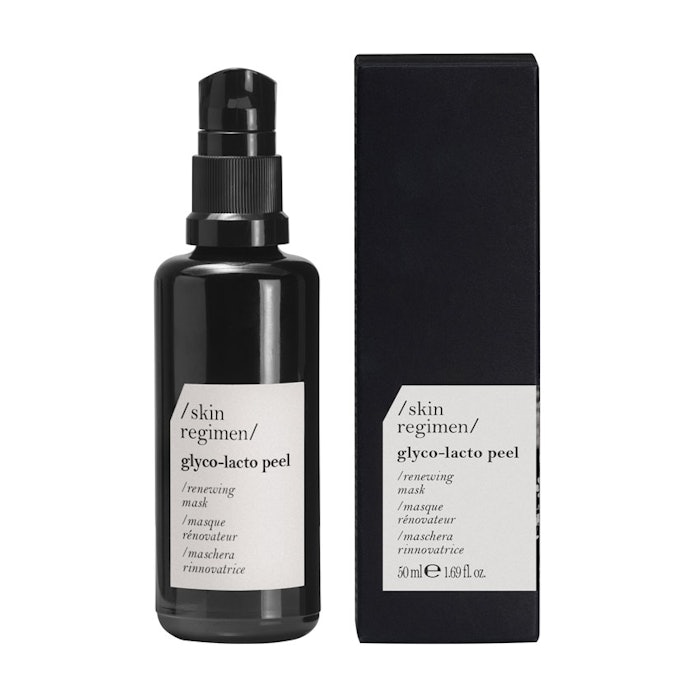 Skin Regimen's Glyco-Lactic Peel contains glycolic acid that penetrates deeply and vegetal lactobionic acid that promotes cell turnover, giving new brightness and evenness to the complexion. The skin is smoother and brighter, helping to mitigate the signs that aging, stress and pollution leave on the face. The gel texture allows easy application and removal. 
Active Ingredients 
Glycolic Acid activates cell turnover for a deep intensive renewal. It acts on the cellular junctions of the epidermis weakening the bonds between corneocytes and promoting their detachment, allowing new cells to rise to the surface for increased cell turnover.
Lactobionic Acid belongs to the family of bionic acids which are substances that represent the evolution of alpha-hydroxy acids. It promotes a slower exfoliation integrated with antioxidant and moisturizing action, leaving the skin immediately softer and smoother. It also binds heavy metals, in particular iron, counteracting the formation of free radicals and is therefore ideal for renewing skins stressed by pollution. It works in synergy with glycolic acid improving the appearance of the skin texture.
212-924-2470, www.​skinregimen.​com