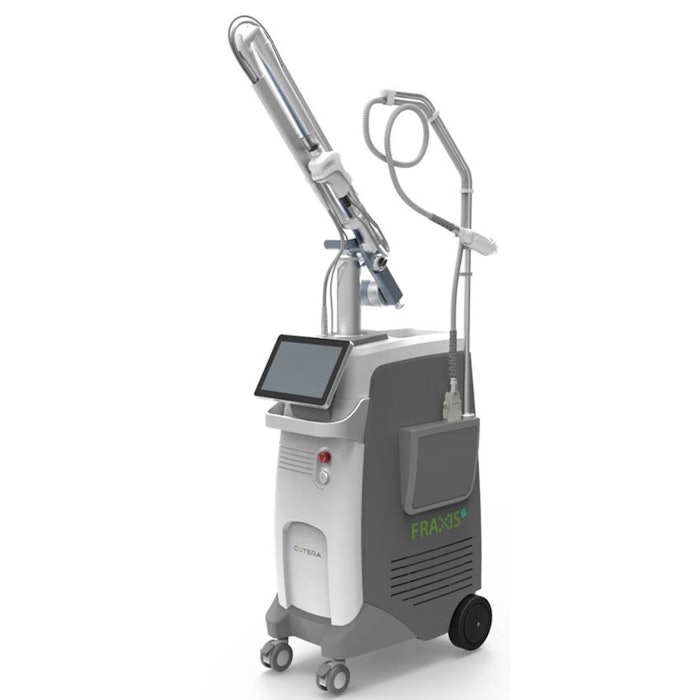 Fraxis PRO combines fraction CO2 for skin resurfacing and radiofrequency microneedling for total dermal remodeling. This combination of CO2 laser energy and radiofrequency microneedling, allows this device to treat a range of skin conditions including: fine lines, wrinkles, acne scars, burn scars and stretch marks. 
The device can be used on the face and body, and the treatments can be used alone or in combination based on the patients needs. The device includes the following: 
Fraxis PRO Refine. A light RF treatment dispenses radiofrequency energy via small microneedles at varying depths of the skin. It addresses fine lines, large pores, wrinkles, stretch marks and acne scars.
Fraxis PRO Ultra-Light. A light laser peel that provides gentle exfoliation via CO2 laser technology. It's a perfect prejuvenating treatment to prevent signs of aging or address current skin concerns, like uneven texture, dull skin tone and overall complexion quality.
Fraxis PRO Ultra. A powerful CO2 technology peels back years of aging by smoothing, brightening and enhancing skin tone and texture. It also promotes collagen production to address scarring, and crepey skin through fractional skin resurfacing.
Fraxis PRO Revive.  A signature treatment combines both CO2 laser and RF microneedling technologies in the same session, delivering intense comprehensive skin renewal for aging skin.
888-428-8372, https://­cutera.​com